Practitioners in New Zealand Celebrate World Falun Dafa Day
May 16, 2021 | By a Minghui reporter in New Zealand
(Minghui.org) Falun Dafa practitioners gathered in Elizabeth Square in Auckland, New Zealand, on May 8, 2021, to celebrate World Falun Dafa Day. Falun Dafa practitioners in the Tian Guo Marching Band, a dragon dance group, and a waist drum group performed, and the music attracted a lot of people who stopped to watch. Many people were also fascinated by the serene exercises of Falun Dafa and came over to learn more.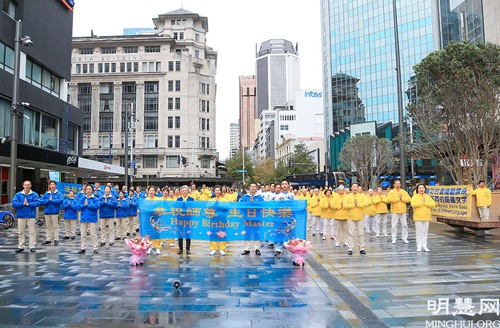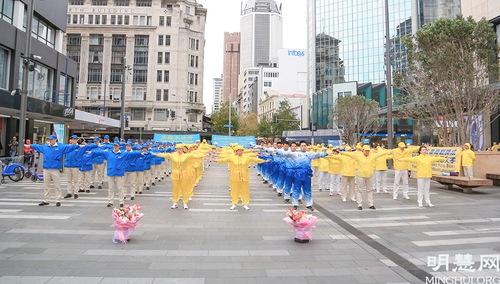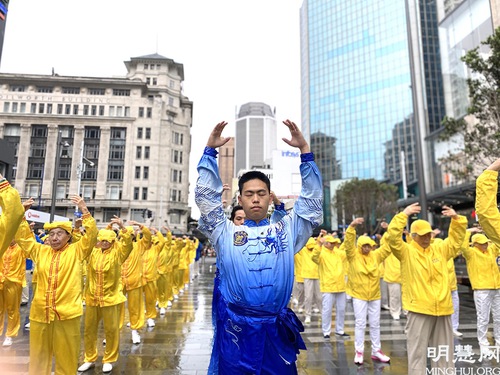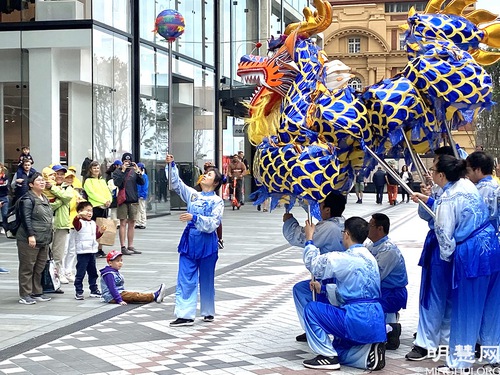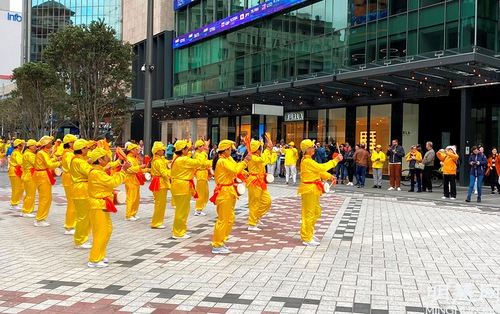 Falun Dafa practitioners celebrate May 13th World Falun Dafa Day on Elizabeth Square in Auckland.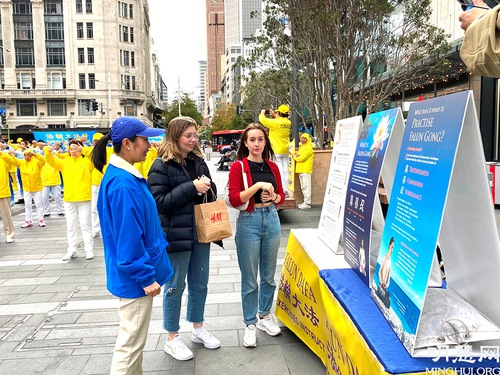 People ask about Falun Dafa.
World Falun Dafa Day is celebrated on May 13 each year and celebrates not only the anniversary of Falun Dafa's introduction to the public in China on May 13, 1992, but is also the birthday of the founder of Falun Gong, Master Li Hongzhi.
Practitioners Express Their Gratitude to Master for His Saving Grace
Nancy Yang shared her experience at the gathering. She had suffered from a kidney disease, and her condition developed rapidly. She was tired all the time and had both hematuria and proteinuria (blood and protein in her urine). She was unable to work and had to take long-term sick leave.
She said, "My family members took me to try different treatments from specialist clinics, secret folk prescriptions, and acupuncture and Chinese medicine. My condition, however, became worse. The doctors said that it would develop into uremia if my condition could not be controlled."
A friend encouraged Nancy to start practicing Falun Dafa. Nancy accepted her friends advice, and within three months Nancy had completely recovered her health and was able to go back to work.
"Falun Dafa gave me a healthy life," she said, "Dafa not only gave me good health but has also taught me to be a good person, a better person. From reading Falun Dafa's main book Zhuan Falun, I know the real reason for birth, aging, illness and death, the relationship between karma and virtue, and the reasons why I have to be a good person. I have become peaceful and full of joy after practicing Falun Dafa. My family and my relationships with other people have become more harmonious."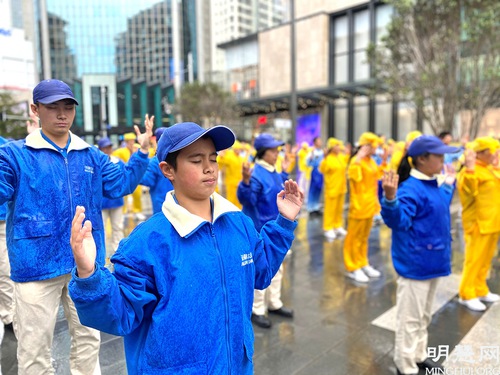 Young practitioner Selwyn enjoys doing the exercises.
Selwyn is a 10-year-old who practices Falun Dafa. "I had a lot of selfishness, a lot of back-chat toward my parents. I had been mean to others and being very naughty," he said. "But now, I have become a much more sensible person.
"I enjoy doing the exercises and reciting Master's poems. Dafa has changed me a lot, because it teaches me to become a better person and have a kind heart. I have been constantly applying Dafa's principles of Truthfulness-Compassion-Forbearance in my daily life.
"Falun Dafa also teaches me to be a helpful person. I help my teacher tidy up the classroom every day. I help my classmates with their studies when they ask for help. When I come across any hardships I always ask for Master's guidance."
Chairman: Truthfulness-Compassion-Forbearance are the Very Best of Human Values
Barry Wilson, chairman of the Auckland Council for Civil Liberties
Barry Wilson, chairman of the Auckland Council for Civil Liberties, came to celebrate World Falun Dafa Day with practitioners.
He said, "I think Falun Gong has to be congratulated for keeping alive the spirit of its founder and health, a healthy lifestyle, a compassionate lifestyle, kindness to its members. It amazes me that the Chinese government found that a threat. I think Falun Gong deserves huge praise for keeping that spirit alive. And for keeping it alive in New Zealand and letting New Zealand know exactly about the persecution in China."
Mr. Wilson came across Falun Dafa 15 years ago and has been very supportive of the practice.
"I consider that something well worth doing because I appreciate the quality of the people who stand behind Falun Gong and their determination and their organizational skills in keeping Falun Gong alive," he said. "It's essentially a positive influence and its values are very good. Truth, Compassion, Forbearance, I agree. Those are the very best of human values kept alive by some very good people in the Falun Dafa movement."
People Agree with the Principles of Truthfulness-Compassion-Forbearance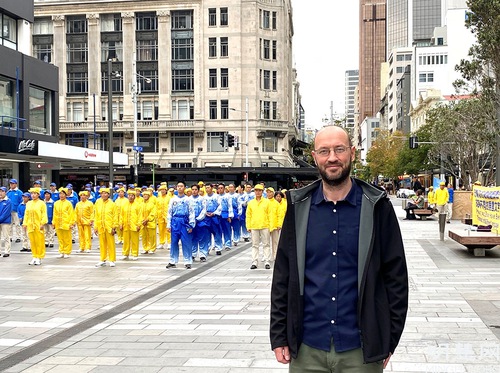 David Hume likes the peaceful exercises.
David Hume is an engineer. His wife is a photographer. They both stopped to observe the activities on Elizabeth Square.
"The dragon dance is very good and appealing. My wife and I have taken many photos," Mr. Hume said. "The exercises demonstration is serene, peaceful, and beautiful. I like it. I just learned that it is the 29th anniversary of Falun Dafa spreading. I wish them good luck and congratulations for the 29th anniversary. The principles of Truthfulness-Compassion-Forbearance are wonderful. Everyone should comply with them."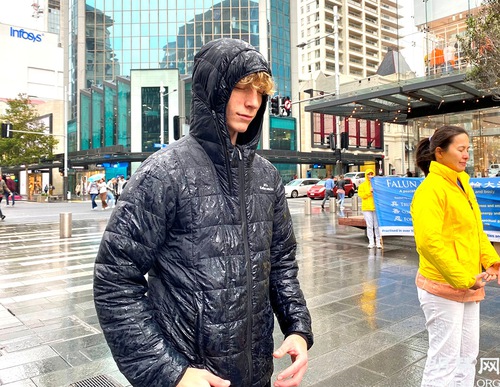 Keegan Parkinson learns the Falun Dafa exercises in the rain.
Keegan Parkinson is a senior in high school. He joined in when he saw practitioners doing the Falun Dafa exercises. "I can hardly express my feelings in words. When I practiced the exercises with them, I felt I was part of them. I was completely into it. Only the music was in my mind. It was a wonderful feeling. I like their principles of Truth-Compassion-Forbearance. Chinese culture is amazing. I wish them a happy 29th anniversary," he said.
He took a Falun Dafa pamphlet when he left. He said that he would study it.
All articles, graphics, and content published on Minghui.org are copyrighted. Non-commercial reproduction is allowed but requires attribution with the article title and a link to the original article.
Category: Dafa Day Celebrations