Philadelphia: Celebration of World Falun Dafa Day
May 15, 2021 | By a Falun Dafa practitioner in Philadelphia, Pennsylvania, USA
(Minghui.org) Falun Dafa practitioners in Philadelphia celebrated World Falun Dafa Day and Master Li Hongzhi's 70th birthday at the Liberty Bell Center, last Saturday, May 8, 2021.
Practitioners gave speeches, did the Falun Dafa (aka Falun Gong) exercises, set up display boards, passed out materials, and performed dances and songs at the event. They also collected signatures on the petition protesting the ongoing persecution in China.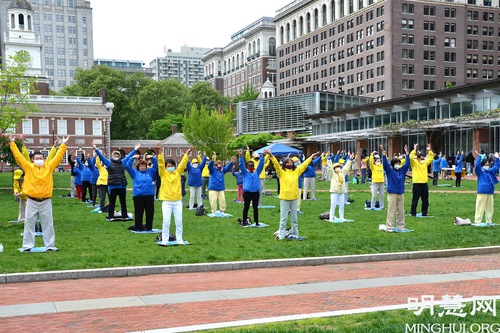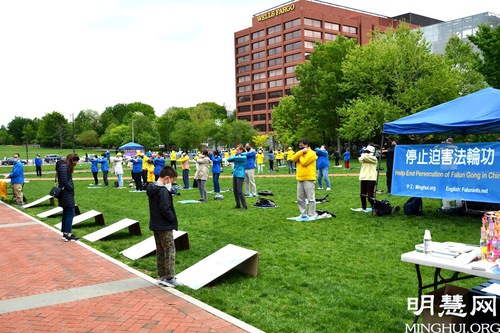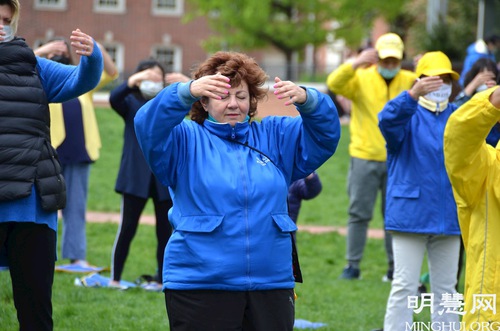 Practitioners doing the Dafa exercises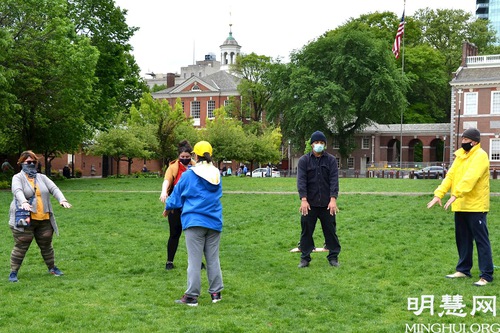 Tourists learning the exercises
Proclamations from Government Officials
Government officials and lawmakers from Pennsylvania and Delaware sent congratulations and proclamations to the event, including congressmen Scott Perry, Mike Doyle, and Thomas Carper, the governor of Pennsylvania Tom Wolf, the governor and the lieutenant governor of Delaware John Carney and Bethany Hall-Long, the mayor of Philadelphia James Kenney, and the mayor of Pittsburgh's William Peduto. 
The leaders praised Falun Dafa for spreading the teaching of Truthfulness-Compassion-Forbearance, and introducing peace, as well as physical and mental health to the world. They expressed solidarity with practitioners in working to end the persecution in China. 
The state lawmakers Amanda Cappelletti, Sharif Street, Paul Baumbach and Michael Smith, Alleghney County Executive Rich Fitzgerald, the council president and council member of Philadelphia Darrell Clarke and Mark Squilla, and the New Castle County in Delaware also sent congratulatory letters to practitioners.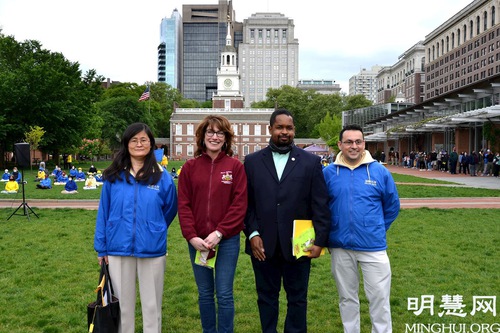 State Senator Sharif Street (second on right) and State Representative Mary Isaacson (second on left) issue proclamations to practitioners on behalf of the state house. 
State Senator Sharif Street, who co-sponsored the proclamation, gave a speech at the event. He opined that Falun Dafa's peaceful protest against the persecution will encourage people in other places to fight for freedom. 
State Representative Mary Isaacson also jointed the celebration. She said it was meaningful to celebrate this holiday in front of the Liberty Bell. The world will learn the beauty of Falun Dafa. She also said the United States will not accept the persecution of belief. 
Falun Dafa Practitioners Thank Master Li 
A few practitioners gave speeches at the event, telling the audience their experiences of cultivating in Falun Gong and expressing their gratitude to Master Li Hongzhi. 
Flight Instructor: I found my true self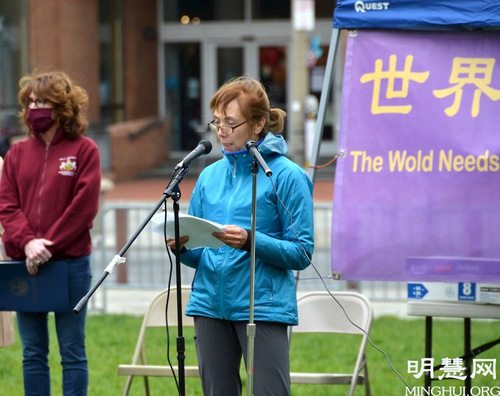 Terri Morse is giving a speech. 
Terri Morse is a flight instructor. She was diagnosed with Lyme disease. She experienced fatigue, nerve pain, loss of hearing, asthma, and chronic allergy. After suffering from the symptoms for 10 years, she started practicing Falun Dafa in 1999.
"I found the answers to many of my questions about life in Falun Dafa. I follow the principle of Truthfulness-Compassion-Forbearance, through which I found my true self," she said. 
"These principles helped me get rid of negative thoughts and attachments. I gained inner peace, and recovered from everything that ailed me."
Terri entered a four-day competitive flight race in 2014. It was stressful, she said, but Falun Dafa gave her energy and guidance, helping her to deal with the pressure and to concentrate. 
Computer Engineer: Witnessing the Power of Dafa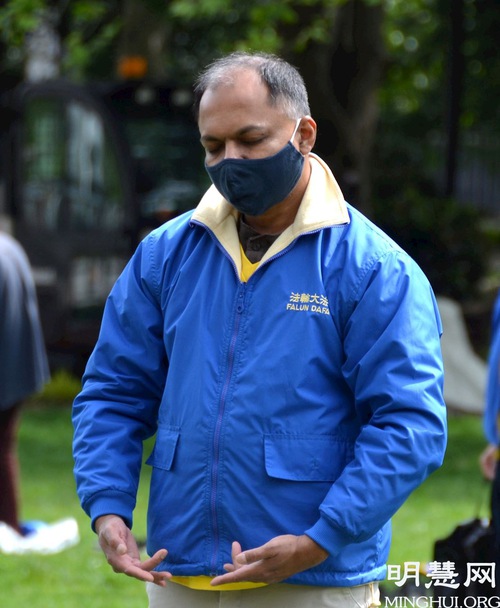 Santhosh Krishnamurthy does the exercises at Saturday's event. 
Santhosh Krishnamurthy, a computer engineer came down with a serious disease in 2015. He was depressed and angry. However, after a few weeks of cultivating in Falun Dafa, his health was greatly improved. 
"I am fully energized. My family and co-workers also saw the changes in me."
"I follow the principle of Truthfulness-Compassion-Forbearance in the daily life, which has brought me positive effects on my mind and health."
"It is a wonderful experience. The most important is that cultivating in Falun Dafa allows me to remain calm and peaceful in the stressful daily life."
Witnessing the power of Dafa, his family, including his mother, aunt, and grandmother, began to cultivate three years ago.
Chinese Practitioner: Sharing the Beauty of Falun Dafa with Co-workers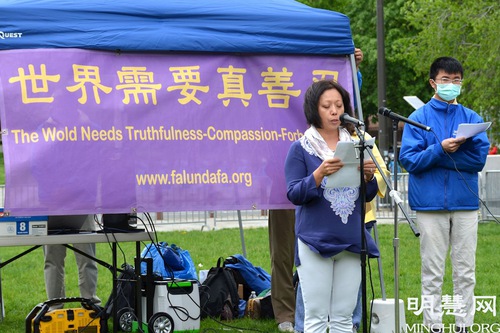 Cindy Liu thanks Falun Gong for bringing her physical and mental health. 
Ms. Liu experienced stomach problems. She could not move after meals, and took pain killers every day. 
She started to cultivate Falun Dafa in 1998, and recovered from all her diseases. "I no longer experienced any illness symptom," she said.
From Falun Dafa, she learned that she needs to look within when facing conflicts. 
"I should not be judgmental. I tell myself to have an open mind to all kinds of views," she said, "I am happy and ready to face the new challenges, and solve problems every day."
Ms. Liu also tried to share the beauty of Falun Dafa with her co-workers. She has held free workshops, and teach them once a week. 
Many people have watched the group exercise. Her workplace also introduced Falun Dafa through its company news channel in the branches of the company throughout the world. 
IT Manager: Gaining Wisdom After Practicing Falun Dafa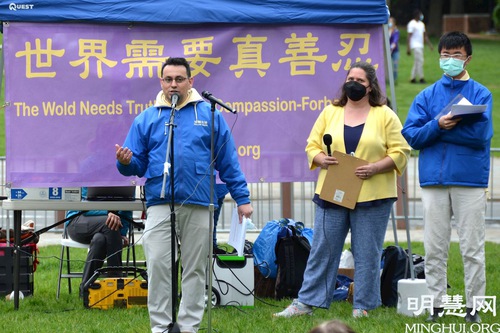 Alex Luchansky gives a speech. 
Alex Luchansky, an IT manager, has cultivated Falun Dafa for 16 years. He is happy that he found a method to improve himself in the busy daily life. 
"The teaching of Falun Dafa, Truthfulness-Compassion-Forbearance, gives me bigger wisdom and a meaningful goal in life," he said. 
From cultivation, he has learned how to face difficulties calmly, and look inward for his shortcomings. Besides, Falun Dafa taught him to think of others' needs first, and see things from other people's viewpoints. 
"The most important is that Falun Dafa enables me to tell right from wrong," he said, "In such a chaotic era, the world is full of the deceiving communist thoughts, which ruin people's morals," he said. "It is difficult to keep a high moral standard, but Falun Dafa makes me more selfless, and I can see things more clearly."
Passerby: Feeling the Peaceful Energy
Many people watched the performances. Amanda from Lackawaxen said she felt the peaceful energy. Diana Avila had the same feeling. She appreciates the spreading of joy and love. 
Rachael Lapolla, an elementary school teacher, loves the paper lotus flowers made by practitioners. She condemned the persecution, signed the petition, and encouraged practitioners to keep fighting for freedom. 
All articles, graphics, and content published on Minghui.org are copyrighted. Non-commercial reproduction is allowed but requires attribution with the article title and a link to the original article.
Category: Dafa Day Celebrations