Remembering the Practice Site on the Bund in Shanghai
May 10, 2021 | By: Fayuan, a Falun Dafa practitioner in Shanghai
(Minghui.org) Master Li Hongzhi imparted Falun Dafa to the public in 1992. Within seven years, Dafa spread throughout China, and Shanghai was no exception. Dafa practice sites could be found everywhere in Shanghai.
Our practice site was on the Bund (a mile-long stretch of waterfront promenade) in Puxi on the Huangpu River. We taught the Falun Dafa exercises free of charge. Many people came to learn, and later became Dafa practitioners. We often displayed a set of photos taken when Master was imparting Dafa.
Master said, "Many of our practitioners with supernormal abilities have seen that this Falun Dafa site is shielded with red light, and it is red all over." (Lecture Three, Zhuan Falun)
Witnessing the Power of Dafa
Indeed, many of our practitioners, as well as non-practitioners, saw amazing scenes in the sky above the practice site. 
A couple in their 40s went for a walk along the Bund. The wife said, "From a distance, I saw a red sky. I was surprised, so I went there with my husband to take a look. I didn't expect it to be a Falun Dafa practice site. Falun Dafa is a practice based on the Buddha school and I must learn it." She was a lay Buddhist. The couple became Dafa practitioners.
A critically ill patient came to Shanghai for surgery. The chance of success for the surgery was very small, and he felt hopeless. The doctor sympathized with him and allowed him to go to the Bund to walk around before the operation. Fortunately, this man saw that the sky above the Bund practice site was filled with Buddhas, Taos and other enlightened beings. So he started to do the exercises exercises instead of surgery. His health improved.
Master said, 
"The Fa-spreading method we've adopted all along is that you do the exercises outdoors. Another one is to have our Dafa books for sale in public bookstores. My Law Bodies will direct people with a predestined relationship to buy the book, and as soon as they read it they will come and learn." (Teachings at the Conference in Switzerland)
Our practice site played a very good role in spreading Dafa, and many people stopped by. Practitioners from multiple practice sites liked to come to the Bund practice site, especially on holidays and weekends. At most, nearly a thousand Dafa practitioners lined up along the river to practice exercises. Some practitioners took pictures and have kept them allthese years. 
At that time, we borrowed a classroom to watch Master Li's lecture videos at night, one lecture per night. Four to five practitioners were responsible for teaching the exercises at the practice site early in the morning. If more people came to learn, we called on some practitioners from other practice sites, and the coordinator helped them establish a new practice site. This is how Falun Dafa spread everywhere.
It should be mentioned that the pictures taken by practitioners showed Faluns with transparent energy, a beam of light, and a light ladder. One picture was especially amazing. Most of the practitioners had a rope tied to their hearts, and the ropes were connected to Buddhas, Taos, and other divine beings. 
Resolving a CCP Plot
However, our practice site on the Bund became the focus of the attention of the Shanghai police, after about 10,000 practitioners from all over China went to Beijing to peacefully appeal on April 25, 1999. Plain clothes police harassed us from time to time.
One Sunday, when practitioners were standing to do the moving exercises, a group of people came to stand next to us and did their fan dances. We still focused on our exercises, and simply ignored them.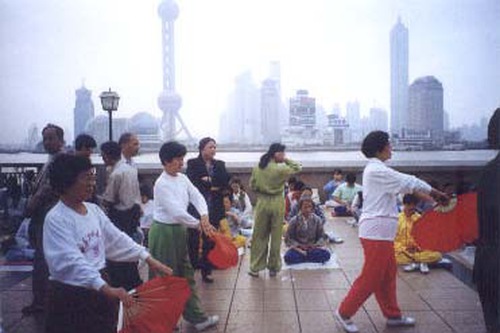 Shanghai practitioners did the morning exercises on the Bund by the Huangpu River. The State Security agents organized a waist drum and fan dance team to harass Falun Dafa practitioners before July 20, 1999. 
We were going to do the sitting meditation. Those people moved around us, and their fans almost hit us. Some practitioners wanted to stop them. The coordinator said, "We are cultivating Truthfulness, Compassion and Forbearance. We ignore them."
Master said,
"We can't fight and struggle against others. Just don't give them an audience and it will be fine. The interference that cultivators encounter is itself a test." (Zhuan Falun Fajie)
We turned our square team into a long line, sitting close to the guardrail wall to practice the sitting meditation. As soon as the exercise music started, we ignored the interference.
After we finished our exercises and were about to leave, some of the people who played the fan dances came over to say hello. They said that they didn't want to come, but the community agents paid each of them 20 yuan and forced them to come. We learned afterwards that the plainclothes police man were going to arrest us immediately if conflicts happened. We followed Master's words, did not fight with ordinary people, and resolved a pre-meditated persecution.
Our coordinator was illegally arrested on July 20, 1999. Some practitioners still went to the Bund to practice the exercise, and the 610 Office staff ordered them to be arrested, and taken to a detention center.
Dafa has melted into our lives, and will last forever in the hearts of practitioners. The practice site on the Bund left us with beautiful memories, and laid a solid foundation for our practice. I believe that the day when the truth of Dafa becomes clear to the world will surely come! 
All articles, graphics, and content published on Minghui.org are copyrighted. Non-commercial reproduction is allowed but requires attribution with the article title and a link to the original article.
Category: Personal Accounts of Early Days