Malaysia: People Express Their Support and Condemn the CCP's Persecution During Activities To Commemorate the April 25 Appeal
May 1, 2021 | By a Falun Dafa practitioner in Malaysia
(Minghui.org) Falun Dafa practitioners in Malaysia held a two day event at Kuala Lumpur's city center on April 23-24, to commemorate the April 25 Appeal. They told people how the Chinese Communist Party (CCP) persecutes Falun Dafa in China, and they collected signatures on a petition to end it.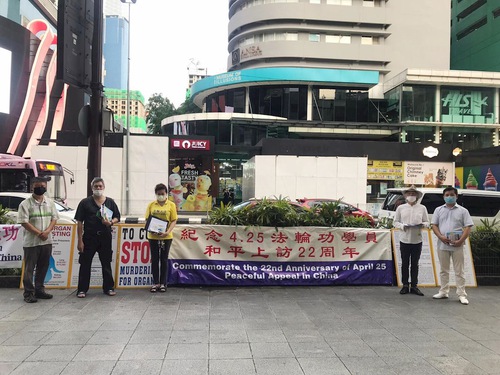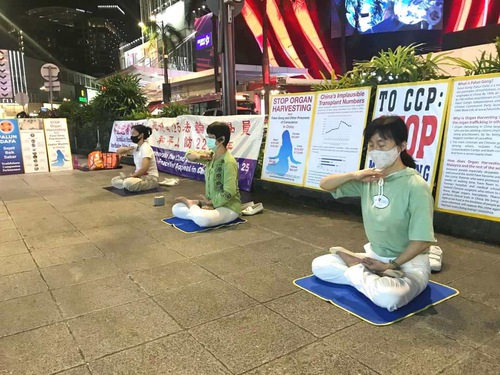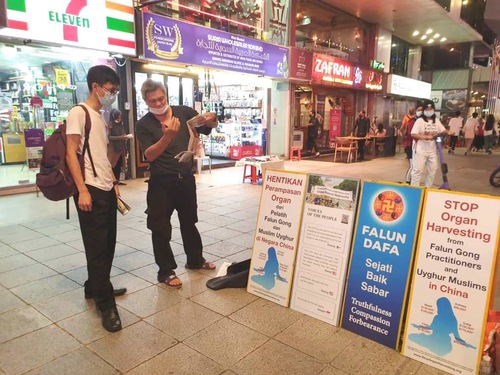 Practitioners in Malaysia held events at the Kuala Lumpur city center on April 23-24, 2021, to commemorate the 22nd anniversary of the April 25 Appeal. The practitioners also told the passersby the facts about Falun Dafa.
Experiencing Falun Dafa's Miracles
Guo Xiong, who began practicing Falun Dafa two years ago, joined the April 24 event with his mother, Hui Jin. They wanted to tell people that Falun Dafa is good.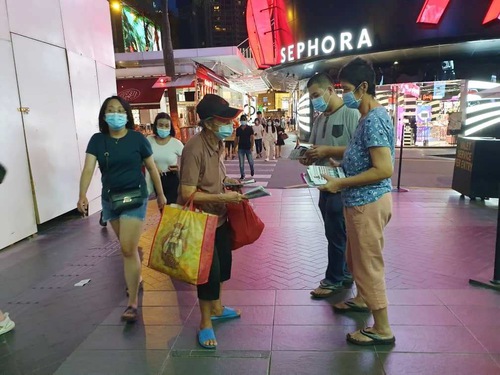 Guo Xiong and his mother Xiu Jin distributed information about Falun Dafa to passersby.
Guo Xiong's mother was diagnosed with cancer before she began practicing. She underwent chemotherapy and lost all of her hair. After he began practicing, Guo Xiong introduced Falun Dafa to his mother. Last December, both mother and son participated in the Falun Dafa nine-day class and listened to Master's lectures. After she began practicing Falun Dafa, Xiu Jin's cancer was cured. Not only has her hair grown back, she is now happy and positive. Both mother and son witnessed the miracles of Falun Dafa.
Guo Xiong said that before she began practicing Falun Dafa, his mother was always anxious and filled with fear. She gradually became less worried after she started reading the Fa and practicing the exercises with other practitioners. She also learned how to look within and has stopped blaming others when things become difficult.
Guo Xiong said that unfortunately many people in Malaysia still do not know how wonderful Falun Dafa is. He feels compelled to clarify the truth to everyone he knows.
Residents Call for the Persecution to End
Mr. Ganesh, from the Batu Caves, Selangor, is a video editor. After learning the truth about Falun Dafa, Mr. Ganesh said that the CCP's persecution of Dafa should be made known to the international community and all the countries around the world.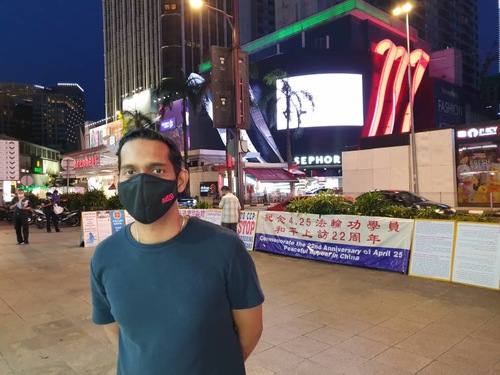 Mr. Ganesh
After learning the truth about the CCP's persecution of Falun Dafa, Hamza, who is currently studying at the University of Nottingham Malaysia, said, "We should hold a protest to stop the CCP from continuing to commit such very wrong acts.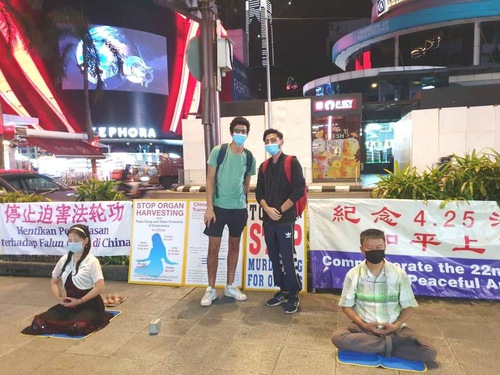 Hamza (right, standing) and his friend condemned the persecution.
When Kogilawaanan, an engineer from Klang, Selangor, learned about the CCP's persecution of Falun Dafa, he exclaimed, "The CCP's persecution and forced organ harvesting from practitioners are illegal acts. It is not right to kill innocent people!" He called for everyone to come and sign the petition and stop the cruel persecution immediately.
All articles, graphics, and content published on Minghui.org are copyrighted. Non-commercial reproduction is allowed but requires attribution with the article title and a link to the original article.
Category: April 25 Events