Paris, France: Strong Voices of Support at City Hall Square
April 7, 2021 | By Zhou Wenying, a Minghui correspondent in Paris, France
(Minghui.org) Passersby at City Hall Square in Paris showed their support for Falun Gong practitioners on March 28, 2021, by signing a petition demanding the Chinese communist regime end its 21-year-long persecution of Falun Gong.
Practitioners in China have been arrested and tortured since 1999 for practicing Falun Gong and abiding by the principles of Truthfulness-Compassion-Forbearance.
Practitioners in Paris set up a table and posters in the afternoon with information about the persecution in China. They demonstrated the peaceful Falun Gong exercises, and the gentle movements and soothing music drew the attention of many passersby. A French woman told practitioners that the Chinese Communist regime is bound to end because it persecutes people of faith.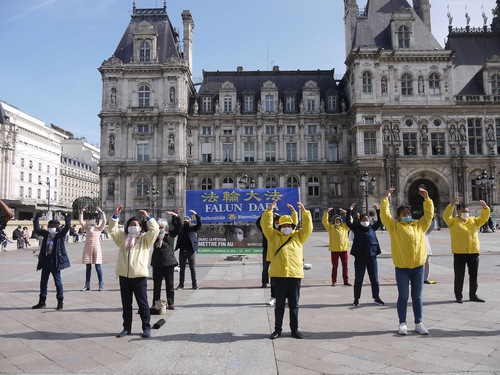 Falun Gong practitioners demonstrate the health-promoting exercises at City Hall Square in Paris on March 28, 2021.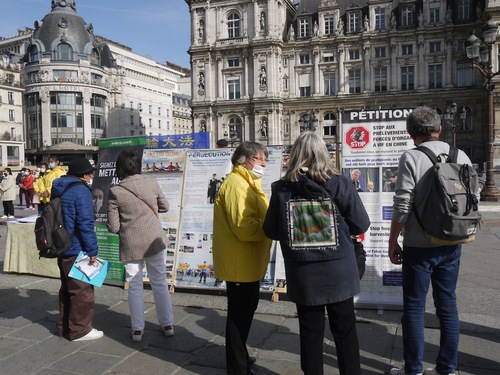 People read the posters at City Hall Square and ask questions about Falun Gong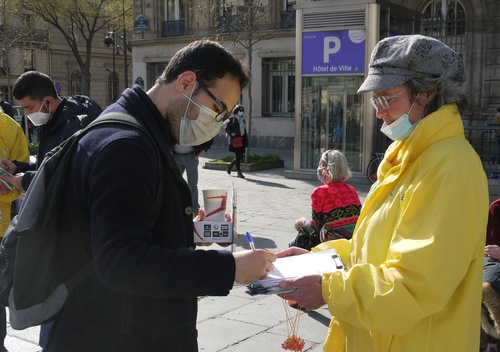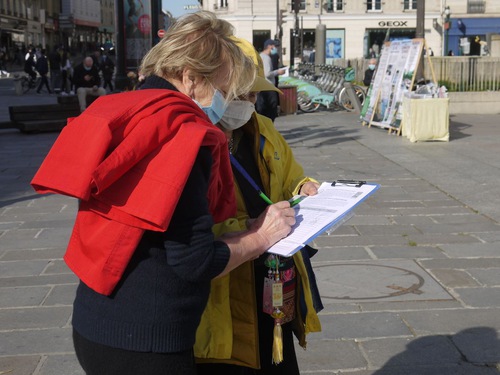 People ask to sign the practitioners' petition to end the persecution and show their support for the practitioners' efforts and beliefs.
Linda is a Christian and she works in the judicial department. "There is no smoke without fire," she said. "People don't go about saying things that don't happen. I believe [the persecution] is happening. The policies in China make them sacrifice their own people to gain power and control. The country is sick when people are exposing the persecution and asking for help overseas."
"I am against the persecution. No government persecutes its people like the Chinese communist regime does. People kill on battlefields because they have to fight wars. The killing of one's own people is criminal. It will be punished by God eventually because of karmic retribution. The persecution will not last long because righteous will overcome evil, that's for sure. The people will always win. Whoever persecutes others will have to pay. The regime is bound to fail and will lead to an end," she said.
Jean Pierre is a retiree who is enthusiastic about Chinese culture and language. He said the persecution of Falun Gong is a shameful act. "The bloody torture and killing in China have hurt the Chinese people tremendously. The nation suffered colossal tribulations like the Russians did when they were slaughtered by Stalin. The Chinese Communist Party is a dictatorship. Under its rule the people can't express their opinions freely for fear of losing their lives. Eighty million Chinese people have died unnatural deaths. It's not just a number, it's human lives," he said. He praised the practitioners and showed respect for their courage.
Nelson came from Colombia and works in Paris. He was happy to see the practitioners working to raise public awareness of the persecution. He said, "The Communist Party killed 2 million people in Russia and 80 million in China. Adding those who died in Cuba and North Korea, the Communist Party has killed more people than Hitler did and created the most bloody history. A historian would know and the numbers don't lie."
All articles, graphics, and content published on Minghui.org are copyrighted. Non-commercial reproduction is allowed but requires attribution with the article title and a link to the original article.
Category: Parades & Other Community Events