54-year-old Man Denied Medical Parole, Dies Two Months After Being Imprisoned
March 13, 2021 | By a Minghui correspondent in Zhejiang Province, China
(Minghui.org) A 54-year-old man died two months after he was imprisoned for his faith in Falun Gong, a spiritual and meditation discipline that has been persecuted by the Chinese communist regime since 1999.
Mr. Yue Caiyun, a native of Yucheng County, Henan Province, was arrested in Hangzhou City, Zhejiang Province, where he had been living the past few years, on August 21, 2020. The Hangzhou police accused him of mailing informational materials about Falun Gong and held him at the Red Cross Detention Center in Xiaoshan District.
Mr. Yue held a hunger strike for four months and was often force-fed. The detention center doctor also injected him with unknown drugs every day he was there. 
He was sentenced to one year and four months at the Hangzhou No. 2 Prison in late December 2020. He continued his hunger strike after being taken to the prison. 
The prison authorities barred his family from visiting him and denied their request to release him on medical parole, despite his critical condition. The prison even claimed that Mr. Yue hurt himself on purpose.
On February 24, 2021, the prison informed Mr. Yue's family that he had just passed away. According to his son who saw his body in the hospital, he was emaciated. The prison denied any responsibility for Mr. Yue's death. They threatened his family not to expose it or they would lose their jobs. The prison gave Mr. Yue's family 30,000 yuan as a final settlement. 
Brutal Torture in Henan Province No. 3 Forced Labor Camp
Prior to being imprisoned in Hangzhou, Mr. Yue was previously given an unknown term at Henan Province No. 3 Forced Labor Camp and was subjected to a series of inhumane tortures. 
In a labor camp-wide campaign to force the practitioners to renounce Falun Gong in May 2003, the guards deprived Mr. Yue of sleep for seven days, tied him up over twenty times, and shocked him with electric batons. The tying torture was one of the torture methods used most frequently at the labor camp. In this torture, the guards tied up his arms behind his back with thin rope and pulled them up. Half an hour later, the guards would tighten up the rope and pull his hands up again. The pain was excruciating.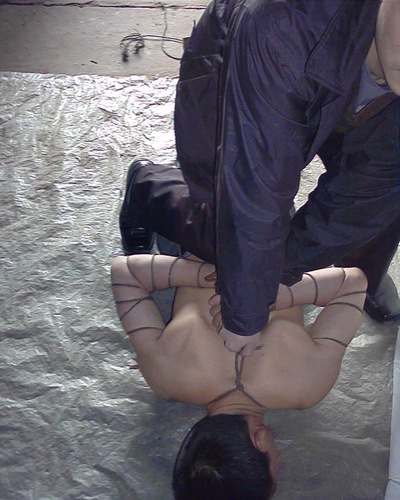 Torture reenactment: Tied up
After the tying torture failed to make Mr. Yue waver in his faith, the guards tried the "Roasting a Whole Sheep" torture on him. In the torture, the guards cuffed his hands and feet to a rail and flipped him over. He was hung up this way for three days.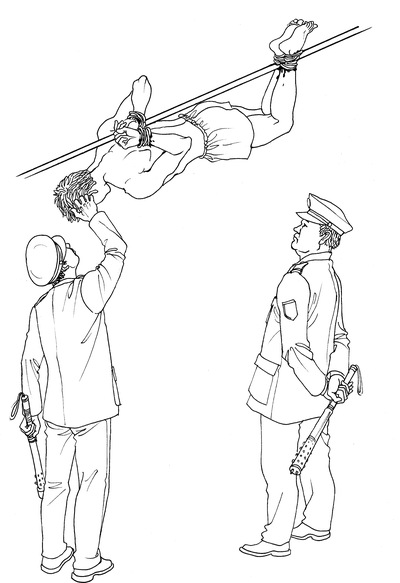 Torture illustration: "Roasting a Whole Sheep"
As Mr. Yue still stayed firm in his faith, the guards tied him in a chair and forced him to listen to audio recordings slandering Falun Gong all day long. The guards threatened to torture him to death if he didn't give up Falun Gong. 
As a result of the torture, Mr. Yue had injuries all over his body. He was bedridden for a long time and lost the ability to take care of himself. He was also crippled due to his leg injuries.
The guards also tortured him by pulling him by the collarbone with a metal chain and brushing his anus with a toothbrush. 
Shortly after he was released, his wife, also a Falun Gong practitioner, was arrested in August 2005 while working in their crop field and directly given one year at Shibalihe Forced Labor Camp in Zhengzhou City, Henan Province. In her absence, her bedridden husband and their school-age child struggled to fend for themselves. 
Related report:
Torture Methods Used to Persecute Falun Gong Practitioners in Henan No. 3 Forced Labor Camp
All articles, graphics, and content published on Minghui.org are copyrighted. Non-commercial reproduction is allowed but requires attribution with the article title and a link to the original article.
Category: Confirmed Death Cases