France: Parisians Learn about Falun Dafa and Condemn Persecution by the CCP
Feb. 25, 2021 | By a Minghui correspondent in Paris, France
(Minghui.org) With a gentle hint of spring in the air, people started to gather again on Place de la République. On the afternoon of February 21, 2021, Falun Dafa practitioners did the exercises and set up posters on the square to tell passersby about the practice and the ongoing persecution of practitioners in China.
First introduced to the public in 1992, Falun Dafa is a meditation practice that follows the principles of Truthfulness, Compassion, and Forbearance. After the Chinese Communist Party (CCP) began persecuting Falun Dafa in 1999, thousands of practitioners have been arrested, tortured, and imprisoned for their faith.
Many people the practitioners talked to said they knew about Falun Dafa and condemned the persecution. Some signed a petition demanding that the CCP end the persecution. Some Chinese people also quit the CCP and its youth organizations.
A French reporter interviewed practitioners and wanted to know more about those in China who have suffered unspeakable persecution in the past 21 years.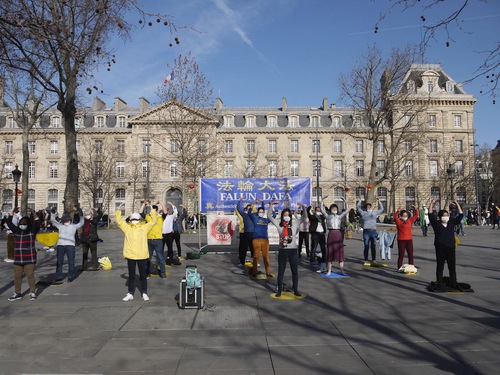 Practitioners demonstrate the gentle, slow moving Falun Dafa exercises on Place de la République on February 21, 2021.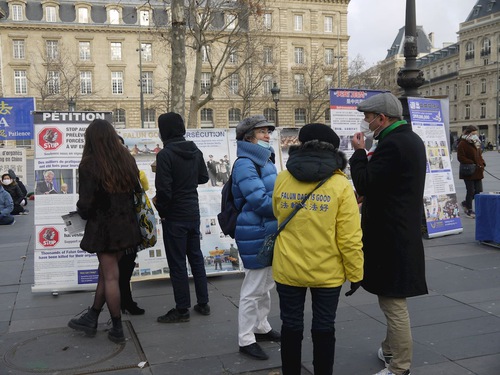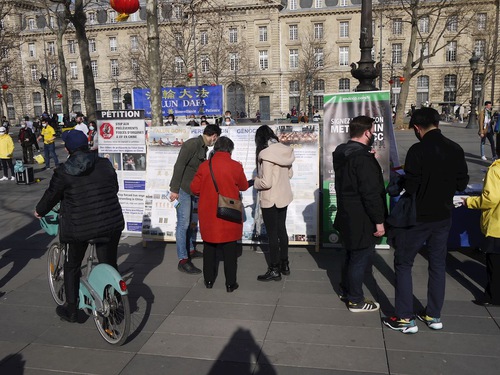 People stop by the practitioners' display on Place de la République and learn about Falun Dafa and the ongoing persecution in China.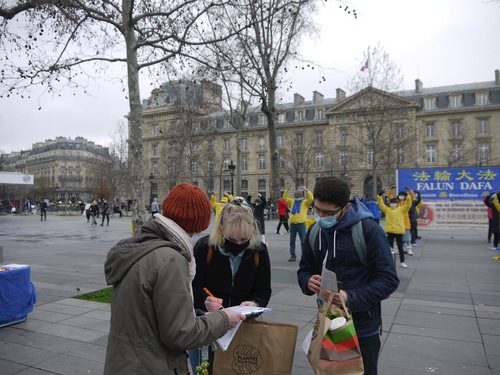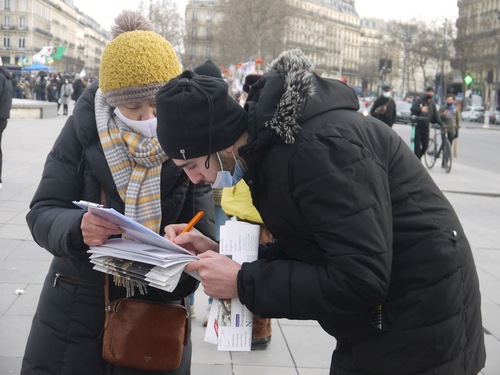 After learning about the brutality of the persecution of Falun Dafa in China, people sign the petition demanding an end to the persecution.
Akli Bounouar said he was attracted to the practitioners' peaceful atmosphere, which contrasted with other groups who voiced their concerns aggressively. After signing the petition, he encouraged practitioners and said, "What you do is wonderful, waking up people and letting everyone know what is happening in China. Harvesting organs from practitioners incarcerated for not renouncing their faith is a crime. The perpetrators are not human."
After Zoubir learned how practitioners are tortured in China, he was shocked. "Harvesting organs and profiting from the sales is criminal and inhumane. We've seen several reports on television about the crimes against the Jewish people. How come there aren't any reports on what's happening to Falun Dafa practitioners?"
"France and the EU support and trade with the CCP. The French government is supporting this totalitarian regime. I feel that this world has gone insane," Zoubir continued. He said the only way to stop the persecution is through peaceful protests and helping people wake up and see the evil nature of the CCP.
College student Marc was shocked to learn that peaceful meditators are persecuted and have even had their organs removed. "The CCP's persecution of the Uyghurs, Falun Dafa practitioners, Tibetans, and people in Hong Kong is terrifying. It's genocide, and it's happening in the 21st century right underneath our eyes."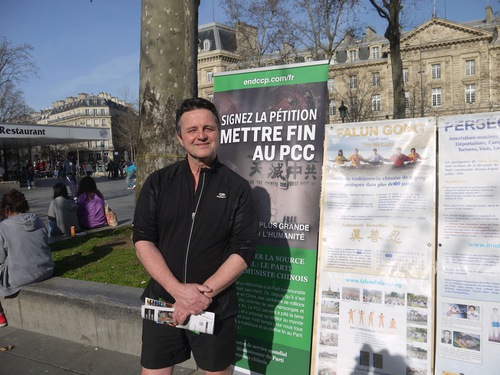 Kikko Marassi says that only God can dissolve the CCP.
Kikko Marassi works as a museum guide and said, "Demons not only exist in China but everywhere in the world." As a Christian, Marassi said that he believes the world will soon change. "What is happening here, in China, and the rest of the world; all the sufferings and problems are signs of mankind's last moments. Soon the world will be free of these tribulations. People with kind hearts will survive. The demons will be destroyed."
"There will be no peace in the world as long as demons exist," he said. "'Dissolve the CCP' is well-said. Who will dissolve it?" he pointed to the sky, "Only God can dissolve the CCP and all the demons in the world. Freedom will soon arrive."