Yancheng City, Jiangsu Province: Nine Falun Gong Practitioners Sentenced to Prison
Feb. 24, 2021 | By a Minghui correspondent in Jiangsu Province, China
(Minghui.org) With the persecution of Falun Gong continuing unabated, nine residents of Yancheng City, Jiangsu Province, mostly in their 60s, were sentenced to prison late last year. Falun Gong is a peaceful spiritual and meditation discipline that has been persecuted by the Chinese communist regime since 1999. The nine practitioners had been illegally detained for nearly two years prior to their sentencing.
Mr. Cao Fulin was sentenced to five years. Mr. Wang Changming was sentenced to four years.Ms. Deng Chengfang was sentenced to three years and six months. Ms. Tang Yuling was sentenced to two years and six months.Ms. Kong Lingxiu was sentenced to two years and ten months.Ms. Bian Jinlan was sentenced to two years and three months.Ms. Wu Peiwen was sentenced to two years.Mr. Xu Donggan was sentenced to one year and nine months.Ms. Zhong Xiufeng was also sentenced to one year and nine months.
Mr. Xu and Ms. Zhong were released in late January 2021 after having already served most of their time.
Arrested Before "Sensitive Date"
The Yancheng City authorities arrested 47 Falun Gong practitioners in the several days before and after April 25, 2019, the 20th anniversary of 10,000 Falun Gong practitioners peacefully appealing in Beijing for the right to practice Falun Gong.
Ms. Zhong, 68, was arrested at home on April 23 and taken away with her hands cuffed behind her back. Her 73-year-old husband, who has one leg amputated, has struggled to take care of himself.
Ms. Deng, Ms. Tang and Ms. Kong were arrested on April 24, 25 and 27, respectively. Mr. Cao and Ms. Bian were arrested on April 30. All of the practitioners were taken to the Aishe Hotel, where a brainwashing session was held.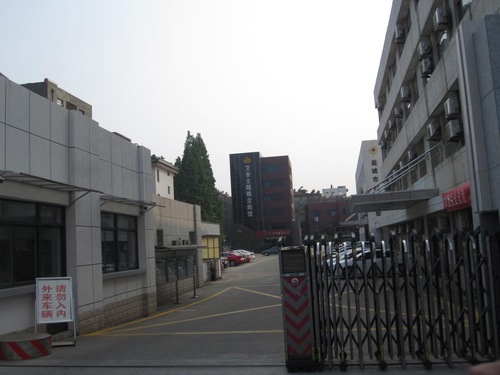 Aishe Hotel, where Falun Gong practitioners were subjected to brainwashing by the Yancheng City authorities.
While the above six practitioners were released temporarily, they were arrested again on May 15 and had their homes ransacked. Mr. Xu and Mr. Wang were also arrested on the same day. Their homes were also ransacked. It's not clear when Ms. Wu was arrested. 
The police ransacked Ms. Kong's home three times and confiscated two computers, two printers, and office supplies. They brought Ms. Kong back home during at least two of the three raids. On one of her return trips, Ms. Kong's family noticed that her face was swollen. The police also took pictures of the exterior of her apartment.
The nine practitioners were tried on August 20, 2020 and sentenced to prison on December 25, 2020. 
Past Persecution
The persecution is not new to many of these practitioners.
Prior to his latest prison term, Mr. Wang had been sentenced to three years in Wuxi Prison. 
Mr. Xu was arrested on October 29, 2008, and sentenced to one year. 
Mr. Cao was arrested on April 21, 2010. He was beaten by the police to the point of being unable to walk. He was later sentenced to five years in the Hongzehu Prison by the Yandu Court.