Falun Dafa Practitioners from Various Professions Wish Master Li a Happy Chinese New Year (29 Greetings)
Feb. 14, 2021 | By a Minghui correspondent
(Minghui.org) On the special occasion of the 2021 Chinese New Year, Falun Dafa practitioners around China are sending their warmest greetings to Master Li Hongzhi, the founder of the practice. 
These practitioners stated that they were grateful for Master's protection on their cultivation path and they felt truly honored to have the opportunity to practice Falun Dafa. In the upcoming New Year, they vow to cultivate themselves better and let more people know about the beauty of the practice.
A practitioner in Gansu Province wrote: Recalling the past years in following Master and passing tribulations, I and my whole family appreciate Master's compassionate protection. Master extends the time with great expectation for us practitioners to save more sentient beings. At the coming of the New Year, we will follow Master's teaching, study the Fa, cultivate well, and walk well on the path to assist Master in the Fa-rectification.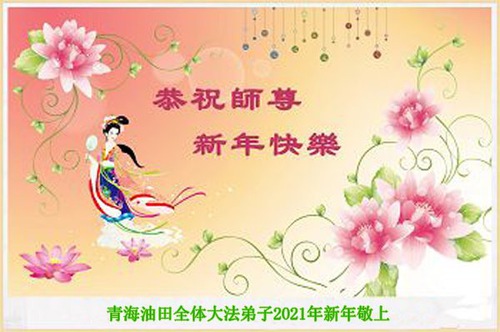 Other greetings came from practitioners in the following regions:
Qinghai Oil FieldPotou City, Hebei ProvinceCrystal Group in Qingzhen City, Guizhou ProvinceHuludao City, Liaoning ProvinceJiangxi Province Hydropower, Finance, Postal Savings, Forestry, Insurance Industry, Healthcare SystemConstruction Bank System in Tai'an, Shandong Province Healthcare System in Kaijiang County, Sichuan ProvinceSupply and Marketing Cooperative System in Kaijiang County, Sichuan ProvinceThe Number One Auto Corporation LimitedFAW Group Co., Ltd. In Changchun, Jilin ProvinceShengli Oil Field, Shandong ProvinceChangqing Oil FieldZhongyuan Oil FieldBank of ChinaTonghua Steel Group Co., Ltd., Jilin ProvinceDaqing Oil Field, Heilongjiang Province