Hong Kong Food and Environmental Hygiene Department Harasses Falun Gong Practitioners
Feb. 1, 2021 | By a Falun Dafa practitioner in Hong Kong
(Minghui.org) Falun Gong practitioners were harassed by the Hong Kong Food and Environmental Hygiene Department (FEHD) on January 29, nearly one month after the Hong Kong Youth Association (a group under the control of the Chinese Communist Party) was dismantled on December 31, 2020.
Practitioners in Hong Kong have been clarifying the facts about Falun Gong and the persecution to residents and tourists by holding outdoor activities, ever since the persecution started in 1999. The Hong Kong Youth Association has continually harassed Falun Gong practitioners, but the organization was dismantled on the last day of 2020.
More than 20 staffers from FEHD came to Argyle Street Mong Kok at 9 a.m., and told Falun Gong practitioners to stop setting up their display boards and banners. They told a practitioner at the site, Ms. Fang, that the department received a complaint from a resident and that practitioners had to apply for a permit from the Lands Department.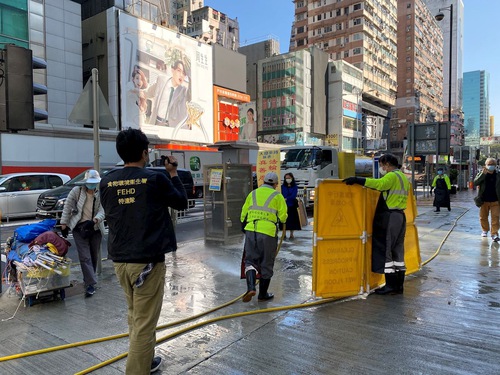 The Hong Kong Food and Environmental Hygiene Department (FEHD) attempted to stop Falun Gong practitioners from setting up display boards and banners at Argyle Street Mong Kok on the morning of January 29, 2021.
Ms. Fang responded that they'd held activities there for many years and they had applied for a permit, but no law applies to their application. 
An FEHD member requested that practitioners switch to simply holding the banners. Several FEHD members washed the street while one recorded video footage. The FEHD members left after an hour.
Many passersby expressed their support for Falun Gong practitioners. One resident said, "You must persist. What these people say is nonsense. Don't let them bother you. Falun Dafa is good!"
This is not the first time FEHD has harassed a Falun Gong information site. The department confiscated some display boards and banners in 2013. Two practitioners appealed. The case is still in the Court of Final Appeal and will be heard in April 2021.
Even though the Hong Kong Youth Association was dismantled, some former leaders of the association, like Xiao Xiao-rong and Zhang Liu-qing, continue to harass Falun Gong practitioners.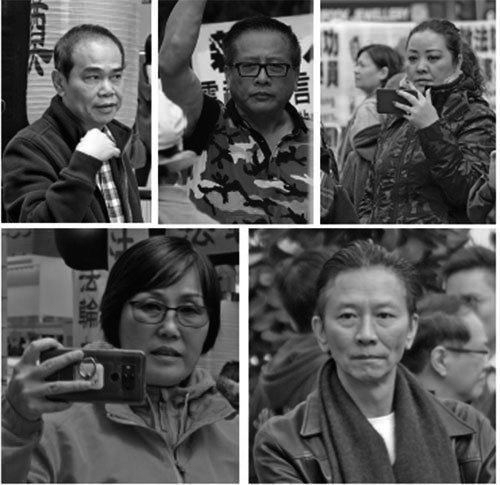 Some former leaders of the Hong Kong Youth Association who harassed Falun Gong practitioners for many years. From top left: Chairman Hong Wei-cheng, president Yang Jiang, director of the propaganda department Xiao Xiao-rong, Zhang Liu-qing, vice president Chen Jin-bao.
All articles, graphics, and content published on Minghui.org are copyrighted. Non-commercial reproduction is allowed but requires attribution with the article title and a link to the original article.
Category: Accounts of Persecution