San Francisco: Practitioners in the Bay Area Send New Year Greetings to Master Li
(Minghui.org) As 2021 draws to a close, Falun Dafa practitioners in the Bay Area gathered at Crissy Field on December 26, 2021. They did the Falun Dafa exercises and sent New Year's greetings to Mr. Li Hongzhi, Falun Dafa's founder.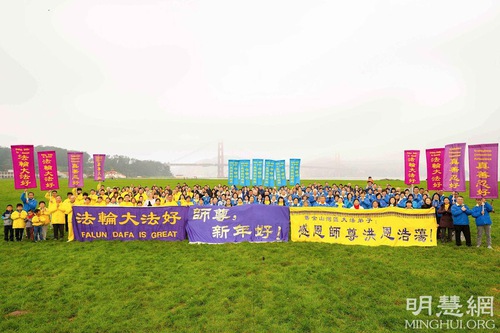 During a gathering at Crissy Field, east of the Golden Gate Bridge, Falun Dafa practitioners recalled their cultivation experiences and wished Master Li a Happy New Year.
Greetings from practitioners in the San Francisco Bay Area
Silicon Valley Software Developer: Falun Dafa Is Profound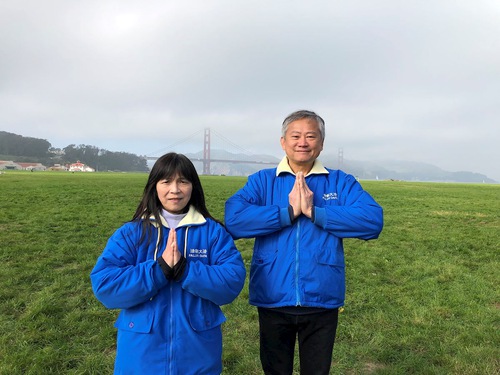 Software developer Ms. Luo Xinlan and her husband Yung Tran
Ms. Luo Xinlan, a software developer in Silicon Valley, started to practice Falun Dafa in 2007. Her husband Yung Tran first heard about Falun Dafa on the radio at that time and began to practice.
"After my husband read the Falun Dafa books and did the exercises, he seemed happier. I was curious to find out more about Dafa," Ms. Luo explained. Reading Zhuan Falun was a special experience for her. She found the book very profound, and many of her questions about life were answered.
Ms. Luo, as a result, also decided to practice. "Both of us have learned from the practice that one should strive to be a better person, someone who is always considerate of others," she said.
The couple's physical improvement was also surprising. "Within two months, the migraine headaches that bothered me for years were gone. Now I am very healthy," she added. "I feel so fortunate to be a Falun Dafa practitioner."
Engineer: Stop Competing at Work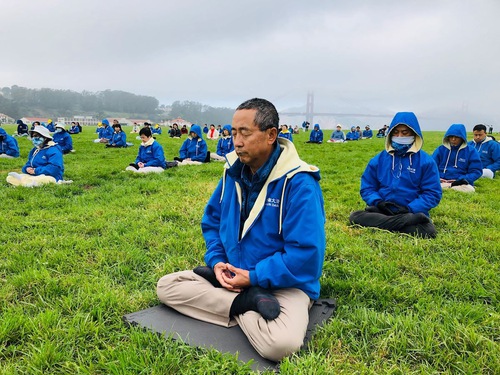 Mr. Zhang Zengjun is a senior manager at Google
Like Ms. Luo, many professionals who work in Silicon Valley attend the group exercises. One of them is Mr. Zhang Zengjun, a senior manager at Google.
Having practiced Falun Dafa for over 20 years, Mr. Zhang experienced many things. "Life used to be very painful due to my constant headaches, but now I am healthier than ever," he said.
Practitioners apply the Falun Dafa principles of Truthfulness-Compassion-Forbearance in their daily lives. This can be challenging in Silicon Valley where many people fight for reputation and material interest. "As a Falun Dafa practitioner, I know I have to do my work well. But at the same time, I don't focus on personal gain. So life has become easier and less stressful," he said with a smile.
Altruism and Perseverance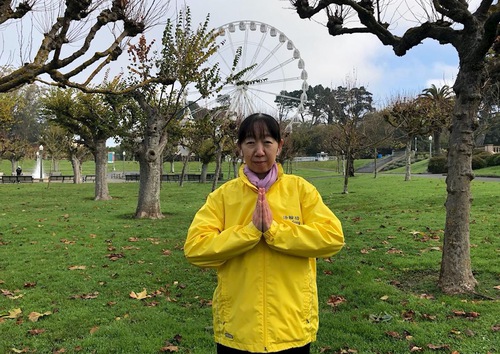 Ms. Hua Weiqun started to practice Falun Dafa 26 years ago.
Ms. Hua Weiqun, a former human resources manager at a foreign-funded firm in China, began to practice Falun Dafa in 1995. As the youngest of her siblings, she was spoiled and relied on others. "The teachings of Falun Dafa explained to me the meaning of life, giving me strength and making me a selfless person," she said.
Life became challenging after the Chinese Communist Party (CCP) started to persecute Falun Dafa in 1999. "My family says I am very determined," she continued. "I can only say that Falun Dafa has given me so much and I really thank Master Li for guiding me on the path of returning to my true self."
Learning the Facts Despite the Persecution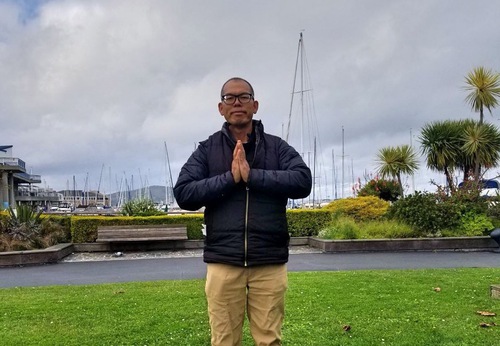 Mr. Lu Hui said Falun Dafa has helped him become a better person.
Mr. Lu from Vietnam is of Chinese descent. He did not know much about Falun Dafa, but he was surprised to see the CCP's massive propaganda campaign that attacked the spiritual practice. Out of curiosity, he did some research and found that Falun Dafa was different from, and in fact opposite of what the CCP claimed.
He made lots of progress after becoming a Falun Dafa practitioner. "I used to be upset or angry from time to time. But now I know that they are opportunities for me to look within, identify my shortcomings, and improve my character," said Mr. Lu.
He said he's had some amazing experiences. Even though he's ethnically Chinese, Mr. Lu could not read or speak Chinese. "Through learning to read Zhuan Falun in Chinese, I am able to read the book in Chinese and speak it fluently," he explained. "I am so happy that Falun Dafa has made me a better person and given me wisdom. Thank you, Master Li, and Happy New Year!"
All articles, graphics, and content published on Minghui.org are copyrighted. Non-commercial reproduction is allowed but requires attribution with the article title and a link to the original article.