Seoul, South Korea: New Practitioners Reflect on Their Experiences of Learning Falun Dafa
(Minghui.org) The Tianti Bookstore in Seoul's Yongshan District holds a free nine-day Falun Dafa workshop once a month. Participants learn the five Falun Dafa exercises and the basics of the spiritual practice's teachings. Several people who attended the November workshop recently talked about their experiences and what attracted them to Falun Dafa.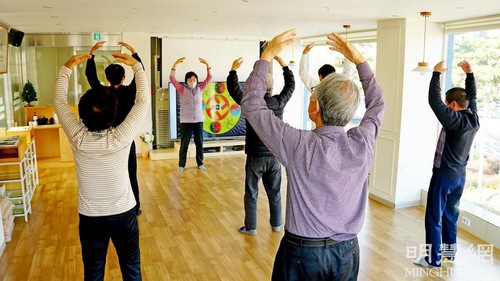 People learn the Falun Dafa exercises during a nine-day workshop at the Tianti Bookstore in Seoul, South Korea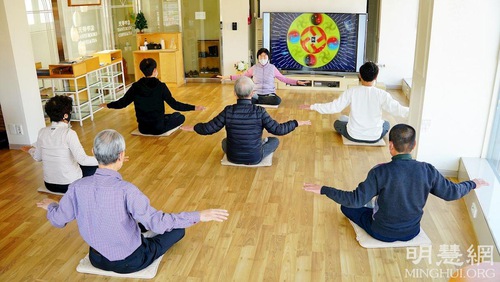 One day in late fall, 72-year-old Kim Hongtae from Gwangmyeong City, Gyeonggi-do, was strolling in his neighborhood. He heard soothing music and soon noticed two people doing some slow moving exercises. "I stood and watched them for a long time, and thought that the fitness effect would be better than jogging or riding a bicycle. When one of them asked if I wanted to learn the exercises, I immediately said yes."
Mr. Kim underwent surgery for stomach cancer eight years ago. After he began practicing Falun Dafa his condition improved. "My hands and body were always cold. After I began practicing, I feel warm and my hands are no longer cold."
He attended the nine-day workshop in November. He said it was very helpful to learn the finer points of Falun Dafa and he plans to attend the workshop again.
Mr. Lee Jong-cheon, 37, from Dobong-gu, Seoul, started to read Falun Dafa books three years ago after a friend told him about Dafa and showed him an introductory video. Mr. Lee said he's always been interested in cultivation, and he was attracted to Falun Dafa's principles of Truthfulness, Compassion, and Tolerance. However, he found it challenging to read Zhuan Falun.
"The second time I read Zhuan Falun, something was blocking me from accepting what was written in the book. I knew this was interference," he said. "Even after I read Zhuan Falun ten times, I kept getting sleepy." 
After Mr. Lee read Zhuan Falun about one hundred times, he realized the limitations of practicing alone. He decided to participate in a nine-day workshop. "While I listened to the teachings during these nine days, I felt I was ascending like I was riding a rocket. I could only meditate for one hour before. During the nine-day workshop, I could sit with both legs crossed, in the lotus position, for an hour and a half," he said.
"Although I could feel the rotation of the Falun while I did the exercises alone, the rotation was light. During the workshop, my exercise movements were corrected. Now I can feel a lot more things than I did before," he added.
Lee Bong-geun, 84, has always been interested in meditation but didn't start cultivation practice because of health issues. "All my life I wanted to enlighten to the Dao through cultivation, but I haven't been able to achieve it until now. After practicing Falun Dafa, I can feel the energy entering my Baihui and Dantian. I feel that nothing is better than Falun Dafa. I want to practice Falun Dafa well."
Yu Yan-kyu, 62, from Ganghwa, Incheon, attended the workshop for the second time. Two years ago, Mr. Yu attended a nine-day workshop. Afterwards, he gradually slacked off, stopped practicing, and started to drink alcohol again. One day, when he looked in the mirror he noticed that he had aged and looked sick.
"My face looked so bad and I knew it was because I resumed drinking. I thought to myself, 'I am going to die.' But I suddenly remembered Falun Dafa," he said.
He realized he couldn't persist with cultivation by practicing alone. He said, "You must participate in group practice. The exercises are important, but you also have to read Zhuan Falun, so that you are truly practicing. I quit drinking a month ago."
The next nine-day workshop will be held January 4 -12, 2022, at the Tianti Bookstore located right outside Exit 13 of the Samgakji Yeok subway station. The workshop is given for 9 consecutive days. The morning sessions are from 9:30 a.m. to noon, and the evening sessions run from 7:15 p.m. to 9:30 p.m. The workshops are always free of charge and everyone is welcome. 
All articles, graphics, and content published on Minghui.org are copyrighted. Non-commercial reproduction is allowed but requires attribution with the article title and a link to the original article.