France: Parisians Condemn Chinese Regime During Events to Mark Human Rights Day
(Minghui.org) Falun Dafa practitioners held activities at the Place de la Republique, in Paris on the afternoon of December 10, 2021, to mark International Human Rights Day. They exposed how the Chinese Communist Party (CCP) persecutes their spiritual practice and called for an end to the persecution and the ongoing human rights violations in China. At dusk, they held a candlelight vigil to commemorate their fellow practitioners in China who have died as a result of the 22-year persecution. 
On December 10, 1948, at the Palais de Chaillot in Paris, the fifty-eight member states of the United Nations convened a meeting to pass and promulgate Resolution 217A (III) – the Universal Declaration of Human Rights. To commemorate this day, December 10 was designated as International Human Rights Day.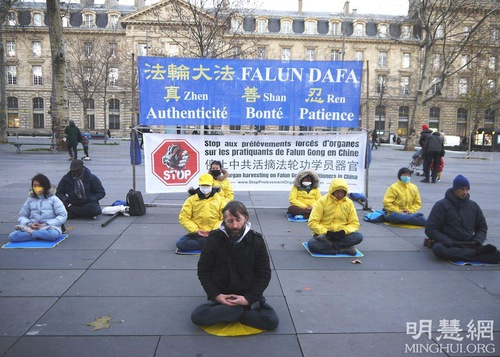 Falun Dafa practitioners held an Information Day at Place de la Republique in Paris on December 10, 2021, International Human Rights Day, to call for an end to the CCP's persecution and human rights violations.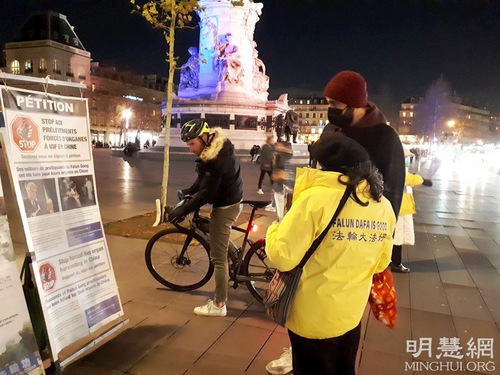 Many passersby stopped and attentively read the display boards.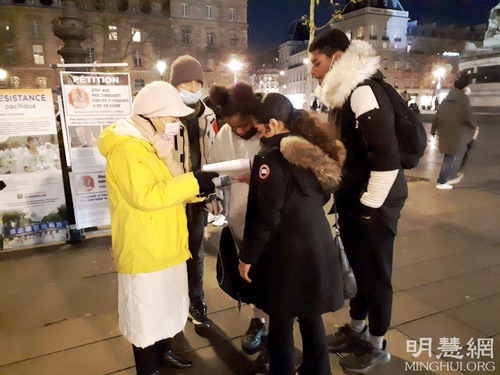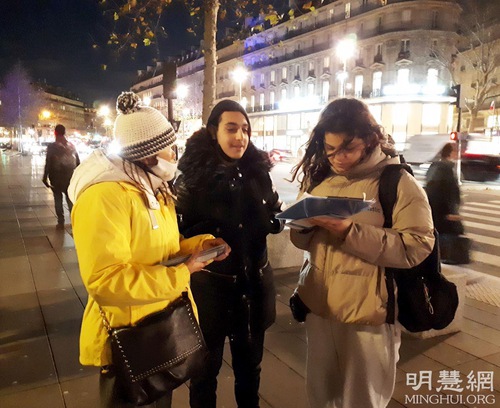 People sign a petition in support of practitioners' effort to end the persecution.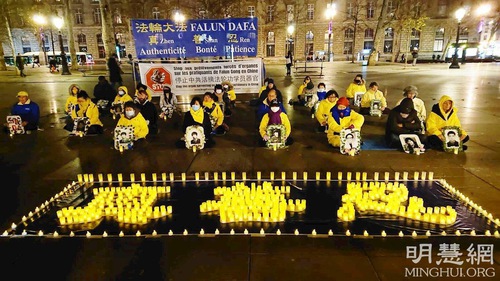 In the evening, practitioners held a candlelight vigil to mourn fellow practitioners who have lost their lives in the persecution in China. 
Paris resident Dominique passed by the Place de la Republique and noticed the practitioners' event. Moved by their efforts to raise awareness, she said, "The manifestation of human rights is freedom; the freedom to choose one's belief, or not to believe in any religion. It is also manifested in having the right to do things within the scope of one's rights, and to live freely, and express one's thoughts and opinions." 
She feels that there are no human rights in China. "It is a dictatorship. People who cultivate Falun Dafa are different from the CCP, so they have been persecuted – detained, killed and imprisoned. It is unacceptable. It is disrespectful to human rights and a crime against humanity," she said.
Ms. Le-Hardy has been to China. She said that she is saddened by the government's forced organ harvesting of prisoners of conscience that is happening there. She believes that forced organ harvesting is inhuman and a crime against humanity. 
She added, "The CCP is an authoritarian Party. People do not have the freedom of speech. They dare not speak and cannot express their own ideas, because they are afraid of retaliation [by the government]." 
Young student Melis said that things like forced organ harvesting that happen inside China have been exposed on the Internet, despite CCP officials having tried to control all the information so as to keep people in the dark. Melis feels that this attempted cover-up reveals the CCP's true nature. 
Stephan Clavel du Clos is a real estate broker. He encouraged practitioners to keep up with their efforts and uphold their principles of Truthfulness, Compassion, and Forbearance. "This is a human right," he affirmed. 
All articles, graphics, and content published on Minghui.org are copyrighted. Non-commercial reproduction is allowed but requires attribution with the article title and a link to the original article.