69-year-old Woman Dies Five Months After Prison Release
(Minghui.org)
Chinese Name: 刘亚芹Gender: FemaleAge: 69City: SanheProvince: HebeiOccupation: N/ADate of Death: October 31, 2021Date of Most Recent Arrest: July 22, 2018Most Recent Place of Detention: Heilongjiang Women's Prison
A Sanhe City, Hebei Province resident passed away on October 31, 2021, five months after being released from a three-year term for practicing Falun Gong. Ms. Liu Yaqin was 69 years old.
Ms. Liu has been sentenced twice, for a total of seven years, since the Chinese communist regime began persecuting the Falun Gong spiritual discipline in 1999. She was beaten and forced to sit on a small stool for extended periods of time, in addition to many other forms of physical torture.
Ms. Liu started to practice Falun Gong on December 4, 1996. She credited the practice for curing her many ailments, including tuberculous pleurisy, pleural effusion, pelvic inflammatory disease, and colon cancer, which tormented her for more than ten years.
The torture detailed in this article is just a glimpse into the relentless persecution of Falun Gong by the Chinese Communist Party (CCP).
Detained for Five Months
After the CCP began to persecute Falun Gong, Ms. Liu, a native of Hegang City, Heilongjiang Province, went to appeal for Falun Gong in Beijing on February 20, 2000. As soon as she arrived, she was arrested and taken to Hegang City Liaison Office in Beijing, chained with other practitioners in a windowless room. She wasn't allowed to use the restroom.
After she was taken back to Hegang, she was held at Lulinshan Police Station, where she was forced to sit on the floor with both legs straight from morning to evening every day. She was later transferred to the Hegang No. 1 Detention Center for five months. Ms. Liu was also extorted of 2,000 yuan.
After Ms. Liu was released, the police required her to report to them every day. When she didn't comply, an officer went to her workplace and closely monitored her.
Sentenced to Four Years
Ms. Liu was arrested again by officers from the Xinjian Police Station on April 28, 2002. She was taken to Hegang No. 2 Detention Center in the evening and later transferred to the Hegang No. 1 Detention Center, where she was sentenced to four years by the Xing'an District Court.
Ms. Liu was taken to Heilongjiang Women's Prison in October 2002. She was found to have tuberculosis during the physical examination, but the detention center guards forced the prison to admit her.
The prison guards strip-searched Ms. Liu and cut her hair short in order to humiliate her. She and other newly-admitted inmates were then sent to the training team. Every day in the training team, all inmates had to stand in line to wash their faces and use the toilet. They were forced to sit and squat the entire day. When Ms. Liu failed to squat, she was hit hard in the legs by the team captain and handcuffed to a heating pipe. She was also abused by a criminal inmate, instigated by the prison guards.
After a while in the training team, Ms. Liu was assigned to the No. 7 Ward. When she and fellow practitioners refused to perform forced labor, they were forced to sit for long periods of time on small stools and tortured.
Standing Outdoors in the Freezing Cold
The practitioners were not only frozen but also starved for the entire day. Winters are very cold in Harbin. One morning in November 2003, the freezing cold wind whistled and roared through from the north. Ms. Liu and dozens of fellow practitioners were forced to stay outdoors wearing light clothing and stand with their faces against the wall until dark. Ms. Liu was frozen for six days in a row, and another practitioner was subjected to the torture for eight days.
Handcuffed from Behind and Hung Up
Ms. Liu and several practitioners suffered from various means of torture from July 28 to November 2004. During the daytime, they were handcuffed from behind and hung by the handcuffs from the top rail of bunk beds. At night, the guards wrapped their arms around the rail of the lower bunk beds and still kept them handcuffed.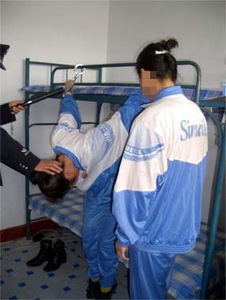 Torture re-enactment: Handcuffed to the top rail of a bunk bed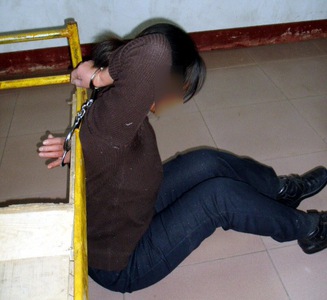 Torture re-enactment: handcuffed around rail of the lower bunk bed
On their way back from the workshop one day, Ms. Liu and several practitioners refused to wear the prison uniforms and name tags. They were handcuffed from behind, with one hand up and one hand down, and suspended in the air by the handcuffs. The torture caused the practitioners extreme pain and swelling in the arms. Some practitioners could not take the pain and almost passed out.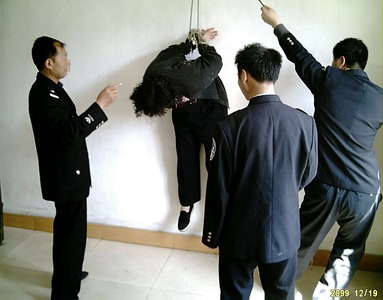 Torture re-enactment: handcuffed from behind and hung up
During these four months, Ms. Liu was locked in an isolation room for two weeks. She was handcuffed and forced to sit on the cold floor every day. She was also insulted with foul words by two inmates. The windows of the isolation room were covered with newspaper so that the persecution would not be seen from outside.
Ms. Liu was deprived of sleep for a period of time. When she fell asleep, the prison guards poured water on her face. She was also handcuffed from behind in the laundry room and forced to stand by the wall for the entire day. One inmate poured buckets of water on the floor to make the room more humid and cold.
Arrested and Detained Again
After being released from prison in 2006, Ms. Liu moved in with her son in Sanhe City, Hebei Province.
Ms. Liu was arrested again in 2014 for mailing informational materials about Falun Gong to people in her hometown in Hegang. She was detained for two months and released on bail.
Sentenced to Second Prison Term
Ms. Liu was ordered to report to the Xiangyang Police Station one day in 2015. She failed to show up because she had accompanied her husband to get medical treatment in Hainan, the southern province almost 3,000 miles from Hegang. As a result, the police posted her information online as a wanted person.
Ms. Liu went back to Hegang on July 22, 2018 to take care of her retirement payment that was improperly suspended. She was arrested on the bus and taken to Sanhe City Detention Center. Six days later, she was taken back to Hegang and held at the Hegang City Detention Center.
Meng Xianrong, the prosecutor with the Xing'an District Procuratorate, later indicted Ms. Liu and forwarded her case to the Xingan District Court, which sentenced her again to three years with a 3,000-yuan fine.
Ms. Liu appealed with the Hegang City Intermediate Court, which ruled to uphold the original judgment. Ms. Liu was taken to Heilongjiang Women's Prison after being held at the detention center for ten months.
Sitting on a Small Stool for More Than 50 Days
Ms. Liu was put into the "transformation group" as soon as she arrived at the prison. In order to force her to renounce Falun Gong, five inmates were assigned to torture her.
When Ms. Liu refused to write a statement renouncing Falun Gong, the inmates forced her to sit upright on a small stool with both legs together and both hands in their laps until 2 a.m., and splashed water on her whenever she closed her eyes. They then woke her up at around 4:30 a.m. They also restricted her food and toilet use. The torture lasted for over 50 days.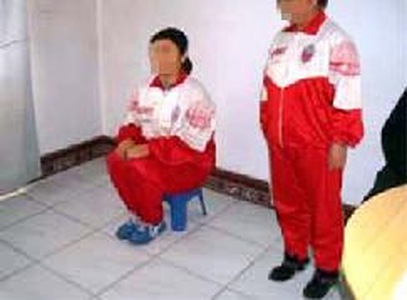 Torture re-enactment: Sitting on a small stool for extended periods of time
Beaten by the Inmates
Falun Gong practitioner Ms. Zhang Kuihua, 76, was put in the same cell as Ms. Liu on the morning of January 17, 2021, and verbally abused and beaten for her refusal to write slanderous statements against Falun Gong.
Ms. Liu said a few words to comfort Ms. Zhang and was scolded by inmate head Gao Wentao. Other inmates punched and slapped her in the face, right under the surveillance camera. When guard Tao Shuping saw it, she smiled at inmate Yang Xu and asked her to beat Ms. Liu in the hallway away from cameras.
The torture caused bruises and severe pain in Ms. Liu's chest. She had to grab the bed ladder to get up. It took her more than 20 days to recover.
Related reports:
Hebei Woman Tortured During Two Prison Terms Totaling Seven Years
Ms. Liu Yaqin Recounts Four Years of Abuse and Torture in Heilongjiang Women's Prison
All articles, graphics, and content published on Minghui.org are copyrighted. Non-commercial reproduction is allowed but requires attribution with the article title and a link to the original article.