San Francisco: Falun Dafa Group Performs in Italian Heritage Festival Parade
(Minghui.org) Practitioners in northern California took part in the annual San Francisco Italian Heritage Festival & Parade on October 10 and introduced the practice to the public. Both the hosts and spectators were impressed by their performance, and praised the values that Falun Dafa represents.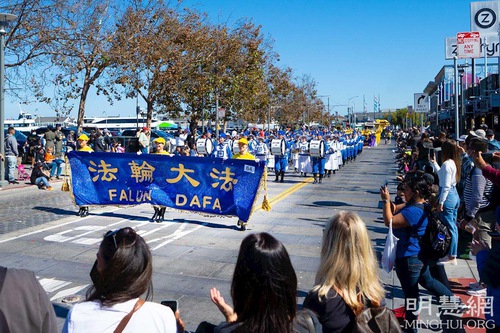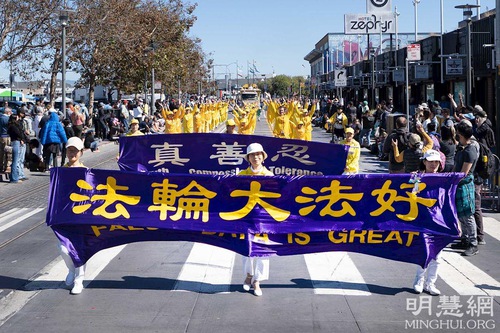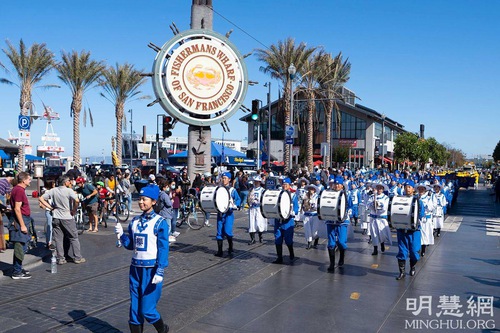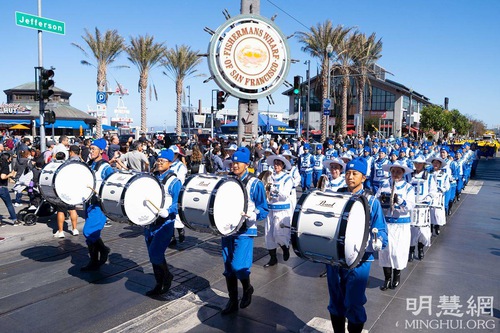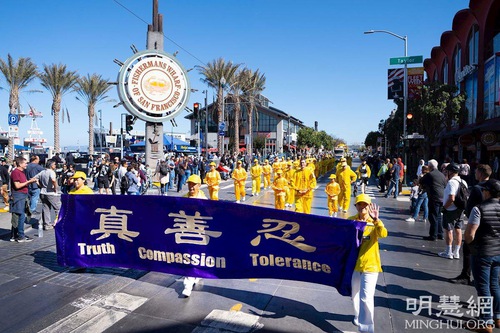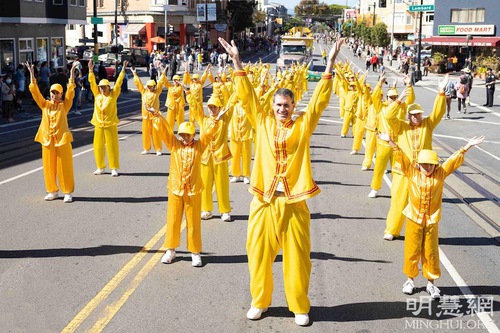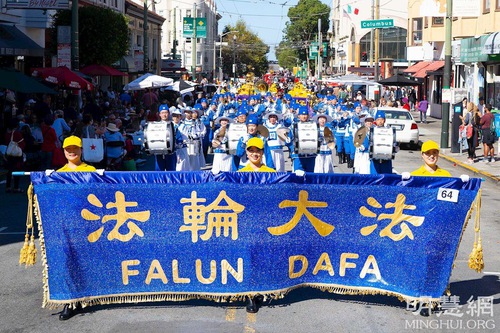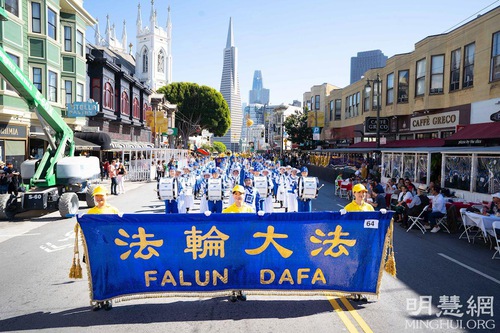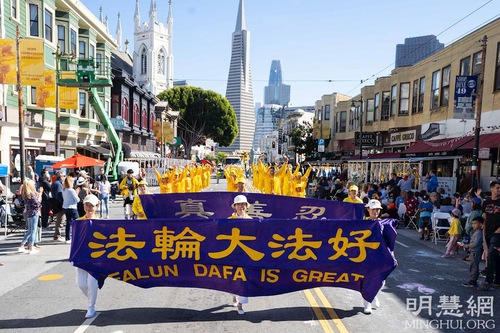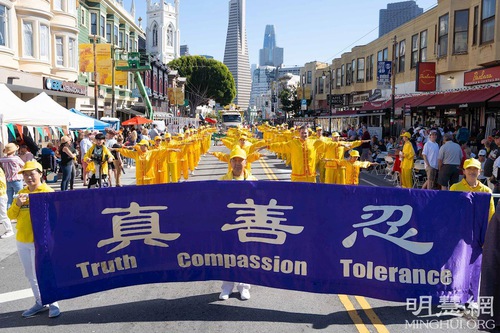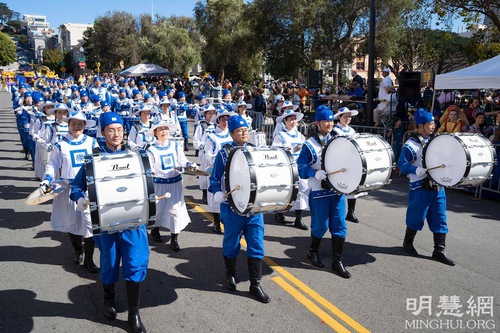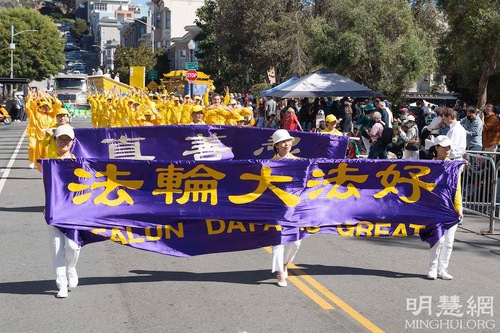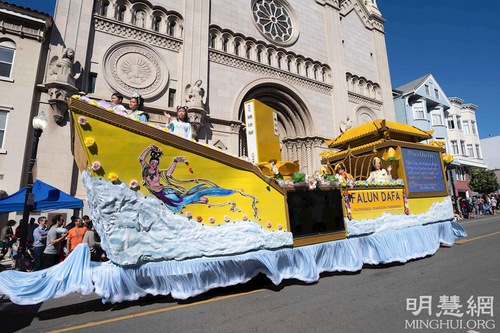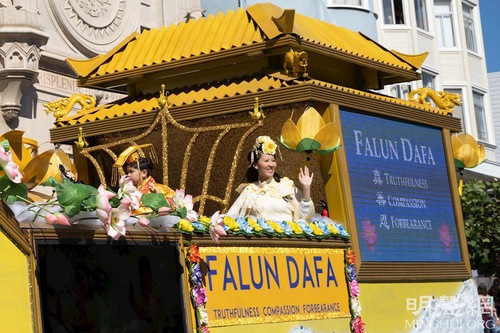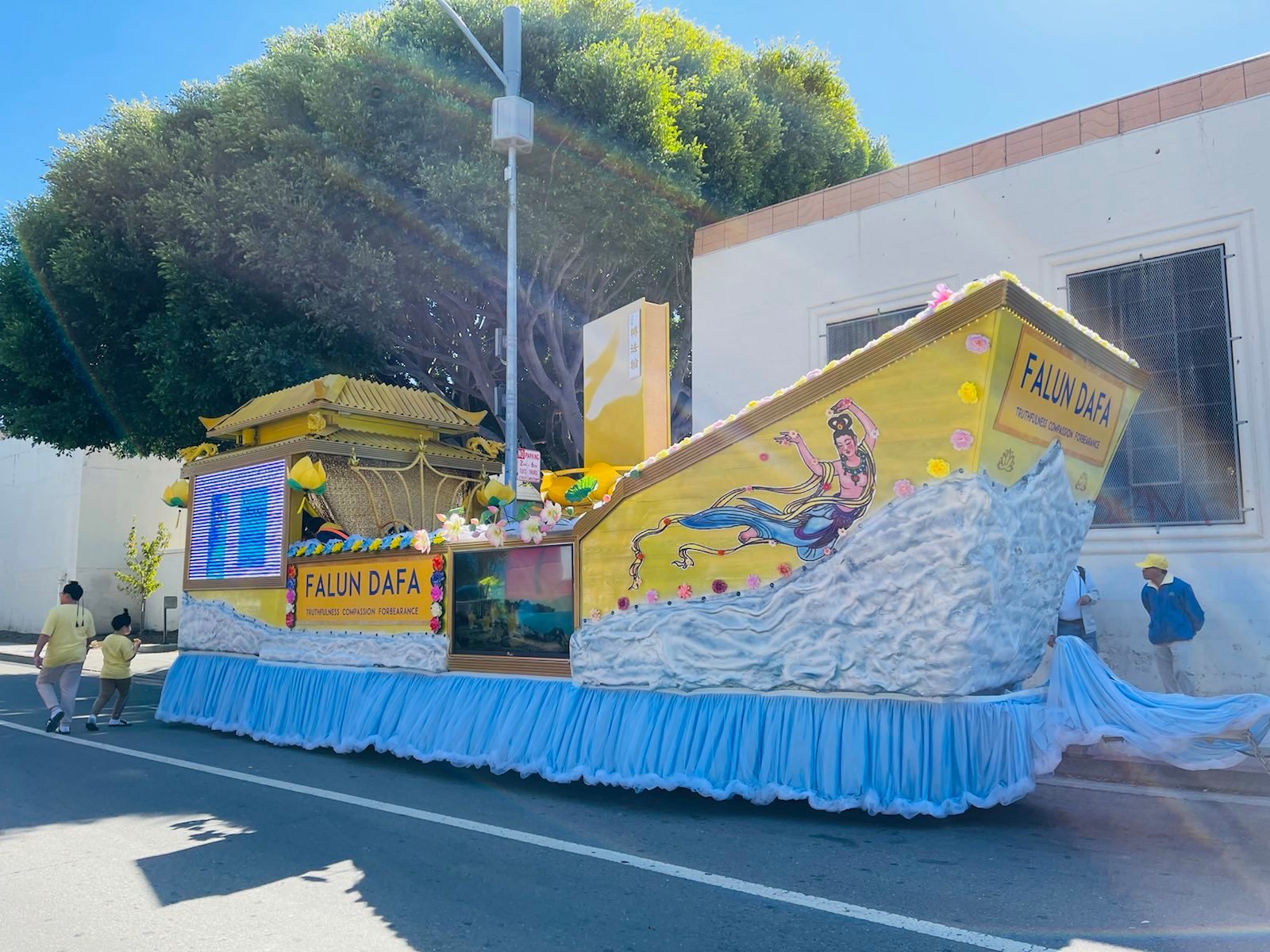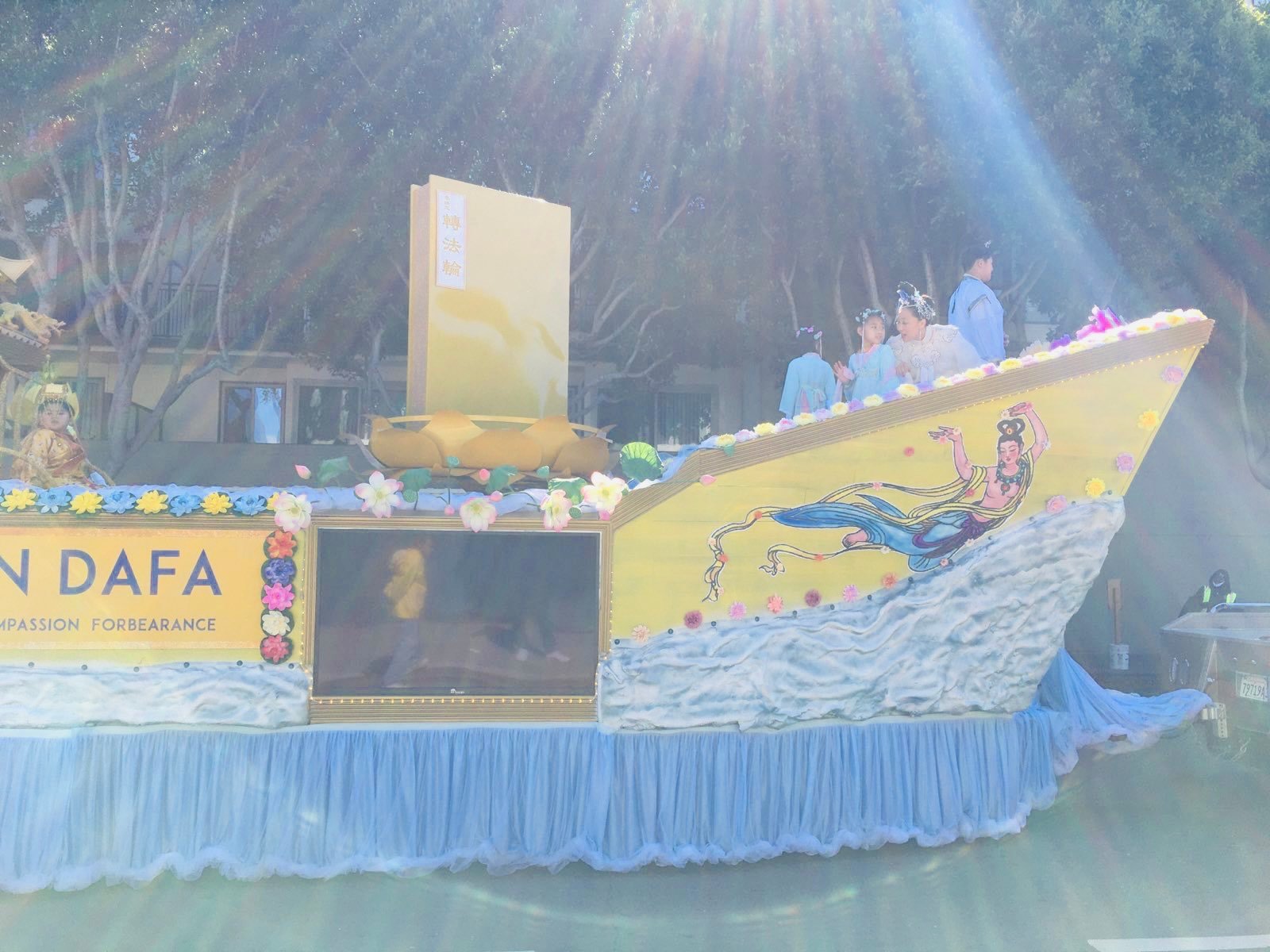 Practitioners joined the annual San Francisco Italian Heritage Festival & Parade on October 10, 2021.
This tradition started in 1869 to celebrate contributions made by Italian people to the community. It was not held in 2020 due to the pandemic. 
The parade began at noon at Fisherman's Wharf, one of San Francisco's most popular tourist attractions. After going through Columbus Avenue and major streets between Chinatown and the Italian district (known as "Little Italy"), it ended at Washington Square. 
Practitioners' entry consisted of the Tian Guo Marching Band, exercise demonstration, and a newly designed float. They met with warm applause from spectators, and many people called out greetings, took photos or made video recordings. Some people followed practitioners' movements as they did the exercises while others danced in time to the band's music.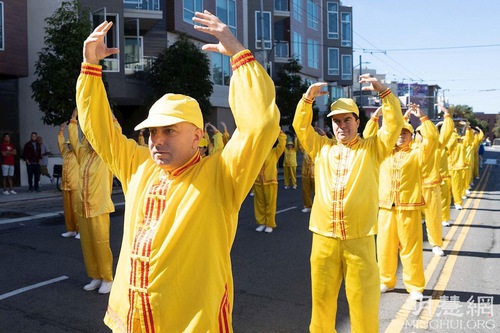 Jason Blair (first on left) has practiced Falun Dafa for 8 years.
Jason Blair is one of the practitioners who demonstrated the exercises. After practicing for years he said Falun Dafa helped him become a better person and improved his health. Due to leg problems, he used to be very weak and unable to run. 
"Falun Dafa brought me many positive changes," he explained. "The principles of Truthfulness-Compassion-Forbearance helped me to become a better person – in fact, I feel like I'm improving every day."
Host: Eye-Opening Moment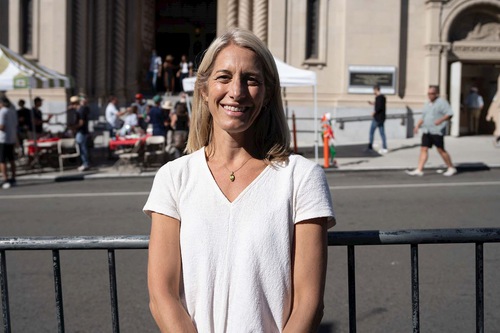 Host Tracy Meekman thanks Falun Dafa practitioners for participating in the event. 
As practitioners passed the stage, host Tracy Meekman introduced Falun Dafa and said that it is a meditation system that improves both mind and body. It consists of the exercises and the principles of Truthfulness-Compassion-Forbearance. 
After the parade, she thanked practitioners for participating. She said their costumes were beautiful and praised the group for informing people about what is going on in China. She said the Tian Guo Marching Band's music was inspiring. 
Another host, Joe Leveroni, said the float was amazing. He praised practitioners and wished them well.
Values We All Cherish
One man said he often saw practitioners participating in other events and he really liked Falun Dafa.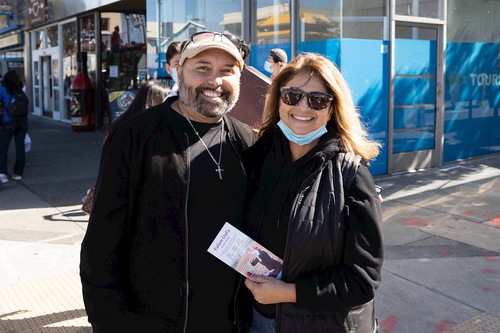 Koncha and Octabio Herez, husband and wife from San Francisco, were delighted to see Falun Dafa practitioners.
As soon as they saw practitioners' entry Koncha and her husband Octabio Herez kept applauding and greeting them. Pointing to the banners with the words, "Truthfulness, Compassion, Forbearance," Koncha said, "We need these values." She and Octabio thanked practitioners for their participation.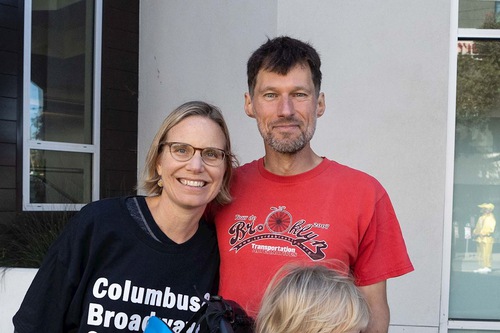 Malinda Sullivan and her husband support Falun Gong. 
Another San Francisco resident Malinda Sullivan said she was drawn to the music of the Tian Guo Marching Band. She felt sad for the ongoing persecution in China and hopes practitioners can regain their freedom of belief in China. 
A spectator named Ray said Falun Dafa is great and its principles are excellent. He could not understand why the CCP (Chinese Communist Party) would suppress a peaceful group like this. "I think more people should pay attention to this so that the persecution will stop," he said. 
Background: What is Falun Dafa?
Falun Dafa (also known as Falun Gong) was first introduced to the public by Mr. Li Hongzhi in Changchun, China in 1992. The spiritual discipline is now practiced in over 100 countries and regions worldwide. Millions of people have embraced the teachings—which are based on the principles of Truthfulness, Compassion, Forbearance as well as five gentle exercises—and experienced uplifted health and well-being.
Jiang Zemin, former head of the Chinese Communist Party (CCP), perceived the spiritual discipline's growing popularity as a threat to the CCP's atheistic ideology and on July 20, 1999, issued an order to ban the practice.
Minghui.org has confirmed the deaths of thousands of practitioners as a result of the persecution over the past 22 years. The actual number is believed to be much higher. More have been imprisoned and tortured for their faith.
There is concrete evidence that the CCP sanctions the harvesting of organs from detained practitioners, who are murdered to supply the organ transplant industry.
Under Jiang's personal direction, the CCP established the 610 Office, an extralegal security organization with the power to override the police and judicial systems and whose sole function is to carry out the persecution of Falun Dafa.
All articles, graphics, and content published on Minghui.org are copyrighted. Non-commercial reproduction is allowed but requires attribution with the article title and a link to the original article.