French Author: Europe Must Resist Infiltration of Communism Immediately
Jan. 8, 2021 | By Minghui reporter in France
(Minghui.org) Olivier Piacentini, a French writer and political researcher, called out the danger of communism and globalization to the world in a recent interview with NTD Television. He said he is worried that communism is bedeviling and taking over France.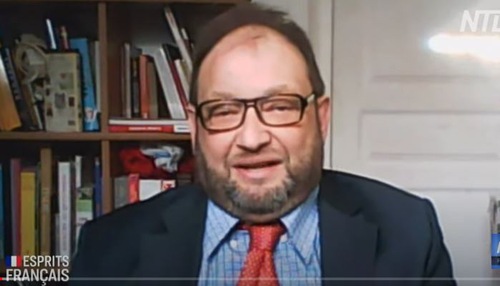 Olivier Piacentini in an interview with the press
The Harm and Consequences of Globalization
Piastini said that as early as the fall of the Berlin Wall in the 1990s, globalization was constantly being introduced and promoted by the elite groups of large banks, multinational companies, and the four major technology giants (Google, Apple, Facebook, and Amazon). In the process, these large groups gained tremendous financial strength, at a level comparable to the gross national product (GDP) in some European countries.
Moreover, many European countries have fallen into the habit of borrowing foreign debts and these consortia will pass their laws to pressure the indebted countries, so that these countries would gradually reach a state of de-industrialization [share of manufacturing in GDP declining].
He saw the adoption of globalization as a process of concentrating economic power, which would ultimately endanger a large number of small businesses and eventually make them disappear.
Communism and Totalitarianism Infiltrate Into the World
Speaking of the infiltration of communism into the West, Piacentini said he was shocked to see how a totalitarian government like the Chinese Communist Party (CCP) could lead the UN-affiliated Asia-Pacific Commission on Human Rights. He was also concerned that millions of CCP members have infiltrated major European, American and Australian companies, such as Airbus, Rolls-Royce, HSBC and other core international industrial institutions.
He noted that China has 20 percent of the world's population. Many countries in the world today, including Asia Minor, the Middle East and Africa, all have ties with China. And the enormous investment from the CCP further turned them into Chinese satellite countries. Additionally, countries led with communist ideologies are forming an encirclement in Western society.
Piacentini said he believes France is the most socialist country in Europe. He is worried that France has decided to use Chinese Huawei's 5G system, which means that all the telephone communication and Internet communication will be controlled by Huawei, that is, by the Chinese Communist Party.
If France approves Huawei's 5G plant in Alsace, Piazentini is truly worried about the country being at risk of industrial and even military espionage. He hoped the French government would reconsider this decision, or France would also become a satellite country of the Chinese Communist government.
With increased infiltration of the Chinese Communist Party and the West's turning a blind eye to it, Piazentini urged the European countries to act immediately to resist it.