Twelve Confirmed Persecution Deaths of Falun Gong Practitioners in Qinghai Province
Jan. 31, 2021 | By a Minghui correspondent in Qinghai Province, China
(Minghui.org) In the past 21 years of persecution of Falun Gong, the Chinese Communist Party has committed unspeakable crimes against humanity and subjected numerous practitioners to arrest, imprisonment and torture. Many have died as a result of the persecution, including those who lived in the remote northwestern province of Qinghai.
This report details the six male and six female practitioners in Qinghai who died in the persecution. They are Mr. He Wanji and his wife Ms. Zhao Xiangzhong, Mr. Ping Chunfeng, Mr. Tang Fabang, Mr. Wu Zhongmin, Mr. Wei Haiming, Ms. Tan Yingchun, Mr. Zhang Youzhen, Ms. Zhang Xiuqin, Ms. Fan Lihong, Ms. Xu Chunfang, and Ms. Li Yujun.
The practitioners' ages ranged from 29 to 85. They came from all walks of life, including a police officer, teachers, an elementary school principal, and an entrepreneur. Some of them died from torture in custody, some were injected with toxic drugs, and some succumbed to harassment and intimidation by the authorities.
Due to information censorship in China, the actual death toll is expected to be much higher.
Mr. He Wanji Dies Six Months After Imprisonment; Wife Dies After Being Tortured in Forced Labor Camp Four Times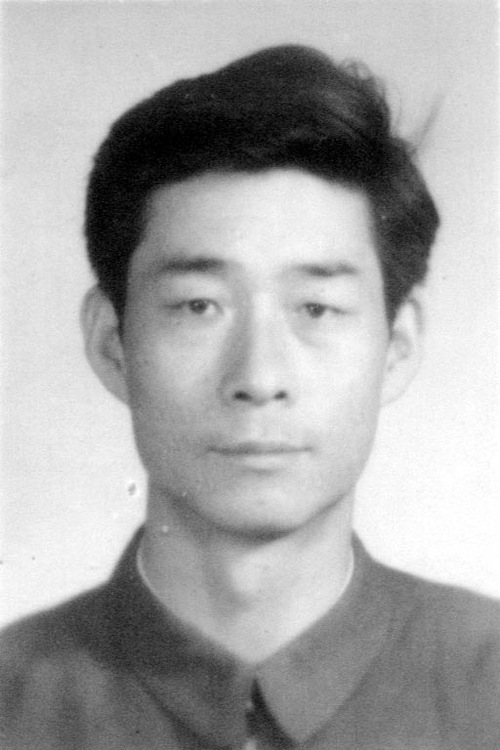 Mr. He Wanji
Mr. He Wanji died when he was only 53. Before he died, he was an officer at the Xining City Police Department Railroad Branch in Qinghai Province. Because he practiced Falun Gong, he was repeatedly persecuted. First, he was held at Qinghai Province Forced Labor Camp for a year. After he tapped into the television stations in Qinghai and Gansu Provinces and broadcasted a video exposing the persecution of Falun Gong in July 2002, he was sentenced to 17 years on December 30 that year.
While imprisoned in Menyuan Prison (formerly known as Haomen Prison) in Qinghai Province, he was subjected to long-term torture, which caused him to develop high blood pressure. On May 28, 2003, Menyuan Prison notified Mr. He's family that he had died from a stroke.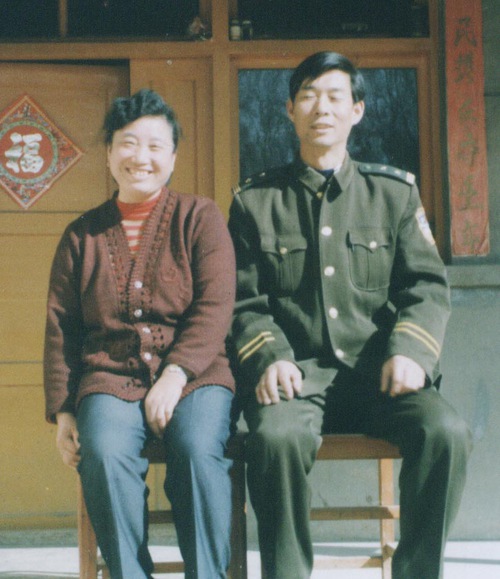 Mr. He Wanji and Ms. Zhao Xiangzhong
After the persecution of Falun Gong started in July 1999, Ms. Zhao Zhongxiang, the wife of Mr. He, was placed in Qinghai Women's Forced Labor Camp four times. Right before the 16th National Congress of the Chinese Communist Party (CCP) in 2004, she was arrested for the fourth time. Policemen in six vehicles surrounded the residence of her parents-in-law. As a result, Mr. He and his entire family, including two of his relatives' children, who were staying with them, were all arrested. One of them was a 12-year-old girl and the other was a two-year-old boy. They were detained for more than ten hours.
Ms. Zhao was kept in a solitary confinement cell and brutally tortured. It was winter, and she was only allowed to sleep on the freezing cold cement floor. After about 20 days, she could not walk anymore. Her lower body was numb, and her upper body was in severe pain. She could hardly eat anything. She was bedridden and on the verge of death. On February 22, 2004, Ms. Zhao passed away. She was 50.
Mr. Ping Chunfeng Dies After Injection of Unknown Drugs
Mr. Ping Chunfeng worked at Qinghai Normal University. He was detained in Qinghai Province Forced Labor Camp twice. After he was released the first time around 2002, he recounted how he had been injected with poisonous drugs twice and given poison when he was in detention. Because of the poison, he became mentally disoriented and behaved abnormally. He was unable to express himself well.
The second time Mr. Ping was released, he was watched closely by the authorities. He passed away in 2005, but the authorities at Qinghai Normal University withheld the information. Even now, it's still not clear how he died.
Mr. Tang Fabang Dies in Prison After Organ Failure
Mr. Tang Fabang was an English teacher at Lejiawan Elementary School in Xining City. His latest arrest in September 2009 led to his death in Menyuan Prison, where he was held between 2010 and 2015. He was in his 40s. Mr. Tang had been imprisoned several times previously for refusing to renounce his faith in Falun Gong.
Mr. Tang went to Beijing to appeal for Falun Gong after the persecution started in 1999. He lost his job as a result of his appeal.
Mr. Tang was later detained three times for a total of 75 days. He was also taken to labor camps three times for a combined 784 days. His home was ransacked twice.
His first labor camp term at Duoba Forced Labor Camp expired in February 2001. Because he refused to renounce his belief, Mr. Tang's term was extended. Mr. Tang was handcuffed behind his back, along with another practitioner, Li Shengxi, by officer Lu Xin. The two of them were forced to jog under the burning sun for a long time, followed by solitary confinement. Seven days later, Mr. Tang was in a life-threatening condition and returned to a regular cell.
After being released from the labor camp on December 16, 2001, Mr. Tang was arrested again for his faith on December 28 that year and sent to the same labor camp after the New Year. The guards beat him and shocked him with several 100,000-volt electric batons for two hours. He was then handcuffed behind his back and put in solitary confinement for seven days. To protest the mistreatment, he started a hunger strike in April 2002. He was in a life-threatening condition multiple times during those two years at the labor camp due to the torture.
Because agents from the 610 Office repeatedly harassed his employer and relatives, his parents' health deteriorated. His wife could not work normally and his son endured discrimination.
Upon his release, Mr. Tang was forced to stay away from home to avoid being harassed. When he did return home to see his wife and child, he was arrested by agents from the Xining Domestic Security Division and Pengjiazai Police Station. He was tied up on a tiger bench torture device with all four limbs immobilized while being interrogated at the Xining Domestic Security Bureau. The police took turns watching him and did not allow him to sleep. Three days later, however, Mr. Tang was able to escape the facility.
Officers from Xining Domestic Security Bureau arrested Mr. Tang again on September 8, 2009. They took him to Ershilipu Detention Center and filed his case with the court.
He was sent to Menyuan Prison in 2010 and placed in the First Ward. He refused to renounce his faith and was kept in solitary confinement for several months. He went on a hunger strike in protest and was force-fed.
The guards played audio recordings that slandered Falun Gong on a loudspeaker, which stressed Mr. Tang, whose health was declining. He eventually had organ failure and died at Qinghai Red Cross Hospital. Mr. Tang's exact time of death remains to be investigated.
Several officers were responsible for persecuting Mr. Tang, including Guo, deputy political director of the prison's First Ward, and Chen Jie, director of the psychology department at Golmud Drug Rehabilitation Center (a brainwashing center formerly known as Golmud Labor Camp). Chen was involved in the brainwashing of many practitioners in Qinghai and participated in Mr. Tang's arrest.
Mr. Wu Zhongmin Crippled by Torture in Prison and Dies After Years of Harassment
Mr. Wu Zhongmin, a Falun Gong practitioner from Xining City, Qinghai Province, was unlawfully put through forced labor twice. He was tortured during his first term because he would not renounce his belief in Falun Gong. As a result, he became disabled and could not walk. During his second term, Mr. Wu became disabled in all four limbs due to torture. He eventually passed away on May 20, 2013, at the age of 50.
Mr. Wu graduated from Zhengzhou Mechanical College in Henan Province and was assigned to work at the Yuxi Machine Tool Plant in the same province. After the plant closed down, he moved to Guangdong Province. He became self-indulgent and acquired many diseases.
After he started practicing Falun Gong in 1993, he quickly regained his mental and physical health, and he began to take fame and gain lightly.
The first time Mr. Wu went through forced labor was at the Henan Province No. 3 Forced Labor Camp. During the four years there, he developed a disability in his right foot as a result of the torture he suffered, which also caused his hands to lose mobility. According to a doctor, his disabilities were due to central nervous system damage.
He had appealed to many departments including the Supreme People's Procuratorate, the provincial procuratorate, the city procuratorate, the public security system, and the Ministry of Civil Affairs, but to no avail.
About seven officials from Shan County Police Department went to Mr. Wu's home on July 12, 2006, and arrested him. He was handcuffed and taken to the Henan Province No. 3 Forced Labor Camp located near the Balingqiao area in a western suburb of Xuchang City. With the full knowledge that he could not take care of himself and couldn't walk, the camp authorities still admitted him.
Mr. Wu shouted, "Falun Dafa is good!" and was beaten mercilessly. A guard instigated a prisoner to kick Mr. Wu at the bottom of his left ear, which almost caused him to lose consciousness.
Mr. Wu repeatedly suffered from nervous shock between the end of September and November 2006, and he was hospitalized multiple times. Guard Shi Baolong instigated inmates to carry Mr. Wu by his shoulders while running to the canteen. They also subjected him to a torture method that caused extreme pain.
On July 7, 2007, Mr. Wu stood up in the back and with a loud voice told his visitors about his poor health and the cause of it. As soon as the visitors left, guard Zhu Yingkui ordered that his crutches be taken away and broken. A guard instigated inmates to insult Mr. Wu and kick his feet. His toenail fell off and his toe bled. His big and small toes on his left foot were also injured and later became infected. He could only walk painfully by supporting himself with a bamboo stick.
Two prisoners assigned to monitor Mr. Wu repeatedly lifted him up and threw him on the ground. At night, they stepped on Mr. Wu's feet, which caused the little toe on his left foot to break off.
When Mr. Wu's term ended on November 30, 2007, the camp doctor Zhang Xin claimed that he couldn't find his medical records and therefore didn't truthfully fill out the physical examination form. Zhang only wrote down that Mr. Wu's right ankle couldn't move and the recurrence of infection and tuberculosis.
Four officials from the Shan County 610 Office took Mr. Wu back to his hometown in Qinghai Province. Mr. Wu was made to wear two layers of face masks so that the officials would not get infected.
Despite the fact that he had disabilities in his legs and was not able to take care of himself, Mr. Wu was arrested again on May 9, 2011, and taken to the brainwashing center located at the Qinghai Province Internal Revenue Service Training Center in the Tuanjieqiao area, Xining City, set up by officials of the Qinghai Provincial Political and Legal Affairs Committee.
As a result of the severe persecution he was subjected to year after year, Mr. Wu had disabilities in his four limbs and couldn't take care of himself. He eventually passed away on May 20, 2013.
Mr. Wei Haiming Dies Alone at Home with Illness That Recurred in Prison
Former entrepreneur Mr. Wei Haiming and his wife, who both practiced Falun Gong, were illegally arrested in their home in December 2007. Both were sentenced to five years in prison. Mr. Wei was tortured because he refused to wear the prison uniform, and his asthma recurred. When he was released in December 2012, he was unable to recover from his asthma. He passed away alone in July 2013, seven months after his release, at the age of 58. His wife was still in prison at the time of his death.
When Mr. Wei and his wife, Ms. Zhao Zonghua, from Xining City, Qinghai Province, talked to people about the persecution of Falun Gong in April 2007, local police officers noticed and followed them. Zhang Xingnong, chief of the Crime Section of the Datong County Police Department, along with several police officers, broke into their home on December 15, 2007. The officers ransacked their home and arrested the couple. They confiscated their car, a copier, a cell phone, cash, and other personal belongings.
The couple was first held in the local police department, where they were tortured. While Mr. Wei was detained in a detention center, he held a hunger strike twice to protest their arrest and became emaciated.
The Datong County Court tried the couple on April 16, 2008, but no verdict was reached. However, the court secretly tried them again in July 2008 and sentenced both of them to five years in prison. Court officials did not notify their families or their lawyer about the trial.
Mr. Wei was incarcerated in the Menyuan Prison and Ms. Zhao was sent to the Qinghai Province Women's Prison.
Mr. Wei began practicing Falun Gong in April 1997, through which his severe asthma disappeared. He owned a construction company and had a good reputation. However, after the persecution of Falun Gong began in 1999, officials from the Xining City Police Department and the National Security Division forced him to shut down his company.
Mr. Wei's wife was a teacher at the Chaoyang Elementary School in Xining. She was recognized many times for her excellent performance. However, she was demoted and her salary was cut due to her belief in Falun Gong. She was forced to stop teaching and do cleaning jobs. When she was arrested in February 2008, the school stopped paying her salary.
Ms. Tan Yingchun Dies of Possible Strangulation
Ms. Tan Yingchun was a biology teacher at Kunlun High School in Xining City. On December 29, 2002, she was tortured to death at Qinghai Province Women's Forced Labor Camp. She was 46.
Before she died, one practitioner who was detained with her saw alarming and disturbing wounds on her legs. Another practitioner witnessed guards putting a rope around Ms. Tan's neck and then dragging her backwards. She almost died of suffocation.
In order to destroy the evidence and cover up their crime, the labor camp did not release the notice of Ms. Tan's death until three days later. The authorities at the camp claimed that she had "hanged herself." However, when some practitioners pointed out that if she had hanged herself, there would have been physical evidence on her neck, the guards said, "Tan was a biology major. She knew how to kill herself."
Mr. Zhang Youzhen Publicly Humiliated and Tortured
Mr. Zhang Youzhen was tortured to death at the age of 47. He was a resident of Huzhu County, Qinghai Province. He was the principal of Shuidong Elementary School in Biantan County. He had received more than a dozen honorary titles for being a very responsible principal.
However, because he practiced Falun Gong, he was handcuffed with a board hanging around his neck and publicly insulted in front of over ten thousand people. To further humiliate him, he was paraded through the streets.
As a result of the extreme torture he was subjected to at the Huzhu County Detention Center and Qinghai Province Forced Labor Camp, he passed away on June 19, 2003.
Ms. Zhang Xiuqin Loses Consciousness and Dies After Torture
Ms. Zhang Xiuqin was about 47 or 48 years old when she passed away.
On November 13, 2008, she was arrested and detained in Xining City Detention Center for distributing Falun Gong informational materials.
According to guards in the detention center, at around midnight on December 7, 2008, Ms. Zhang suddenly passed out. The center doctor and nurses tried to resuscitate her and then took her to the Qinghai Province Red Cross Hospital. Ms. Zhang remained unconscious.
On December 12, the hospital gave up its rescue effort and had Ms. Zhang's husband take full responsibility for his wife. She died at 4 o'clock on December 13, only one month after she was arrested.
Ms. Fan Lihong Dies of Involuntary Drug Overdose After Torture in Mental Hospital
On May 6, 2001, officials at the notorious Qinghai Women's Forced Labor Camp transferred Ms. Fan Lihong to a mental hospital, where she was force-fed an unknown drug. After that, she was detained in a mental hospital multiple times. The drugs caused her to become mentally disoriented, and eventually she suffered a total collapse. In January 2002, her body was found in Qinghai People's Park. She was 29.
Constantly Terrorized and Agonized, Two Elderly Practitioners Pass Away
Ms. Xu Chunfang, nearly 70 years old, was arrested and taken to a brainwashing center in October 2015. Officials in the brainwashing center tortured, intimidated, and threatened her. They ordered her to give up her practice, which resulted in serious physical discomfort. After returning home, family members took her to a hospital. Ms. Xu passed away on April 22, 2016.
Ms. Li Yujun, 85, and other practitioners were arrested by officers from the Xining City Domestic Security Division, the Chengbei Police Department, and the Shengwuyuanqu Police Station when they were studying Falun Gong teachings at Ms. Li's home on June 21, 2018. The officers confiscated Falun Gong books and audio players. Ms. Li fell ill after returning home. She was also monitored and followed. She passed away on August 25, 2018.
Related reports:
A Brief Account of the Persecution of Falun Gong Practitioners in Qinghai Province
Drug Poisoning - A Method of Torture Often Used by the CCP
Disclosure of the Severe Persecution in the Qinghai Provincial Women's Forced Labor Camp
Qinghai Policeman and Wife Persecuted to Death for Their Faith, Father Died of Grief
Belated News: English Teacher Died in Prison Years Ago
Mr. Wu Zhongmin Disabled as a Result of Persecution, Recently Passed Away
Entrepreneur Passes Away Shortly After Five Years of Imprisonment
School Principal in Qinghai Province Denounced at a Public Meeting and Dies from Abuse Received in Labor Camp