After Nine Years of Imprisonment and Torture, Seriously Ill Woman Sent to Prison Again for Her Faith
Sept. 9, 2020 | By a Minghui correspondent in Jilin Province, China
(Minghui.org) A seriously ill woman has been admitted to Jilin Province Women's Prison to serve a 3.5-year term for her faith in Falun Gong, an ancient spiritual and meditation discipline that has been persecuted by the Chinese communist regime since 1999.
Ms. Geng Jiqiu, of Daan City, Jilin Province, was diagnosed with uterine cancer following her arrest on September 13, 2017. She went into hiding to avoid further persecution, after being released on bail.
She was arrested again in August 2019 while applying for a new ID. She was secretly sentenced to 3.5 years in July 2020 by the Taotan City Court, after spending one year at Baicheng City Detention Center. The detention center repeatedly denied her family visits and didn't inform her family of her sentencing and imprisonment. 
It took a lot of effort for her family to find out her verdict and her being transferred to Jilin Province Women's Prison. Her family also learned that Ms. Geng's condition is very serious now. 
As the prison also blocked her family from visiting her or making deposits to her commissary account, she is relying on other practitioners imprisoned there to buy daily necessities. Her family is now very worried about her condition.
Ms. Geng, 54, used to work at the Daan City Plant Oil Factory. Three months after she took up Falun Gong in November 1997, her neck problem and chronic fatigue disappeared. She took on a more positive look on life and was full of hope.
Because of upholding her faith, Ms. Geng was repeatedly arrested and subjected to nearly a decade of incarceration and inhumane torture. She suffered a mental disorder and was once on the verge of death. Her husband divorced her due to the pressure and her son was forced to drop out of school at the age of 15 and began to work to support himself.
Past Persecution
Arrests and Hunger Strike
Ms. Geng was first arrested in July 2000 when she went to Beijing to appeal for the right to practice Falun Gong. The Beijing police locked her in a metal cage in the Qianmen Police Station, before sending her back to Jilin. She was arrested again one month later and detained for seven days.
Ms. Geng was discovered by the police while putting up posters about Falun Gong on June 21, 2001, and was arrested. She held a hunger strike to protest the persecution at the Daan City Detention Center. The guards force-fed her on the sixth day of her hunger strike and released her six days later.
Beaten and Sexually Assaulted by the Police
Ms. Geng was arrested at home on October 31, 2002. A police officer pointed a gun at her head and dragged her out of bed. 
After one week of detention at Taobei District Detention Center, Ms. Geng was brought to the police department for interrogation. She was locked to a tiger bench, surrounded and beaten by the officers. One officer sexually assaulted her by grabbing her breast. She passed out from the torture and suffered a mental disorder three days later.
Weak Condition in the Detention Center and 13-year Prison Sentence
Ms. Geng was sent back to the detention center after the interrogation. She began to have acute headaches every day and remained in a delirious state. She lost weight day by day. 
One day, she collapsed to the ground due to the splitting headache. She was sent to the hospital for resuscitation and was found to have high intracranial pressure. 
Ms. Geng was hospitalized for 56 days. After she was sent back to the detention center, she remained very weak and was sleeping most of the time. She was sent back to the hospital a few days later and stayed there for one more week. After she was transferred back to the detention center, other practitioners took care of her and encouraged her. Her mental state recovered a bit and she also began to do the Falun Gong exercises to improve her health. 
Ms. Geng held a hunger strike together with several practitioners to protest the persecution two months later. On the seventh day, the guards pried open their mouths and force-fed them. Ms. Jiang Shulan lost four of her teeth. 
Ms. Geng was on the verge of death after the force-feeding. When the court held a hearing against her in the detention center, she was carried into the room. The judge announced the 13-year prison term against her 40 days later. Even some detention center guards said it was too much.
Torture and Drug Administration in the Prison
Ms. Geng was secretly transferred to the Heizuizi Women's Prison in July 2003. The prison doctor sent her to a tuberculosis quarantine room, where seven other inmates with the condition were being treated. 
Ms. Geng was forced to take unknown drugs, 19 pills in the morning and 8 pills at night. Two inmates were ordered by the guards to make sure she took the pills. If she refused, they would force-feed her. 
Every time when Ms. Geng took the pills, she felt extremely weak and sleepy. Her hearing and vision gradually declined. She had tinnitus and became very irritable. Her reaction also became very slow. 
One day, the prison doctor ordered to give Ms. Geng some pills for a heart condition. On the second day after she took the pill, she was unable to move her eyeballs for a long time. 
In a 2004 prison-wide campaign to force Falun Gong practitioners to renounce their faith, Ms. Geng was tied up in a spread-eagle position on a death bed for days, until she agreed to write a statement to give up Falun Gong.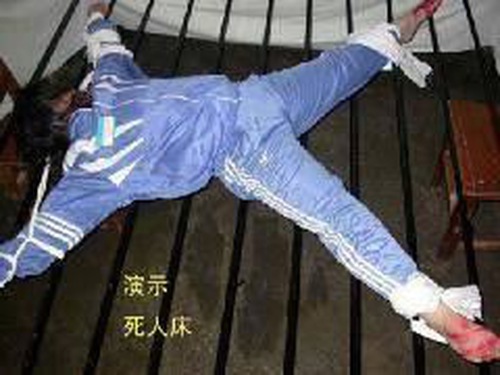 Torture reenactment: Tied up on a death bed
Ms. Geng was released from prison on December 31, 2011, after suffering nine horrendous years behind bars.