Canada: Falun Dafa Practitioners Hold Activities in Montreal to Raise Awareness
Sept. 27, 2020 | By Falun Dafa practitioners in Canada
(Minghui.org) On September 12, 2020, Falun Dafa practitioners held activities in Montreal to introduce the practice and raise awareness of the ongoing persecution. They did the exercises, held a car tour and the Tian Guo Marching Band performed.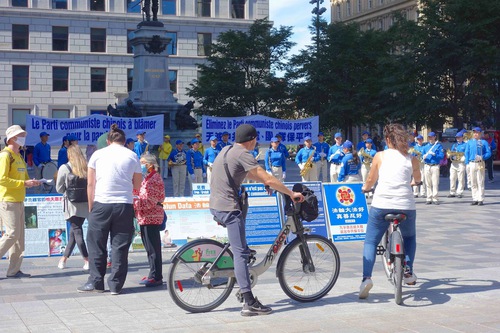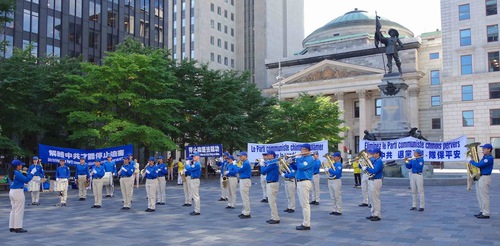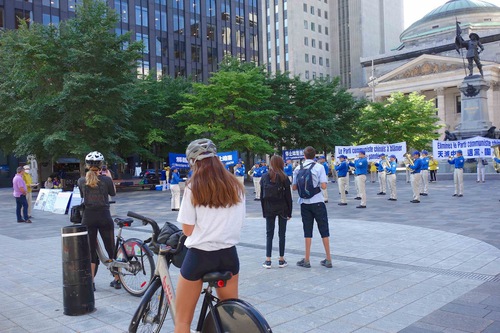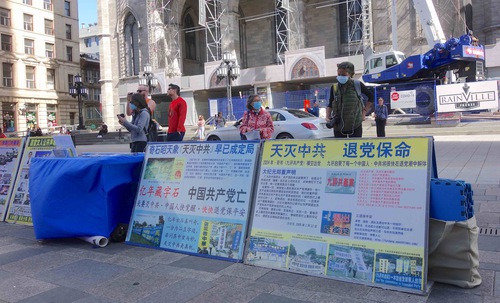 Practitioners in Montreal held day-long activities to raise awareness of the ongoing persecution on September 12, 2020.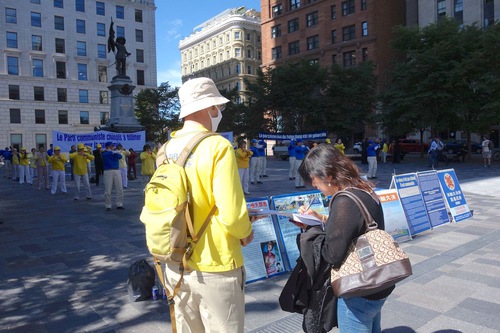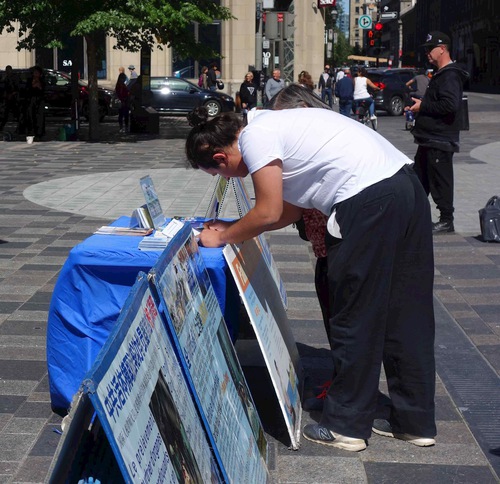 People sign the petition calling on the Canadian government to use the Magnitsky Act to hold accountable high ranking CCP officials involved in the persecution.
I Sympathize With Your Plight
The day's activities began at Place d'Armes. A man from Beijing said he admired practitioners' peaceful resistance against the persecution. He was deeply sympathetic of how they had been unjustly treated.
He read the Nine Commentaries on the Communist Party and said his father was accused of being a rightist and anti-revolutionary and tortured by the CCP.
"The CCP doesn't want people to have independent thinking—but it's what differentiates humans from animals. Thoughts enable one to judge what's right and wrong. The regime is scared of people having thoughts because they would then realize how evil it is," he said.
"Chinese traditional culture teaches one to be righteous and care for each other. But the CCP is against humanity. Chinese people are now in a most dangerous situation," he added
After practitioners explained the significance of renouncing the CCP, he gladly quit the Party.
While the activities were going on, ten cars with messages about Falun Dafa and the persecution circled around the city center.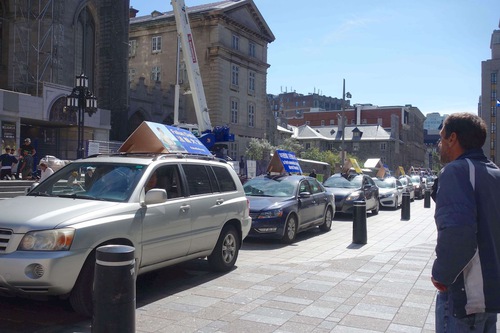 The car tour passed through Old Montreal, a popular tourist destination.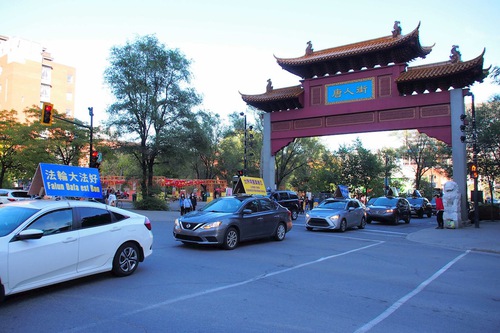 Cars with messages about Falun Dafa and the persecution drove through Chinatown.
Westerners Express Support for Ending the Persecution
After wrapping up activities at the Place d'Armes, practitioners went to the train station near Chinatown and held banners along the intersections.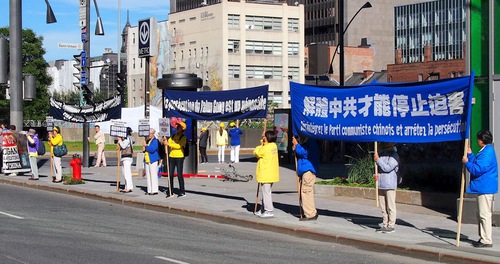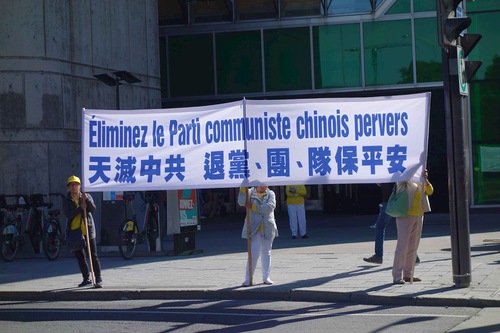 Practitioners hold banners with messages about Falun Dafa and the persecution at intersections.
Practitioners put up banners with the words: "Stop Live Organ Harvesting," "The CCP Must End This Genocide," and "Stop the Persecution of Falun Gong" in English, Chinese, and French. 
Many people showed their support. Car drivers, cyclists and passersby praised practitioners and said encouraging words like "Bravo! Thank you," "Bon courage, you are doing the right thing," "Live organ harvesting--the CCP has done a terrible thing," "The CCP has done many bad deeds including persecuting the Uyghurs and suppressing peaceful protests in Hong Kong, we know all about it," "The CCP covered up the pandemic," "It is the CCP who is at fault, not the Chinese people!"
A young cyclist stopped and asked where he could find media reports on the persecution. Practitioners gave him the link to the English Epoch Times website and he wrote it down before leaving.