Two Jiangxi Residents Given Second and Third Prison Terms, Respectively, for Their Faith
Sept. 24, 2020 | By a Minghui correspondent in Jiangxi Province, China
(Minghui.org) Two Nancheng County, Jiangxi Province residents have been sent to Jiangxi Province Women's Prison to serve time for their faith in Falun Gong, a spiritual discipline that has been persecuted by the Chinese communist regime since 1999.
Ms. Luo Jianrong, 55, was arrested in June 2019 while walking on the street. The police ransacked her home and confiscated her Falun Gong books and materials. She was sentenced to five years in December 2019.
Ms. Yao Aiying, 57, was arrested on September 10, 2019 for talking to a police officer about Falun Gong and urging him not to participate in the persecution. She was sentenced to three years and three months.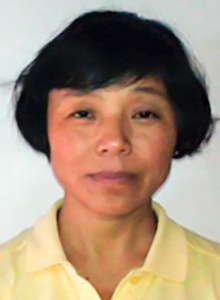 Ms. Yao Aiying
Both practitioners' latest arrests came months after their previous arrests on April 22, 2019, when Ms. Yao was giving Ms. Luo a ride back home in the evening. 
When Ms. Yao refused to give a urine sample during the interrogation, the police pinched her nose to force open her mouth, into which they stuck a bottle of water. They forced her to drink several bottles of water like that. A female officer then pulled her pants down and pressed against her lower abdomen. After hours of struggle, Ms. Yao had bruises and injuries all over her body. Her clothes were wet and her ears were full of water. 
Ms. Yao and Ms. Luo were held at the Nancheng County Detention Center for five days before being released on April 28, 2019. 
Ms. Luo took up Falun Gong in 2009 and she credits the practice for curing her rheumatoid arthritis and back pain. For upholding her faith, she served 1.5 years of forced labor and four years in prison over the next ten years, before being sentenced to five years of imprisonment in 2019.
Ms. Yao, a retired accountant, began to practice Falun Gong in late November 1998. Her migraines and frozen shoulder were soon cured. The teachings of Falun Gong enabled her to become more open-minded and helped her to handle her family relationships better. 
Ms. Yao has also been incarcerated for her faith prior to the latest arrest. She was previously sentenced to three years in 2003 and four years and six months in October 2009. 
Related reports:
Police Brutally Force-Feed Woman with Water to Obtain a Urine Sample
Twice Imprisoned Woman Arrested Again for Her Faith in Falun Gong