Taiwan: Government Officials Support Falun Gong Practitioners' Peaceful Resistance and Condemn the CCP's Persecution
Aug. 8, 2020 | By a Minghui correspondent in Taiwan
(Minghui.org) July 20, 2020, marked 21 years that the CCP (Chinese Communist Party) has persecuted Falun Gong. Many of Taiwan's legislators and counselors have voiced their support for practitioners' continued peaceful resistance to the ongoing persecution. Thirty-four legislators across party lines participated in the global joint statement calling for an end to the CCP's persecution.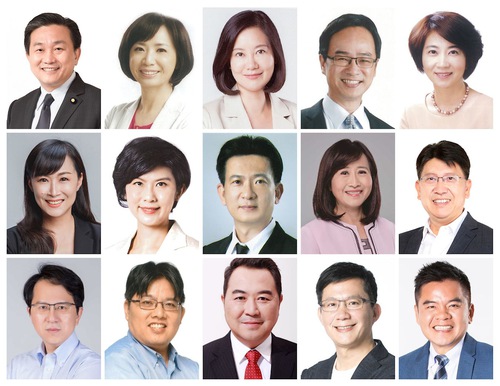 Fifteen of Taiwan's legislators who participated in the global joint statement. First row from left: Wang Ting-Yu (Tainan City), Ho Hsin-chun (Taichung City), Wu Szu-Yao (Taipei City), Lee Kun-Tse (Kaohsiung City), Chou Chun-mi (no district); Second row from left: Lin I-Chin (Tainan City), Lin Tai-hua (Kaohsiung City), Lin Chun-Hsien (Tainan City), Lin Yi-hua (Taipei City), Lin Szu-Ming (Hsinchu County); Third row from left: Chiu Chih-wei (Kaohsiung City), Chiu Hsien-chih (no district), Hsu Chih-jung (Miaoli County), Chang Liao Wan-chien (Taichung City), Chuang Jui-hsiung (no district)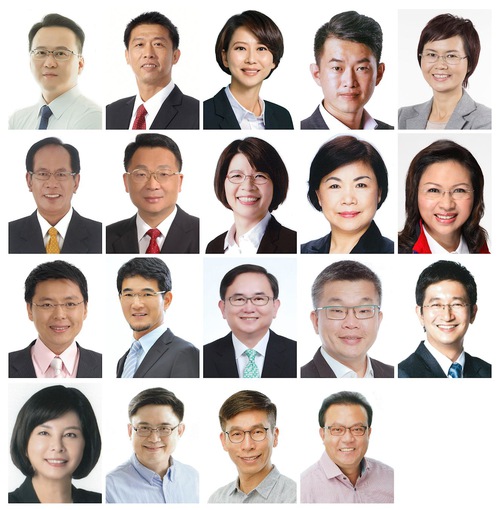 Nineteen of the legislators who participated in the global joint statement. First row from left: Chuang Ching-cheng (Taichung City), Hsu Chih-chieh (Kaohsiung City), Chen Ting-fei (Tainan City), Chen Po-wei (Taichung City), Chen Su-yueh (Changhua County); Second row from left: Chen Chao-ming (Miaoli County), Chen Ou-po (Yilan County), Huang Hsiu-fang (Changhua County), Yang Chiung-ying (Taichung City), Liao Wan-ju (no district); Third row from left: Chao Tien-lin (Kaohsiung City), Liu Chien-kuo (Yunlin County), Liu Chao-hao (Taitung City), Tsai Chi-Chang (Taichung City), Tsai Shih-ying (Keelung City); Fourth row from left: Lai Hui-yuan (Tainan City), Lai Jui-lung (Kaohsiung City), Chung Chia-pin (Pingtung County), Su Chen-ching (Pingtung County)
Falun Dafa, also known as Falun Gong, was first taught in China by Mr. Li Hongzhi in 1992. It's guiding principles—Truthfulness, Compassion, Forbearance—are the foundation of this meditation and self-cultivation practice. Falun Gong is now practiced in over 100 countries and regions, and its main book Zhuan Falun has been translated into over 40 languages.
According to Taiwan's Falun Dafa Association, many administrative, legislative, and public opinion organizations in Taiwan have expressed their support for Falun Gong practitioners in resisting the ongoing persecution. Over the years, Taiwan's Legislative Yuan passed at least 60 human rights-related resolutions, demanding that the CCP release detained practitioners. They called for an end to the organ harvesting and that the CCP officials who participated in the persecution not be allowed in Taiwan. The Legislative Yuan passed the amendments for the "Regulations of Human Organ Transplantation" to prevent Taiwanese people from unknowingly becoming accomplices to live organ harvesting. The administrative agency also passed regulations to disallow China's 610 Office officials from entering Taiwan.
Mr. Liu Chien-kuo: Denounce the CCP's Persecution of Falun Gong
Legislator Liu Chien-kuo pointed out that, whether as a counselor or as a legislator, he has always admired Falun Gong practitioners' actions in defending human rights and making their voices heard around the world. These 21 years have been very difficult for Falun Gong practitioners as they worked tirelessly so that every country would pay attention to protecting human rights.
Mr. Liu said that human rights are universal values. Falun Gong practitioners have made many sacrifices to help people become aware of the real situation and to help those practitioners who are being persecuted in China. "I really admire these practitioners very, very much," he said.
Mr. Liu pointed out that in history there are accounts of the destruction of human rights, religious freedom, and culture by totalitarian regimes. Falun Gong practitioners' actions and their lawsuits against Jiang Zemin (a former CCP head who mandated the persecution) are reminding people of these events. He said, "We must remember the scars of history, so that they never happen again."
Mr. Liu said that Taiwan's success in fighting the CCP virus (coronavirus) is acknowledged by the whole world. Taiwan is the first country that enabled Falun Gong practitioners to hold their outdoor march to protest against the ongoing persecution in China. The whole world sees Taiwan's religious freedom and democracy from seeing so many Falun Gong practitioners in this march. The Taiwan government hopes to expose to the world the persecution that is going on in the countries that do not respect human rights, and the whole world should work together to put pressure on these countries.
Mr. Wang Ting-yu: Chinese People Will Bring Down the Chinese Communist Regime
Legislator Wang Ting-yu said that Falun Gong practitioners have been cruelly persecuted in China for a long time, and the CCP has since also used these persecution methods on other groups, including Christians, Taoists, and the Uighur people. He feels the CCP members with a conscience should think about how much harm the Party has done to China. The United States initiated visa controls and property seizures against CCP officials who persecuted human rights defenders and announced visa restrictions on the employees of Chinese companies that have committed espionage activities or human rights violations, such as Huawei. The next step should be limiting CCP members' visas.
Mr. Wang hopes that Taiwan will impose similar sanctions. For example, Chinese Communist Party members who persecute Falun Gong and other religious and human rights defenders, as well as Hong Kong police force members, should be banned from entering Taiwan. Their financial records should be checked to see if they have deposits in Taiwan. This should be done throughout the world. "We must let the CCP know that when you persecute Falun Gong and violate human rights, you will have nowhere to hide. One day, you will face judicial prosecution and you will have nowhere to hide."
Mr. Wang believes that The Five Eyes Alliance, as well as other free and democratic countries, should also follow the United States to impose sanctions. If this is done there will be waves of eliminating Communism in the world in 2020. He pointed out that the CCP is facing many challenges inside China, including floods, famine, and epidemics. The Chinese people should remove the Communist Party themselves and give their country a chance to move towards democracy and freedom.
Ms. Wu Szu-Yao: "I Cheer for Falun Gong!"
Legislator Wu Szu-Yao said that July 20 is a day of sadness. The CCP has persecuted Falun Gong for 21 years. Countless Falun Gong members have been persecuted by the CCP regime while upholding their freedom of belief and human rights. Everyone who lives in the free world should unite and give support and strength to those who have been persecuted for freedom and human rights.
Ms. Wu pointed out that everyone is concerned about the situation in Hong Kong. Young people in Hong Kong are courageously protesting and protecting Hong Kong's democracy. Many of these young people who are now missing may have been secretly arrested and killed. "Such things have happened to Falun Gong practitioners for 21 years." She added, "Freedom and human rights are universal values. The CCP regime not only destroyed these values but also did so with extremely cruel and totalitarian methods."
Ms. Wu said that Taiwan is a free and democratic island and its democracy and order are admired by the whole world. Taiwan is also on the front lines against the Chinese Communist Party, and thus the Taiwanese people must unite. Falun Gong practitioners always advocate for the principles of "Truthfulness, Compassion, and Forbearance" and expose the truth about the CCP's persecution. "We must support these brave human rights fighters and we cheer for Falun Gong!"
Mr. Liu Chao-hao: Everyone Condemns the CCP for Its Atrocities
Legislator Liu Chao-hao from Taitung County has always supported the human rights of Falun Gong practitioners. Mr. Liu said, "Over the past two decades, Falun Gong practitioners in China and even outside China have been subjected to such oppression by the CCP, and for that we must condemn the CCP." He emphasized, "We should not regard it as something that is only happening to the Chinese people. I think everyone should stand up to condemn these atrocities."
Mr. Liu pointed out that the CCP does not only brutally persecute Falun Gong practitioners. If anyone has a different opinion, the CCP persecutes them. He said the Hong Kong National Security Law is a perfect example, "The CCP refers to it as a law, but it is definitely not a law that any democratic country would ever recognize. It is just a tool for the CCP regime."
Ms. Kao Chia-yu: The Whole World Should Condemn and Sanction the CCP Together
Ms. Kao Chia-yu: The CCP's violations of human rights are outrageous. Those who are behind the persecution should be punished for their crimes.
Legislator Kao Chia-yu pointed out that in China, anyone who makes any remarks or propositions that are not in line with the Chinese Communist regime may suffer from persecution at any time. Many democratic and free countries, including the United States and countries in the European Union, have already developed a defensive mindset against the CCP and agree that the CCP cannot be allowed to continue like this.
Ms. Kao emphasized that regardless of nationality or gender, everyone should enjoy freedom of religious belief and expression of speech, as these are universal values. People in the free world should continue to strive for bringing these universal values to everyone. "The CCP's persecution of Falun Gong has been known for a long time. In addition, the persecution methods have also been used on Uighur people in Xinjiang as well as the general public. Regardless of race, ethnic group, or nationality, anyone can get persecuted and even imprisoned by the CCP."
She said that the brutality of the CCP has affected people all over the world. Everyone is in danger, and all countries have begun to pay more attention to this issue. In the past, many countries have ignored or felt indifferent about it, and this has led to the CCP's presumptuous and bullying behavior. "We should condemn and sanction the CCP together. This is the responsibility of all countries in the world."
The CCP's violation of human rights have long been beyond common sense. The persecution methods it uses are extremely inhumane. All the high-level CCP officials are responsible. Politicians around the world should form a joint force to put pressure on the CCP, as well as carrying out more practical actions. "The culprits behind these human rights violations must pay the price for what they have done."
Ms. Kao hopes that in the future, "All the countries in the world will gather the evidence of the CCP's genocidal persecution of Falun Gong practitioners for all these years. We must impose real sanctions on the CCP and that is what everyone hopes to see." She hopes that influential people will speak out and help end this persecution. Those who are behind the persecution must be punished and their identities should be publicized.
Councilors from Chiayi: Stop the CCP's Violence
Councilor Tsai Wen-Hsu pointed out that dictatorship is the nature of the Communist Party. The persecution of Falun Gong has been ongoing for so long and the CCP is even doing organ harvesting from living Falun Gong practitioners, which absolutely cannot be tolerated. Anyone with a conscience should stand up and condemn the CCP. The Chinese people should enjoy a life of freedom, democracy and human rights.
Councilor Chen Chia-Ping mentioned that he received flyers at many of the tourist sites in Taiwan about the persecution suffered by Falun Gong practitioners. He called for joint support to end the persecution.
Councilor Fu Da-Wei said that Falun Gong is great and should be spread to the world, so that everyone can learn and enjoy better health. China should give Falun Gong practitioners the right to practice and the right to continue to promote it to the entire world. Falun Gong is widely known in Taiwan, where people can learn and practice it freely.