Munich, Germany: Falun Dafa Practitioners Hold Information Day
Aug. 15, 2020 | By Minghui correspondent Dexiang
(Minghui.org) Falun Dafa practitioners held an information day at Rotkreuzplatz in Munich on August 1, 2020. Practitioners wanted to help more people learn about Falun Dafa and the persecution, which has continued in China for 21 years.
Many people who stopped to speak with Falun Dafa practitioners were upset about Germany's close ties with the Chinese Communist Party (CCP). Some said they felt it was wrong to only care about doing business with the CCP and financial gain, while ignoring the CCP's crimes and the harm that it inflicts on the world.
Bavaria was hit hard by the coronavirus and had the highest rates of confirmed cases and deaths in Germany in April. Because so many people in Munich were impacted by the coronavirus outbreak, many people had started to reflect on their country's close ties to the CCP and that several large companies with close ties to the CCP, such as BMW, Siemens, and Allianz SE, have headquarters in Munich.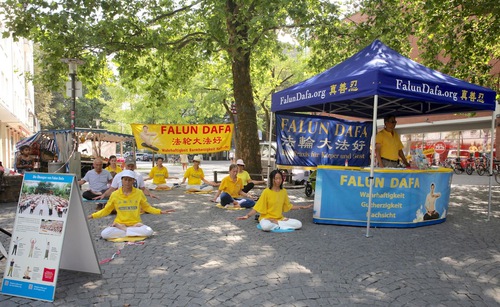 Falun Dafa practitioners demonstrate the sitting meditation at an information day event at Rotkreuzplatz in Munich, Germany, on August 1, 2020.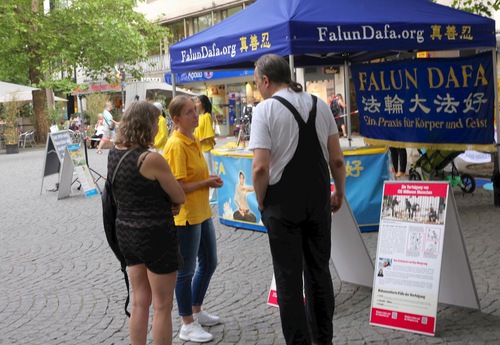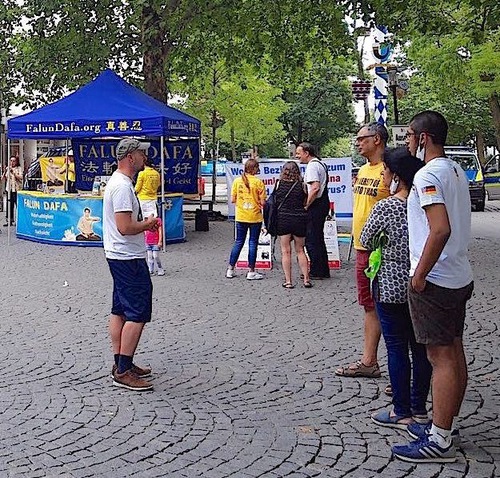 Falun Dafa practitioners explain the persecution in China to local people at Rotkreuzplatz in Munich, Germany, on August 1, 2020.
A graphic designer named Peter signed the petition during a Falun Dafa event at Odeon Square. He told a practitioner that he was surprised that the CCP had been persecuting Falun Dafa for 21 years, yet many governments, including Germany's, had not dared to speak up. "I cannot understand that," Peter said.
Christine Kalkowski signed the petition and then said, "How could a government put the economy in the top place and let profits dictate everything, while placing people at the lowest level? We should say the government is prostituting itself. They are obsessed with economic benefits and that makes people descend into depravity more."
Ms. Kalkowski was aware that the CCP brutally suppresses Chinese people's basic human rights, including their freedom of belief and freedom of speech.
"It's not just that you cannot practice Truthfulness-Compassion-Forbearance [the principles of Falun Dafa] in China. You can't do anything. If you speak factually, you can be put into a forced labor camp, just like being held in a Nazi concentration camp. You will be forced to work in the camp and be ruined mentally and physically," she said.
Ms. Kalkowski was disappointed that the German government did not reject the CCP. "I felt sad about that," she said, adding. "To them, economic profits are more important than anything else. Dictators and authoritarians are received here and financial profits dominate everything. Human nature vanishes and people are discarded as the very last priority."
She agreed with a practitioner's view that it is dangerous for people to continue down this road. She said that only when everyone works together to safeguard the world, will we live the way humans are supposed to.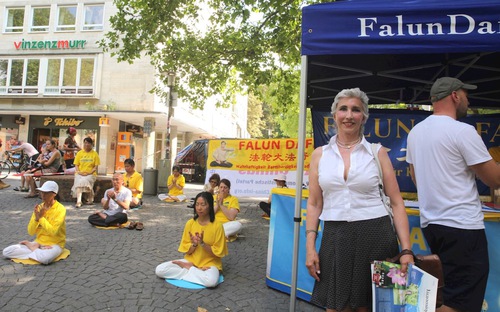 Christine Kalkowski signed the petition to support practitioners' efforts to resist the persecution.
In recent weeks, practitioners have held a number of activities at Rotkreuzplatz.