Taiwan: Young Practitioners Learn Traditional Chinese Culture at 2020 Minghui Summer Camp
Aug. 14, 2020 | By Minghui correspondents in Taiwan
(Minghui.org) Close to sixty young Falun Gong practitioners in Taiwan attended the annual Minghui Summer Camp, which was held at TransWorld University in Douliu City, Yunlin County, Taiwan from July 23 - 26, 2020. 
Campers ranging from kindergarten to sixth grade learned about traditional Chinese culture through reading historical stories and preparing for a performance. They also did the Falun Gong exercises, read the teachings of Falun Gong, and through the teachings they improved their character and reflected on their cultivation.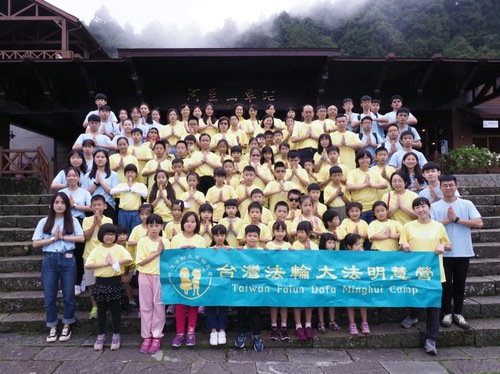 Attendees of the 2020 Minghui Summer Camp in Taiwan gather for a group photo.
Young practitioners focus while studying the teachings of Falun Gong.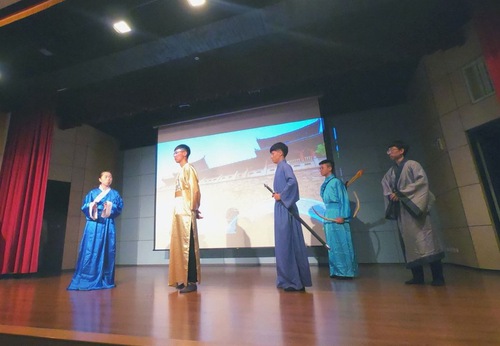 Theatrical performance at the camp
Campers play a game that encourages team spirit.
Campers participated in truth-clarification activities at Alishan Mountain on the third day of the camp, where they introduced Falun Gong to visitors and raised awareness about the ongoing persecution of Falun Gong in China. 
Ms. Lin Yijing, one of the camp organizers, said, "The children were looking forward to distributing truth-clarification newsletters. They weren't shy or self-conscious but offered them to the tourists. The children don't have any notions and showed a great sense of responsibility. I was very touched by their compassion and purity."
Young adult practitioners volunteered at the camp. Ms. Yang Xinzhen, the main coordinator, said, "This is the sixth time I have worked at Minghui Summer Camp. It not only gives little practitioners opportunities to benefit from Falun Gong but also provides a venue for young adult practitioners to make progress in cultivation through their work at the camp. We see their improvement every year. They have learned to measure everything with Truthfulness-Compassion-Forbearance."
Ms. Zheng Liwen, a young practitioner who was in charge of activities, said that working with the little practitioners motivated and encouraged her to overcome difficulties so she could volunteer at the camp. Her hope is that the children gain a good understanding of Falun Gong's principles. Every day, she reminds herself that her behavior is an example for the children.
During the stage presentation on the last day of the camp, the little practitioners gave a choral performance. Just like the lyrics of the song they sang, they hoped to ascend to a beautiful future with strong determination and to fulfill their wish.