Falun Gong Activities in Paris Receive Public Support
Aug. 13, 2020 | By De Long, a Minghui correspondent in Paris
(Minghui.org) Falun Gong practitioners held activities on the Plaza of Liberties and Human Rights in Paris, France on Sunday, August 2, 2020. Many tourists took the opportunity to learn about Falun Gong and sign a petition calling for an end to its persecution by the Chinese Communist Party (CCP), especially its killing of practitioners for organs.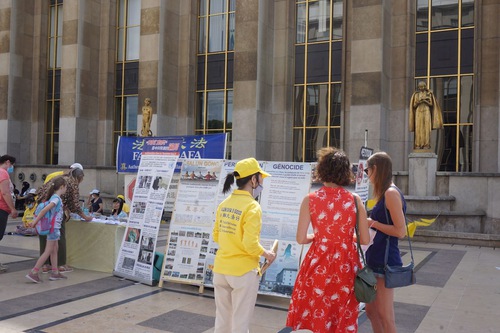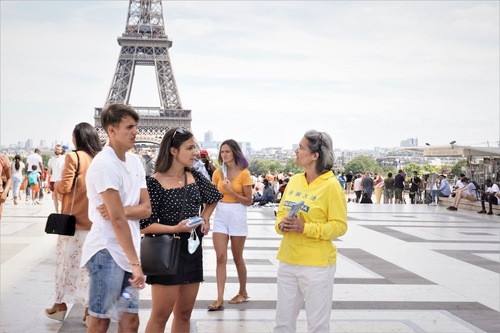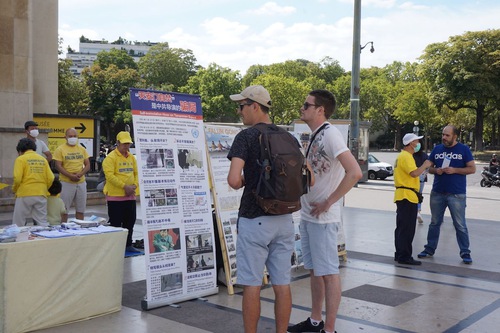 Visitors learn about Falun Gong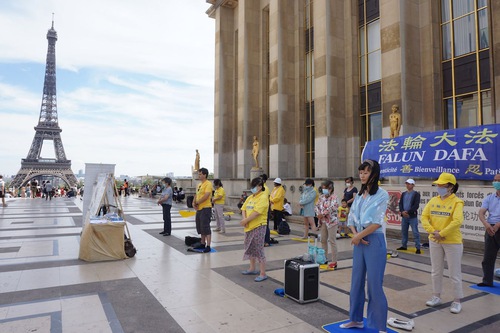 Falun Gong practitioners do the exercises together on the Plaza of Liberties and Human Rights every Sunday.
Some Chinese tourists approached Falun Gong practitioners to ask questions. Several of them quit the CCP organizations they had joined after hearing about the regime's crimes. They took copies of the Nine Commentaries on the Communist Party and flyers about the CCP's crimes of forced organ harvesting.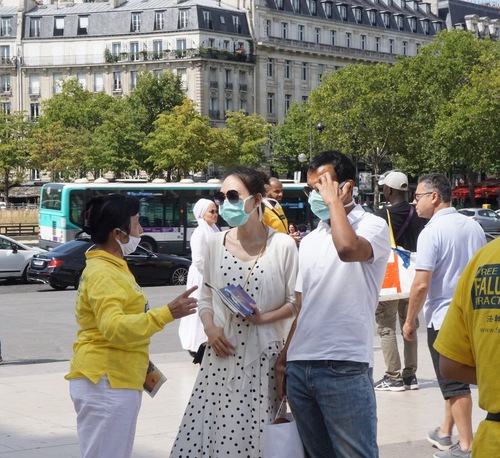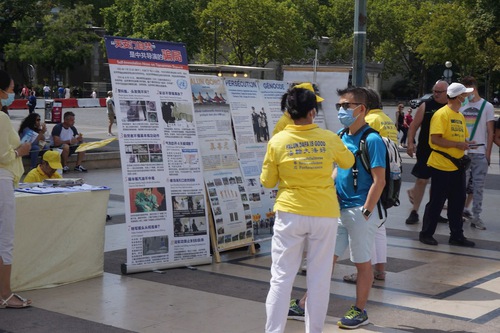 Chinese tourists learn about Falun Gong and quit the CCP organizations they had joined in China.
A man from Rouen named Said watched the Falun Gong exercise demonstration and read the information on display. He told a practitioner that the CCP's organ harvesting was absolutely unacceptable. "I know those people were deprived of their right to fight, but if people in Europe don't think they have the right, the Communist Party would be unbridled," he said. He encouraged practitioners to tell more people in all the big cities in France.
A woman named Shopova Fidanka told a practitioner, "Bulgaria had dictating leaders too. The people, especially young people, studied and worked in other countries and brought back what they had learned. Things have improved after more than 10 years of fighting." Shopova hoped the Chinese people would keep fighting and that things would improve in China.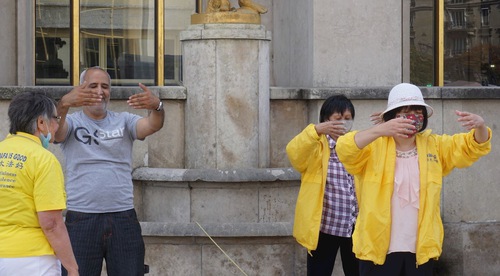 A local Paris resident learned four sets of Falun Gong exercises and planned to learn more the following Sunday.