Woman Arrested and Held Incommunicado for Visiting Deceased Falun Gong Practitioner's Daughter, Husband Tortured and Intimidated
Aug. 1, 2020 | By a Minghui correspondent in Heilongjiang Province, China
(Minghui.org) A Qitaihe City, Heilongjiang Province resident has been held incommunicado and denied visits with her lawyers and family since her arrest last December. She was indicted on July 10, 2020, after the prosecutor returned her case twice to the police for insufficient evidence.
One of Ms. Jin Yuhong's lawyers went to the local courthouse on July 14 to submit his application to represent Ms. Jin, but was given the run-around and still not allowed to visit his client or review her case document. 
Ms. Jin was arrested on December 11, 2019, while visiting the daughter of Ms. Li Yanjie at the Electronic Engineering College of Heilongjiang University. Ms. Li, also a Falun Gong practitioner, fell to her death on December 7, 2019, while trying to escape an arrest. Ms. Jin's family suspected that the police arrested her in an attempt to prevent her from exposing Ms. Li's death.
The police also arrested and interrogated Ms. Jin's husband, Mr. Ren Tianwen, who doesn't practice Falun Gong. Unable to bear the torture and mental pressure, Mr. Ren made several attempts to commit suicide. Meanwhile, the police intimidated Ms. Jin's son and attempted to prevent him from hiring lawyers for her. Believing that his mother is innocent, Ms. Jin's son hired several lawyers in his efforts to rescue her.
So far, a total of five lawyers have made the requests to visit Ms. Jin in custody, but none of their requests were granted. The Qitaihe Detention Center first denied that Ms. Jin was detained there, and after Ms. Jin's family confirmed she was there, the detention center still didn't allow their visits. 
Although the detention center director claimed that they had released Ms. Jin at the end of her 15-day administrative detention, she never returned home. It was later confirmed that Ms. Jin was transferred to a secretive detention facility, where she was deprived of sleep and subjected to intensive brainwashing designed to shake her faith. She held a hunger strike to protest the persecution.
Ms. Jin's mother, in her 80s, has been deeply distressed and worried about Ms. Jin's safety and well-being since her arrest. 
Brutality Against Ms. Jin's Husband
On the afternoon of Ms. Jin's arrest on December 11, 2019, the police broke into her home and changed the lock on her door. When her husband, Mr. Ren, returned home after work, he realized that he couldn't open the door anymore. 
Suspecting that a thief had come during the day, Mr. Ren reported it to the police, only to be arrested himself. 
The police brought Mr. Ren to Yilan County, about 90 miles from Qitaihe and the now deceased Ms. Li's hometown. The police had suspected that Mr. Ren was involved in Ms. Li's case. As Ms. Li had been forced to move from place to place to avoid the persecution, the police in Yilan never stopped looking for her. When they closed in on her on December 7, 2019, she tried to escape from the window of her sixth-floor apartment and fell to her death when the knotted bedsheets broke loose. Although Ms. Li's husband, Mr. Gong Fengqiang, survived the fall and escaped, he was taken back into custody on December 27, 2019, and sent to a coronavirus quarantine room after he lost consciousness from the abuse in a detention center. It's not clear what happened to Mr. Gong afterwards.
At the Yilan County Domestic Security Office, the police forced Mr. Ren to wear handcuffs and shackles of 44 lbs. They beat him and knocked out two of his teeth. Although it was minus 4 degrees Fahrenheit outside, the police stripped Mr. Ren's clothes, leaving only his underwear. Then they tied him up on a tiger bench and left him in a room with opened windows and door for more than two hours to freeze him. He almost died.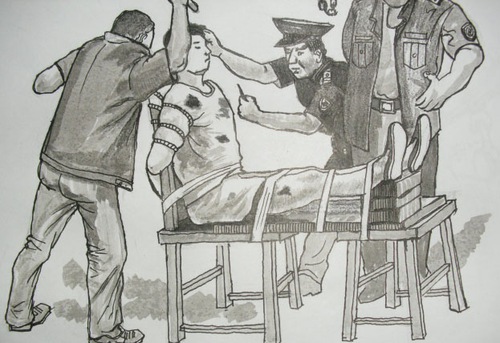 Torture illustration: tiger bench
The police also played clips of surveillance videos and ordered Mr. Ren to identify Falun Gong practitioners he knew. When Mr. Ren refused to comply, the police beat and verbally abused him. 
The police later put Mr. Ren on criminal detention and ordered the inmates to "take good care of him." With the guards' protection, the inmates beat Mr. Ren and put food in their chamber pots and forced Mr. Ren to eat it. 
The torture and mental pressure were beyond Mr. Ren's ability to endure. He attempted to kill himself by smashing his head against the wall and slitting his wrists. Fearing that he might die in the detention center, the authorities released him. 
After Mr. Ren returned home, the police arrested his other relatives and forced them to turn in Ms. Jin's Falun Gong books kept in their place. A two-year-old was also brought to the police station and couldn't stop crying. Mr. Ren's relatives were also terrified and they kept throwing up and had diarrhea.
Lawyers Given the Run-around
On the morning of December 16, 2019, five days after Ms. Jin's arrests, one of her lawyers went to the Qitaihe City Detention Center to look for her, only to be told that she wasn't there. 
When the lawyer and Ms. Jin's son went to the couple's place on the evening of December 16, they noticed some big footprints on the floor. The couple's safe and computer were gone. A neighbor told Ms. Jin's son that officers from Taonan Police Station arrested Mr. Ren. When the young man went to the police station the next morning to inquire about Mr. Ren's case, the officers said that it was the police in Yilan that ordered Mr. Ren's arrest. 
The Yilan police admitted to Ms. Jin's son that they did arrest Mr. Ren and revealed that they had put him on criminal detention on December 16, but they denied any knowledge of Ms. Jin's arrest.
An insider later revealed to the lawyer that Ms. Jin was actually held at the Qitaihe Detention Center. The lawyer returned there six more times but still wasn't allowed to visit Ms. Jin. The last few times the lawyer went there, the detention center guards claimed that Ms. Jin was being questioned every day and didn't have time to meet with him. They also said that the lawyer can file complaints against them anywhere he liked. When the lawyer went to the police department and procuratorate, he was instead given the run-around and stonewalled. 
On December 26, the last day of Ms. Jin's 15-day administrative detention, the detention center still rejected her two lawyers' visitation request. The officers of Qitaihe City Domestic Security Office involved in Ms. Jin's arrest also refused to talk to the lawyers. 
On the next day, when the lawyers called the detention center director, he claimed that they had released Ms. Jin the night before. But she never returned home. 
On the same day, Bi Shuqing, the head of Qitaihe Domestic Security Division, found Mr. Ren and told him that Ms. Jin was held in custody by them. He ordered Mr. Ren to persuade Ms. Jin to renounce Falun Gong and dismiss her lawyers. He also threatened to arrest Ms. Jin's niece, as she had helped to hire lawyers for Ms. Jin. Mr. Ren refused to comply. 
On December 31, Ms. Jin's lawyers and family returned to the detention center to look for her and were told that she was no longer there. Bi also refused to answer their calls or reply to their text inquires about Ms. Jin's whereabouts.
Related report:
After Twenty Years of Persecution for Her Faith, Woman Falls to Her Death Trying to Escape Another Arrest
Related reports in Chinese: