Adelaide, Australia: Falun Gong Practitioners Hold Activities to Commemorate the 21st Anniversary of the Persecution
July 31, 2020 | By Falun Dafa practitioners in South Australia
(Minghui.org) The persecution of Falun Dafa (also call Falun Gong) has gone on for 21 years. The Chinese Communist Party (CCP) launched a nationwide persecution of the practice on July 20, 1999.
Every year, practitioners around the world hold activities to commemorate July 20 and mourn victims of the persecution. This year, practitioners in South Australia held a candlelight vigil in Victoria Square in Adelaide and set up an information booth on North Terrace to raise awareness of the ongoing brutalities.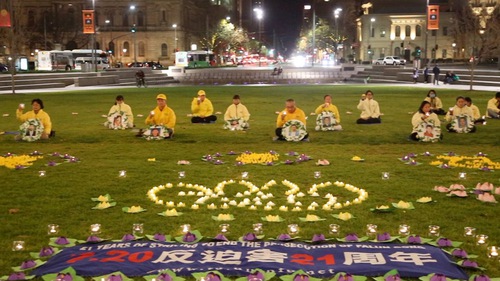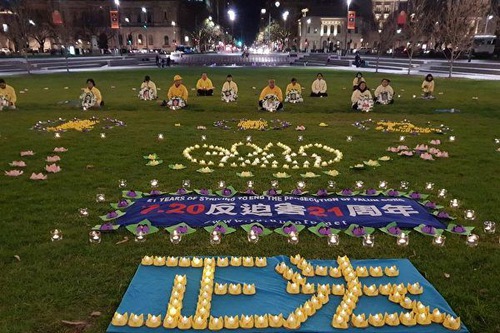 Candlelight vigil at Victoria Square in Adelaide
A candlelight vigil was held on the evening of July 17 at Victoria Square. Banners were laid on the grass and multi-colored lotus flowers and candles were used to form the Chinese characters for "Truthfulness-Compassion-Forbearance," the principles of Falun Dafa. Practitioners held photos of those who lost their lives as a result of the persecution and sat in quiet commemoration of the deceased.
The event attracted people who were going home after work and many of them took information from practitioners to read. People signed the petition calling for an end to the atrocities, and some people told practitioners they would pass on the information and ask people to sign the petition online.
Gary Teller learned about the vigil from the internet and came to show his support. 
"The Australian Government should help end this persecution," he said.
Personal Accounts of Persecution
Jenny Chen, an accountant, said she became a better person after practicing Falun Gong, but one day she was suddenly arrested from her workplace and taken to a brainwashing facility. Her family did not know where she was.
"I was not allowed to sleep for three days and nights. I was constantly interrogated. I was made to watch video tapes slandering Falun Gong. 
"I hope that through this vigil, more people will learn about this [persecution] and help stop the persecution," she said.
Chen Xinyu, who works for a construction company, began practicing Falun Gong when she was a university student. Before the persecution started in 1999, she would do the exercises and read the teachings with classmates every day. After the persecution was launched, she was arrested and imprisoned in a labor camp for one year for refusing to give up the practice. She was forced to do slave labor, and she witnessed other practitioners become disabled and driven insane from the torture.
Xinyu thinks of these practitioners every year around July 20. "Today I hold a portrait of Aunt Wu. Before she retired, she was the deputy head of a Chinese hospital. We were from the same practice site and I often went to her house to study the teachings. She was like family. Many of her family members were practitioners, but the CCP ruthlessly tortured her and her sister to death. Her other family members were imprisoned. This brutal persecution has led to many broken homes. We want to tell everyone through this vigil that we will not stop our peaceful resistance as long as the persecution continues," Xinyu said.
Anna Bai made some of the paper lotus flowers that were being handed out at the vigil that day. A classmate had introduced her to Falun Gong when she was studying nursing at a university in South Australia. 
"I had been misled by the CCP's lies and did not want to listen to my classmate. She calmly asked me to let her finish her words. Thus, I heard the three words 'Truthfulness-Compassion-Forbearance' for the first time. I asked her three times to affirm that these are the principles taught by Falun Gong. I thought there is nothing wrong with living by these values. I realized that it is wrong to persecute these people. I asked what I could do to help. She suggested I read the main book Zhuan Falun first to understand what this practice is about. 
"I had a bad temper and suffered from depression then. Sometimes I thought life was not worth living. My friend said Falun Gong could help change my outlook on life. I wanted to learn the exercises but was afraid I would be tortured if I went back to China. When I mustered up the courage to read Zhuan Falun, I understood that this was what I wanted," Anna recalled.
Everyone Should Live By Truthfulness-Compassion-Forbearance
Practitioners set up an information booth at Prince Henry Gardens on North Terrace in Adelaide on July 19, 2020.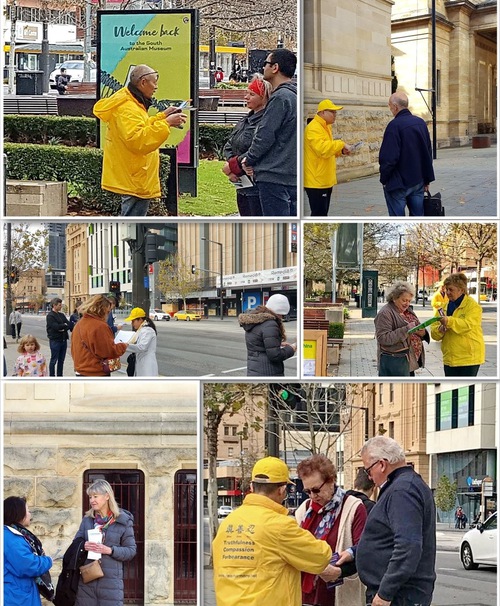 Practitioners introduce Falun Gong to passersby at Prince Henry Gardens.
Adam, a medical school student, was horrified and expressed disbelief when he learned that the communist regime is killing prisoners of conscience for their organs. He signed the petition to show his support and said he will pay attention to this issue.
Mrs. Ostermann is originally from Amsterdam and has lived in Australia for many years. "People shouldn't be incarcerated for their faith. Truthfulness-Compassion-Forbearance, everyone should live by these principles," she said. 
Her husband who is aware of the plight of the Uyghurs and Hong Kong's citizens said, "All governments should follow this closely and make a firm stance." 
Mr. Bred, a Christian, said he knows that Falun Gong practitioners are persecuted for their belief. 
"I know about organ harvesting, it is terrible. I am very sympathetic towards these victims. You should have freedom of belief just like everyone else. I think these activities you hold are very important. It is not for Falun Gong practitioners but for everyone in this world. Everyone should show their support," he said.