San Francisco: Series of Activities Held to Raise Awareness of the CCP's 21-Year-Long Persecution
July 27, 2020 | By a Minghui correspondent in San Francisco
(Minghui.org) On July 20, 1999, the CCP (Chinese Communist Party) initiated the persecution against Falun Gong, a peaceful spiritual practice. To raise awareness of these human rights abuses and to call for it to end, practitioners hold various activities. July 20, 2020 marks 21 years that this persecution has gone on. 
Falun Gong practitioners in the San Francisco Bay Area held activities in San Francisco, Central Peninsula, East Bay, and South Bay from July 17-20, 2020. They held group exercises, a photo exhibition, a march, and a car tour. They set up sites to raise awareness and help stop the persecution.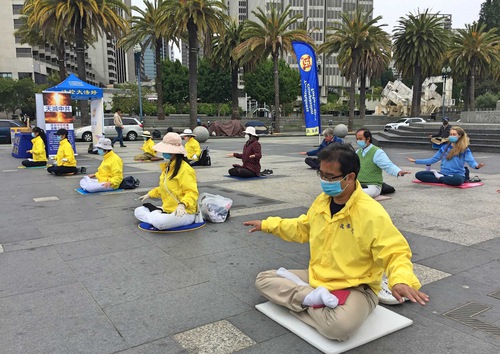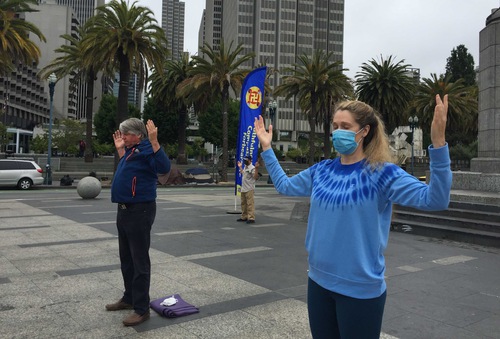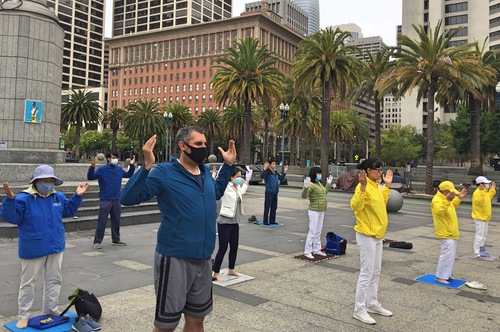 Group exercise demonstration in front of the Ferry Building on July 18, 2020.
Practitioners' group exercise demonstration caught the attention of many passers-by. Several people stopped to learn more about Falun Gong. 
Dannile and Teresa watched the exercise demonstration for a long time and then asked where they could learn the practice. A practitioner gave them a flier and suggested they visit www.falundafa.org to download a free instructional video and book and to look for practice sites in their area. 
"I often see you in Chinatown," Joel a local resident, told a practitioner while he watched the exercise demonstration. "I didn't know much about the persecution, though. Is it still going on?" After listening to the details, he condemned the CCP.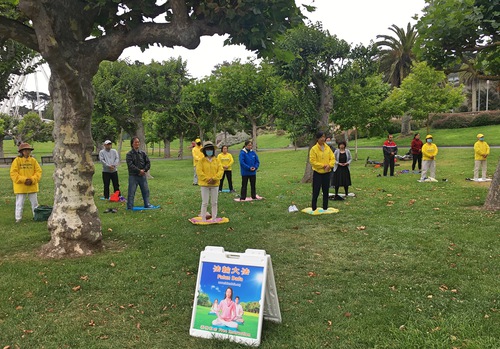 Group practice at Golden Gate Park on July 18, 2020.
Several people said they wished to learn Falun Gong. Gerett Burl is a fitness coach who lives near Golden Gate Park. He said he watched a good introduction video about Falun Gong about a year ago and he knows that Falun Gong is good. He also knew about the persecution in China and the CCP's organ harvesting from living practitioners. 
He said, "Falun Gong does not harm anyone, but helps people overcome the negative energy (referring to the coronavirus pandemic) in this world now. People should unite and change the world." He hopes that more people will learn about Falun Gong and the persecution.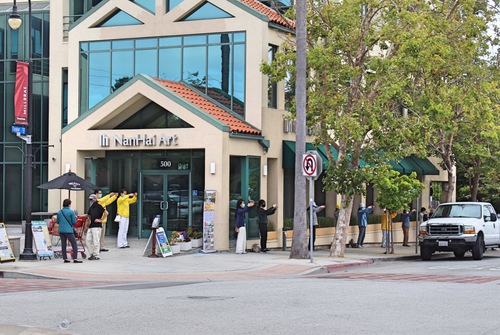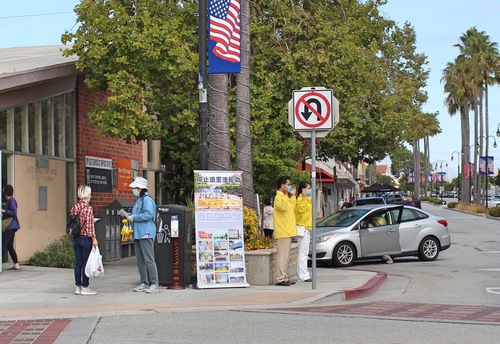 Practitioners raise awareness in the busy commercial district (Broadway Street) in Millbrae, California on July 18, 2020.
A police officer passed by and stopped to ask about the activities. A practitioner told him about Falun Gong and the CCP's 21-year-long persecution. The officer asked for a flier, left his phone number and told the practitioner to call him if anyone interfered with their activities.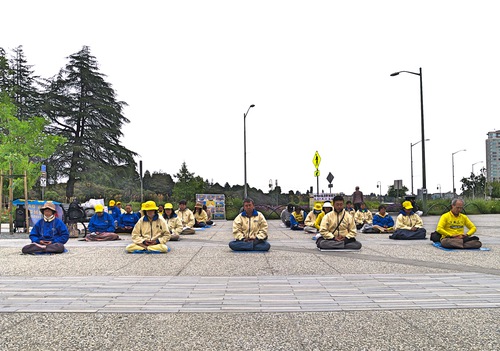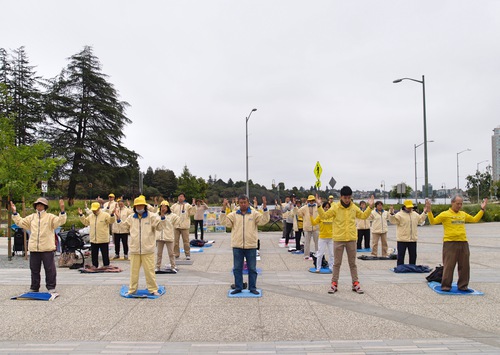 Group exercise at Auckland on July 19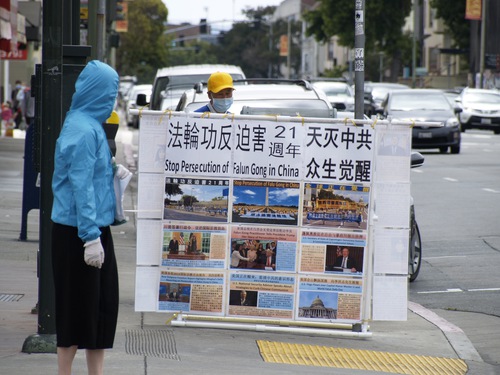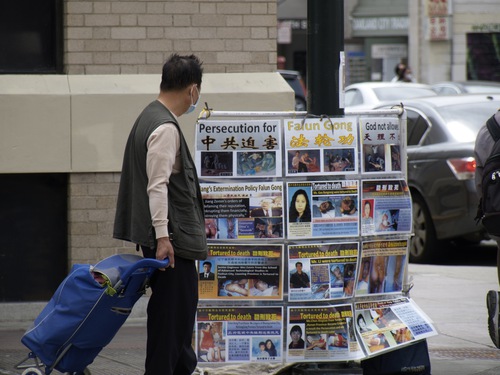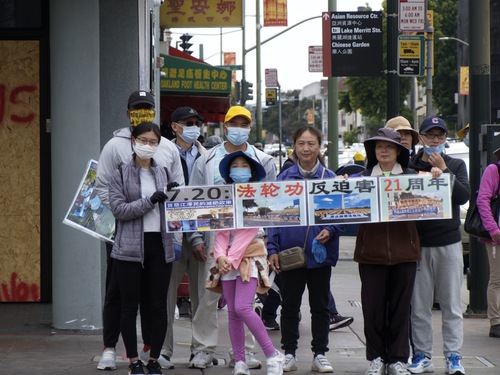 Practitioners raise awareness of the persecution in Chinatown.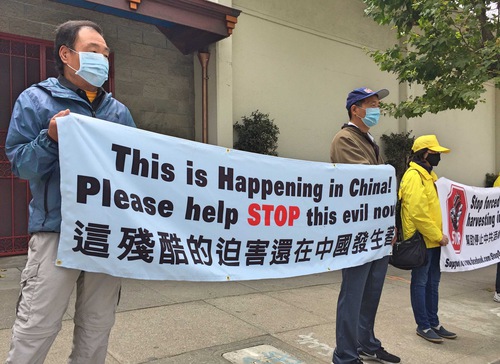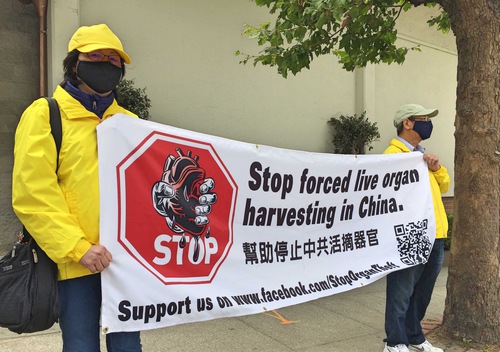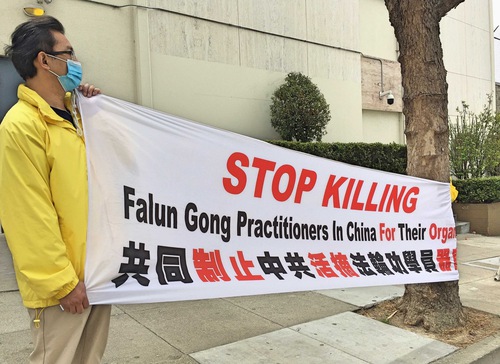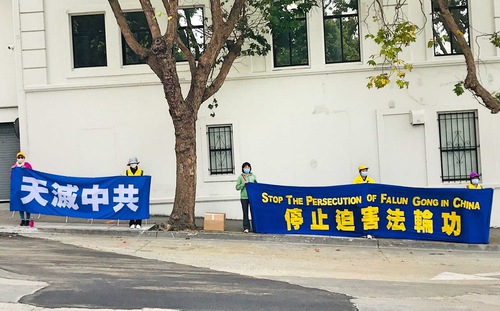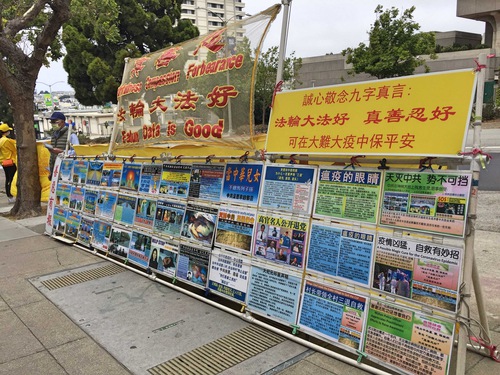 Peaceful protest held in front of the Chinese Consulate in San Francisco on July 19 and 20, 2020.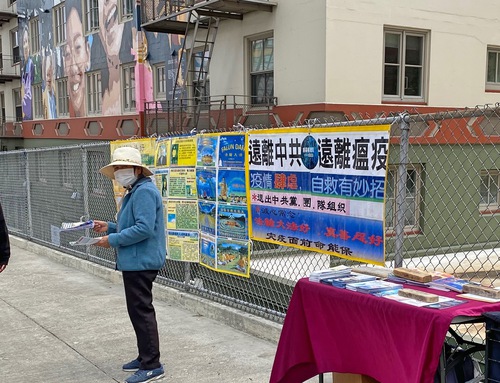 Distributing fliers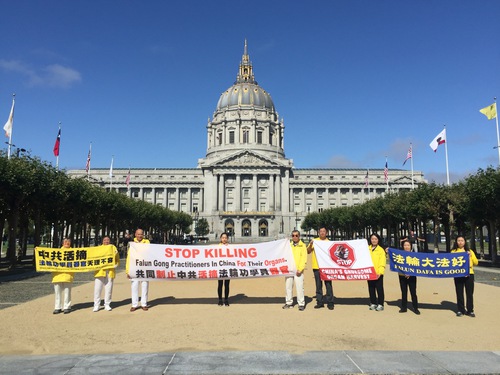 Calling for an end to the persecution in front of City Hall on July 17.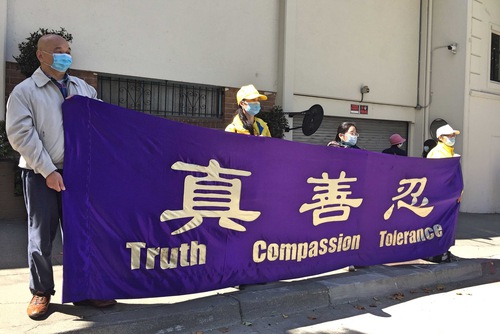 Practitioner Jianzhong Wang holds a banner in front of the Chinese Consulate. 
Practitioner Jianzhong Wang is an artist. He was the Director of the Longdu Academy of Painting and Calligraphy. His works were exhibited at the Louvre Museum in France and won the gold medal at the 10th China Cultural and Art Exchange Exhibition in Paris in 2010. He is a highly accomplished painter.
He was arrested more than ten times and incarcerated in forced labor camps in China, twice for six years, by the CCP, for his belief in Falun Gong. He was tortured. 
Wang said that when he went to Tiananmen Square to speak up for Falun Gong in 2001, the police arrested him and detained him in the Changping Detention Center. The police stripped him and detained him in a cell for two days in the freezing cold winter. The temperature in the cell was minus ten degrees Celsius and dripping water became ice quickly in the bitter cold. His limbs became stiff, and the skin on his hands and feet cracked open. 
In order to force him to give up his belief in Truthfulness-Compassion-Forbearance, the police transferred him to a prison cell and locked him up with violent criminal inmates. The police encouraged them to beat Wang by promising to reduce their sentences. 
"I was beaten to the ground by the criminals. The pain was unbearable. I passed out for 13 days. After being abused for two weeks, a police officer asked me if I still wanted to practice Falun Gong. I said 'Yes'. He said, 'Then I should give you a harsher punishment!'" 
"They confined me in a metal cage with a height of two meters and an area of less than three square meters for more than 20 days. I was beaten and shocked with electric batons. The pain I suffered is still vivid in my mind." 
He said that more and more people now know the CCP's nature. He called on people to stay away from the Party and help disintegrate it for a better future.