Hong Kong: District Councilors Admire Falun Gong Practitioners' Perseverance Following the National Security Law
July 21, 2020 | By a Falun Gong practitioner in Hong Kong
(Minghui.org) The Chinese Communist Party (CCP) recently imposed its National Security Law on Hong Kong, reneging on its Joint Declaration with the United Kingdom and further increasing its suppression of Hong Kong's people. Falun Gong practitioners have continued to raise awareness and call for an end to the persecution on the streets of Hong Kong, despite the increased risk to their safety. Many Hong Kong residents have expressed their appreciation for practitioners' perseverance, including several lawmakers.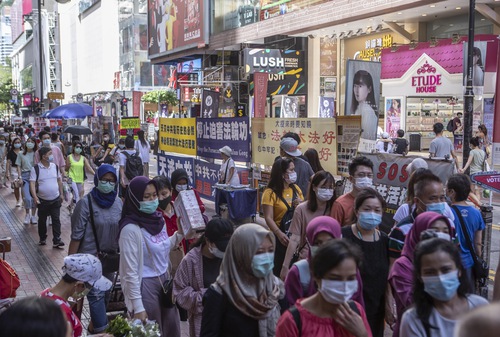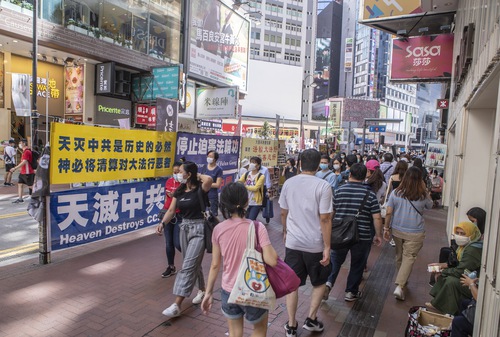 Falun Gong practitioners continue truth clarification year-round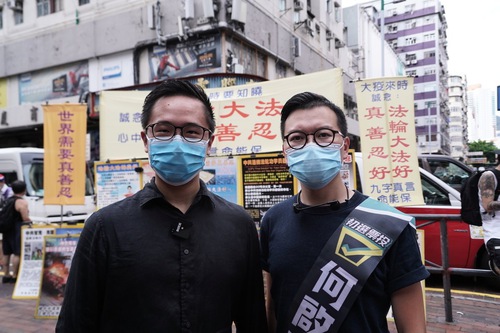 District Councilor Howard Lee Hon Ting (left) and Ho Kai-ming (right)
July 20, 2020, marks 21 years since the Chinese Communist Party (CCP) launched its nationwide persecution of Falun Gong in China. Practitioners in Hong Kong are determined to continue to hold activities that expose the persecution and continue to display large banners bearing the words "Heaven will disintegrate the CCP," "Stop the persecution of Falun Gong," and "Falun Dafa is good." Falun Gong practitioners in Hong Kong have continued their truth-clarification activities for many years at scenic sites and in the busy downtown area, all year round.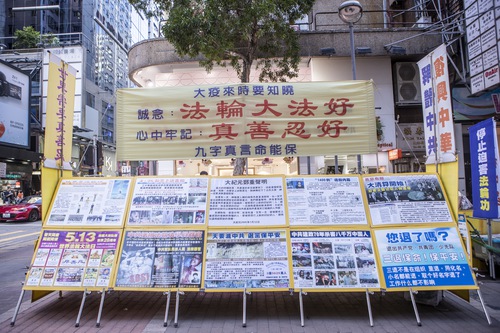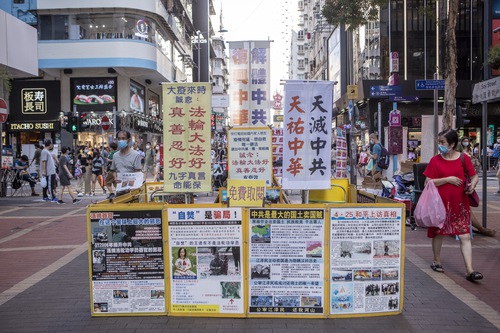 Banners and posters about Falun Gong and the CCP's persecution
The CCP's National Security Law for Hong Kong was implemented on June 30, 2020. Many people gathered on the streets to protest the law on July 1. Ten people were arrested. Some local Democratic organizations have chosen to disband to avoid persecution. Many Hong Kong residents have started the process to immigrate to other countries to avoid arrest.
Four Falun Gong Practitioners Arrested and Threatened
Falun Gong practitioners in Hong Kong have seen their truth-clarification activities interfered with following the implementation of the security law. Four practitioners were arrested on July 1, 2020, for distributing fliers, magazines and newspapers. The practitioners were taken to North Point Police Station.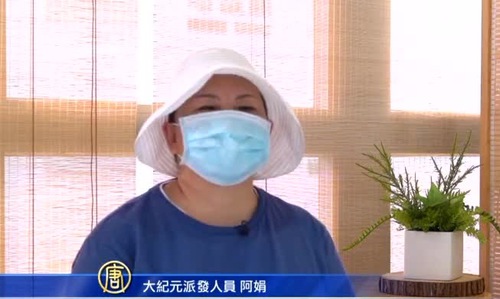 Ajuan
Practitioner Ajuan was threatened by a senior police officer at North Point Police Station after she refused to put on the prison clothing and sign any paperwork.
"[I''ll] send you back to the mainland for live organ harvesting," he said coldly.
"How many have you sent back to the mainland for organ harvesting?" Ajuan asked with tears in her eyes. "How many times have you participated in doing this? If you have done it, just admit it. Take off your face mask, I will recognize you. I will tell the whole world that all of you have done such horrible things. Do all of you agree with him about organ harvesting, such an evil thing?"
More than 100 police officers were present and not one of them spoke. The senior officer turned his head away and avoided looking at Ajuan directly. Ajuan was shocked that a police officer would speak so casually about something so horrendous. She thought that if the police in Hong Kong would send Falun Gong practitioners back to China to have their organs harvested, how many young people were sent to China for organ harvesting during the protests in Hong Kong. She wondered how many times these police at North Point Police Station had sent protesters to China to be killed for their organs.
The four practitioners were released on bail the following day, July 2, and must report back to the police station next month. They are concerned that their future distribution activities in Hong Kong will be affected.
Practitioners Continue with Truth Clarification While Facing the Pressure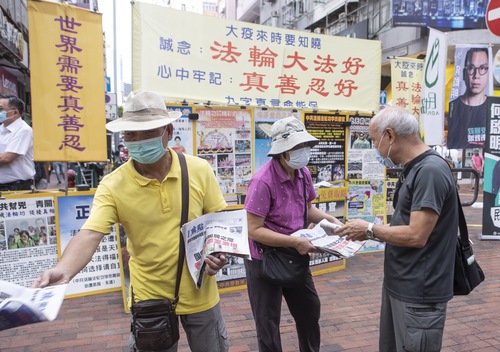 Falun Gong practitioners continue raising awareness of the persecution
Several sites where practitioners hold truth-clarification activities in downtown Hong Kong were interfered with by pro-CCP groups. The CCP-supported Youth Care Association has interfered with and harassed Falun Gong practitioners for many years. Members of the association have been reporting the practitioners to police and claiming that practitioners' banners violate the new security law.
Some police officers asked the practitioners to remove the banner that had the words "Heaven will disintegrate the CCP" and took down practitioners' identity card numbers. Some thugs tore down the banners at several sites.
Facing the pressure, Falun Gong practitioners have continued their truth-clarification in Sham Shui Po every day. Practitioner Mr. Hong said frankly that the security law is so evil. "To say that you're not afraid would be untrue. But even if we are afraid we have to continue because it is our mission to help people understand the CCP's evil nature and the truth of the persecution. We are thus determined to persevere with our truth-clarification."
Mr. Hong said people need to understand the truth about the CCP and people from mainland China need to make the right choice to renounce their memberships in the CCP and its affiliated organizations.
District Councilors Admire Falun Gong Practitioners' Courage
District Councilor Ho Kai-ming and his team conducted a voter appreciation event beside a Falun Gong truth-clarification site on July 15.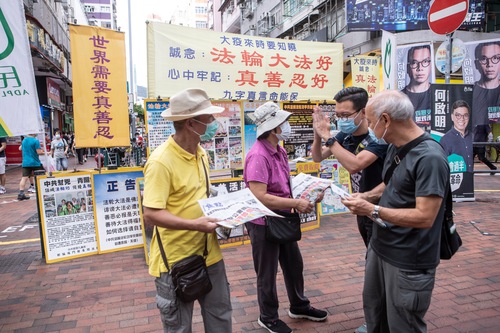 District Councilor Ho Kai-ming (second from right) admires practitioners' courage and said he wishes Hong Kong would learn from them.
"Look at Falun Gong, they've persevered for 21 years without problems," Mr. Ho said, "So we should learn from Falun Gong and continue protesting against the violent regime, against totalitarianism."
"When everyone knows the facts, we understand that Falun Gong practitioners really tell the truth. But the CCP keeps lying to save face," he said. Mr. Ho gave examples of the CCP's misdeeds and misfortunes, including the former CCP leader ceding territory to Russia, the many natural and human disasters in China, the Wuhan virus pandemic, and the near-collapse of the Three Gorges Dam on the Yangtze River.
"We have seen that the CCP is not that strong," Mr. Ho said, "For all these years, Falun Gong has persevered to resist the persecution. So I think it is really worth all of us in Hong Kong learning from this kind of spirit. Facing the totalitarianism, facing the suppression, they don't give up but continue to persevere. You just saw that many female practitioners are volunteers. They, of their own will, come out to resist the totalitarianism. You can see their spirit.
"Everyone knows that it is impossible to fight against totalitarianism with power. But it is necessary to fight against it with perseverance for a long time. This is what totalitarian is most afraid of," Mr. Ho said.
District Councilor Howard Lee Hon Ting said that Falun Gong practitioners have persevered in their faith for more than 20 years and the group has continuously grown and developed in Hong Kong. He said practitioners have "already become a model for Hong Kong society."
"We see Falun Gong practitioners still standing on the streets, even facing the threat of the security law," Mr. Lee said. "We Hong Kong people must take this as an example and continue to resist long-term, without fear."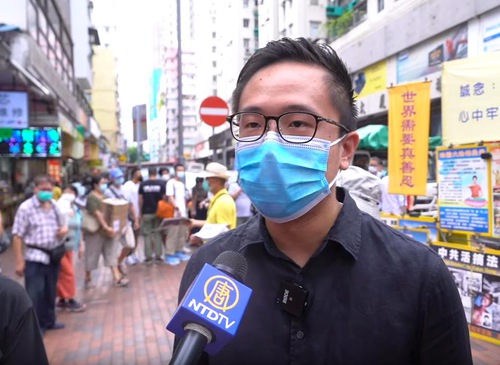 District Councilor Howard Lee Hon Ting
Mr. Lee said that Falun Gong practitioners have been calling on the world to bring the culprits of the persecution to justice, and this has had a big impact on the international community. He hoped Europe and North America will implement sanctions against the perpetrators of the persecution.