New Zealand: Practitioners Introduce Falun Dafa to the Public and Raise Awareness of the Persecution in China
July 12, 2020 | By Minghui correspondent Yiqing
(Minghui.org) Auckland's Otara Market was bustling on Saturday, July 4, drawing the eye with everything from vegetables, fruit, and seafood to small goods and delicacies. On the market stage were practitioners of Falun Dafa, also known as Falun Gong, demonstrating the five sets of exercises with serene music.
Behind them were eye-catching banners that read, "Falun Dafa is Good" and "Stop the Persecution of Falun Gong." Many people stopped to watch the graceful exercise movements.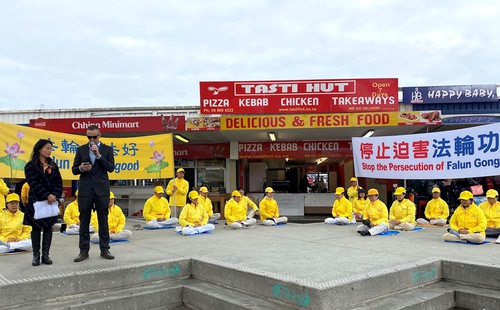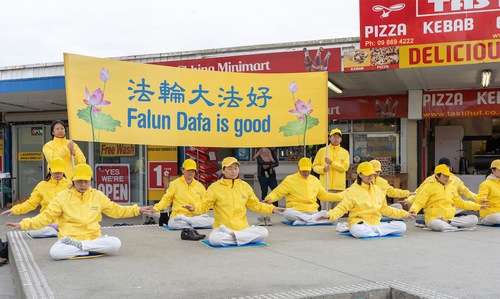 Practitioners demonstrate the Falun Dafa exercises at Otara Market, South Auckland, New Zealand.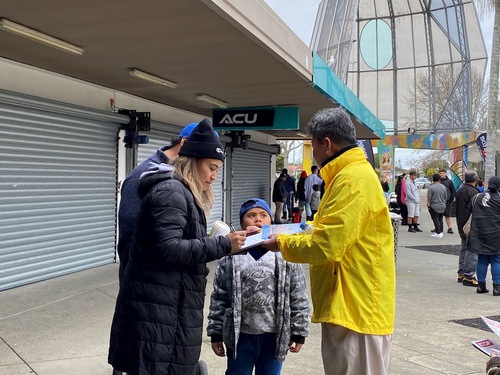 People sign a petition calling for an end to the persecution of Falun Dafa in China.
A veteran stopped by and greeted the practitioners in Chinese. He said he felt the energy emitted by practitioners on stage and that it compelled him to sit down and enjoy the experience quietly. He said he had served in the army for 11 years and knew about many dark things happening in the world. "We all have responsibility to stop them [the Chinese Communist Party] from doing bad things and help more people to embrace such compassionate and positive energy," he said.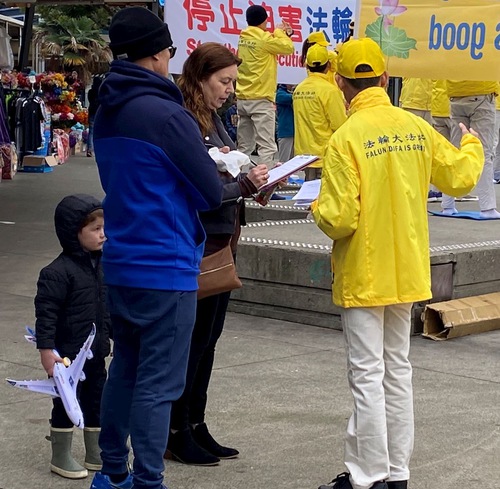 Ms. Bronwyn Faifai signs a petition calling for the end to the persecution of Falun Dafa in China.
Ms. Bronwyn Faifai works at a clinic. She said she often prays for the Chinese people "because I know that Chinese people are suppressed by the Chinese Communist Party (CCP) and there are no human rights there. Nobody in this world should be persecuted. That's why I'm signing to support your effort to end the persecution." Learning of the CCP's killing of Falun Dafa practitioners for organs, she said, "This is disgusting! How dare they do such things! God gives people life. They have no right to do such a thing."
Mr. Joe Pokoina works for the Auckland city government. He signed the petition and said, "I know there's a lot of corruption in China… I feel very fortunate living in New Zealand. Living in China or Hong Kong must be hard." He praised the positive things the practitioners were doing: "I can see and feel that each of you is in a good state. Spiritual things connect one's cultivation with the fitness of one's body and mind. It's a kind of connection with the universe."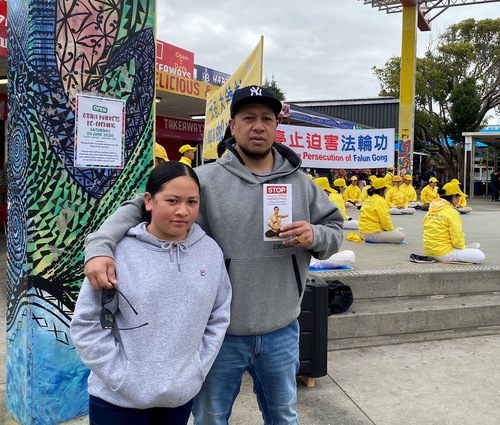 Joe (right) said the New Zealand government should stand against the CCP's tyranny.
A passerby named Joe said the New Zealand government should speak out against the CCP's tyranny despite economic and military threats. He hopes the whole world will follow suit.