Berliners: Germany Must Not Side with the Chinese Communist Party
June 8, 2020 | By Xue Li, Minghui correspondent in Berlin, Germany
(Minghui.org) Falun Dafa practitioners from the Berlin area organized a three-day information event at Treptow Park, ending on Whitsunday, June 1, 2020. The activities introduced the benefits of Falun Dafa and exposed the brutal persecution of the practice in China.
After being forced to stay home for two months due to the CCP virus (coronavirus), this was the first weekend that people were allowed to come outdoors. Berliners went to parks to enjoy the outdoors in small groups. At Treptow Park, many people showed interest in Falun Dafa, also called Falun Gong, an ancient spiritual practice introduced to the public by Master Li Hongzhi in 1992.
They took photos of the banners and the exercise demonstration and some learned the movements by following along with the demonstration.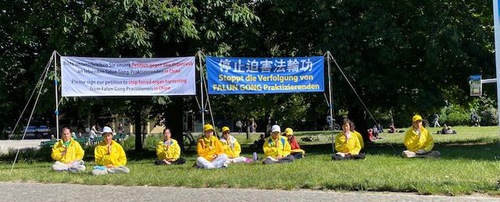 Falun Dafa exercise demonstration at Treptow Park, Berlin.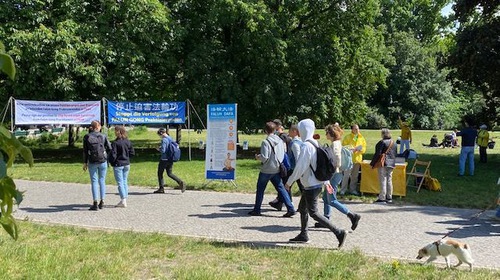 Falun Dafa practitioners passed out fliers and talked with people interested in the exercises.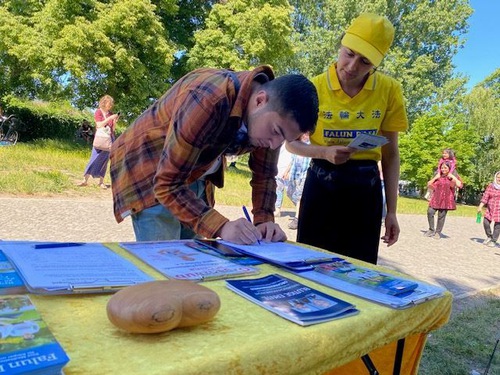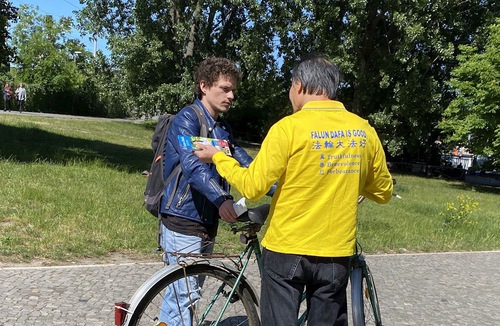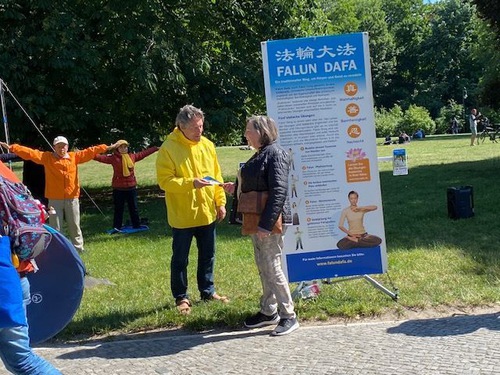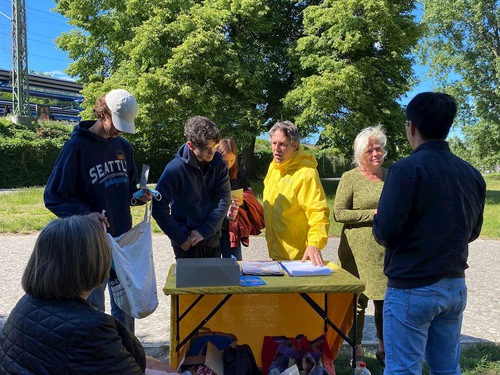 Visitors to the park showed great interest in Falun Dafa.
Hoping the Persecution Will End Soon
Christiane, a resident of Berlin and teaching assistant, came to the park with a friend and her baby daughter in a stroller. They talked with a practitioner about the persecution of Falun Gong in China and signed a petition calling for an end to the Chinese regime's forced organ harvesting of prisoners of conscience.
"My job involves direct contact with people. I value life and human rights – they are very important," Christiane said. "Today is the first time I have heard about the forced organ harvesting crimes. I am very sad. These victims [Falun Gong practitioners] have no means to protect themselves. I hope the situation changes soon."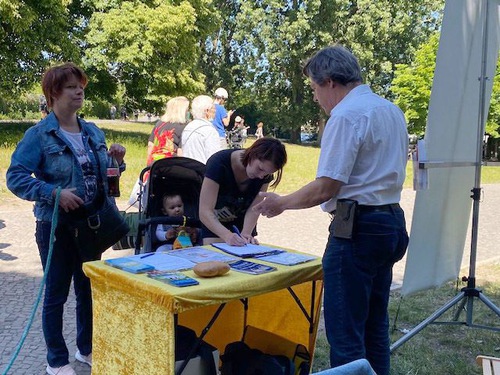 Christiane signs a petition to end the forced organ harvesting in China.
She said that given Germany's own sad history of persecution (the Holocaust), "We must not keep close ties with the Chinese communist regime, a totalitarian government. We can't allow [forced organ harvesting] to happen in the world. The German government must state their attitude on this issue."
Photographer: "I will come back to look for you"
Freelance photographer Rene first heard of Falun Gong about five years ago. He'd read an introduction to the practice and learned the exercises. He felt the energy and warmth while practicing, but eventually gave up when he realized that the practice requires a high moral standard – something difficult for him.
While he was riding his bike in the park on May 30, a Falun Dafa banner caught his attention. He stopped at the information table and talked with practitioners. 
A practitioner shared his experience of practicing Falun Dafa. Rene said, "People put too much focus on physically touchable and visible stuff, and forget that true peace comes from one's heart – the inner peace. Cultivation practice can let a person find their true self and stay calm even when the environment is chaotic."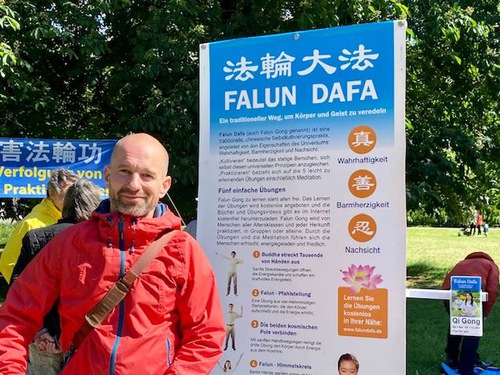 Freelance photographer Rene
The conversation changed to the forced organ harvesting crimes in China, which Rene had not yet heard about. He said, "I am sure this is happening, but we can't allow it to continue. We must do something to stop the crime."
Upon leaving, he shook hands with a practitioner and said "I will come back to look for you."
"Criticism of the CCP must be more open and more severe!"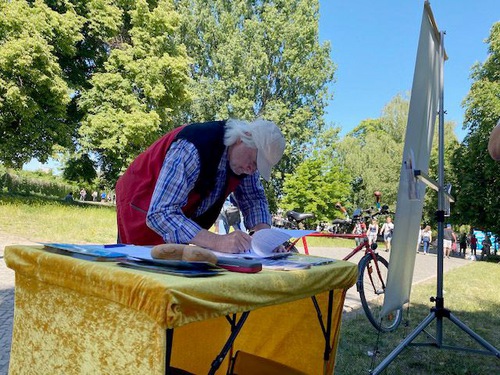 Ulrich, a member of the Association of Oppression of Ethnics, signs the petition calling for an end to forced organ harvesting in China.
Ulrich, another passerby, had seen reports of the forced organ harvesting crimes in China, and believes that the German government has an obligation to oppose a crime like this.
"It's a pity that the German government always puts economic interest above human rights in talks with China. I wish the German government would criticize the communist regime's violation of human rights more openly and more strongly."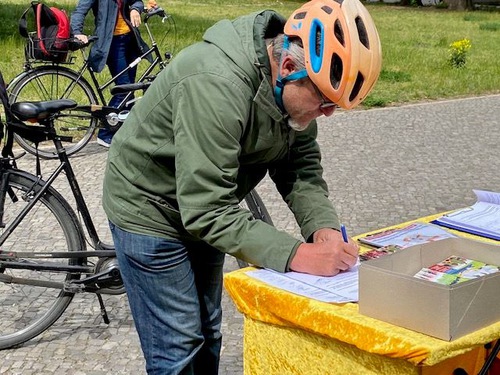 Klaus, also a Berliner, signed the petition calling for an end to the persecution. He said that he had seen Falun Gong practitioners peacefully protesting in front of the Chinese Embassy many times. He was shocked to learn that the forced organ harvesting crimes in China are still continuing.
After the event ended on the evening of June 1, many attending practitioners were surprised and happy that so many people had shown interest in learning about Falun Dafa.