From Rock Bottom to a Shining Future
June 15, 2020 | By Cheng Yuyan, a Minghui correspondent in Taiwan
(Minghui.org) Everything seemed to be going wrong in Ms. Huang's life. Her finances had been obliterated, her health was terrible, and she was not close to her family. Her life finally took a positive turn the day she attended a Falun Gong lecture class. Today, she is a debt-free, healthy, happy person. 
Grief Sparks a Quest for Answers
Ms. Huang Rui-Er had always believed in the spiritual world and growing up she had admired heroines in martial art novels. She became an elementary school teacher and met her husband. Life seemed promising. 
In 1995, when she was 30, her mother suddenly died. Saddened by her mother's death, she began to question the meaning of life. She sought to elevate her realm through mountain-climbing in Taiwan's One Hundred Peaks, but every time she reached a mountain top and surveyed all that lay below her, she felt an emptiness growing inside. 
She once climbed 5000 meters above sea level in the Himalayas to visit a Tibetan Buddhist temple in the mountains, hoping to find true teachings, but she didn't find the teachings she had in mind. 
Hitting Rock Bottom 
Ms. Huang found it hard to fall asleep in the mountain lodges as she was climbing mountains and became dependent on sleeping pills. When she tried to stop taking the pills she developed serious insomnia. Her hands and feet always felt cold. No matter how many blankets she put over herself at night, she always felt cold and had to get up and have a strong drink to warm up. She started to be vegetarian and tried folk remedies to adjust her state, but her health worsened. 
She gave birth to her only son in 1998 and had postpartum depression. To make matters worse, she and her husband were scammed by a fake religious group and bought a meditation room in a temple that ended up having extensive hidden costs. They ended up owing more than $10 million Taiwan dollars (USD $340,000). Their house was seized by the courts. After negotiating with the bank, half of their salaries were deducted from their accounts every month to pay the mortgage on the property they bought from the fake religious group. 
The physically and financially exhausting life went on for a dozen years and Ms. Huang didn't think there was a way out of the misery. 
Seeing the Light of Dawn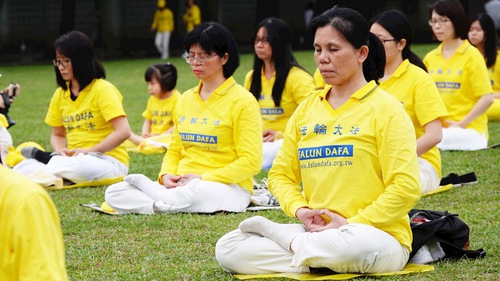 Ms. Huang Rui-Er doing the sitting meditation of Falun Gong 
Ms. Huang came across Falun Gong in 2007. Her son was in fourth grade at the time and had been stung by hornets at school. His face was swollen and black and blue, and he was not able to eat anything. Ms. Huang and her husband took him to a vegetarian restaurant that they liked to frequent, hoping he would eat. Seeing the boy's situation, the owner went to the kitchen to cook the boy some noodles. The owner then kindly persuaded their son to eat and started to tell him some stories. He told the boy about Sakyamuni in his younger years and stories about traditional culture and values. Their son enjoyed the stories and ate all of his food. As their son listened to the stories, the swelling on his head and the black and blue bruises subsided. Ms. Huang felt like the owner had supernormal abilities. 
They went back to the restaurant the next day and the owner gave them three Falun Gong books: Zhuan Falun, Hong Yin, and The Great Way of Spiritual Perfection. After reading the main book, Zhuan Falun, Ms. Huang couldn't have been more excited, "I found it--the true cultivation method I dreamed of. I have a master now!" 
The resentment and depression that had followed Ms. Huang for years slowly faded away. 
The family of three often went to the restaurant owner's home to study the Falun Gong teachings with him. They also attended the nine-day lecture series six times. The first time they attended, their 10-year-old son's celestial eye opened on the second day. "Mom, look! There are Falun everywhere! All different colors and sizes, flying all over our living room!" he exclaimed when they got home. 
When Ms. Huang first did the second Falun Gong exercise, she felt a force trying to push her arms apart. She had to constantly try to hold her arms in the right place. Her son told her that he saw a stream of dark energy emerging from her head that had been pushing her arms apart. 
Everything Goes Well
Before practicing Falun Dafa, Ms. Huang had been unable to shake the depression that started after the birth of her son. She felt like she had acquired a form of spirit possession from the fake religion and had accumulated black substances around her body. She felt inferior, indebted, and that people avoided her because she was odd. She was often in a trance-like state and almost hurt herself. She was almost completely disconnected from her parents. After she picked up Falun Gong, she stopped having blackouts and became more clearheaded and more awake. "I could clearly feel Master purifying my body. My complexion went from dark to bright. After going to the nine-day lectures six times, the black qi from the spirit possession no longer existed and I felt more energetic than ever," she said. 
After practicing Falun Dafa, she no longer needed sleeping pills to fall asleep and she slept soundly. Her depression and other illnesses disappeared. A great opportunity came along, and a buyer agreed to purchase the property that had burdened their family for so long. Their debt was paid off. "The heavy weight on my shoulders for more than a decade was finally lifted," she said. 
Her family also benefited from her practice. She volunteered to help her younger brother take care of their seriously ill father at home. She regularly took her father to the hospital for examinations. Her friends, neighbors, and relatives all began to get along with her. Her father said, "I had my daughter back, and she was better than before." 
Raising Awareness of Falun Gong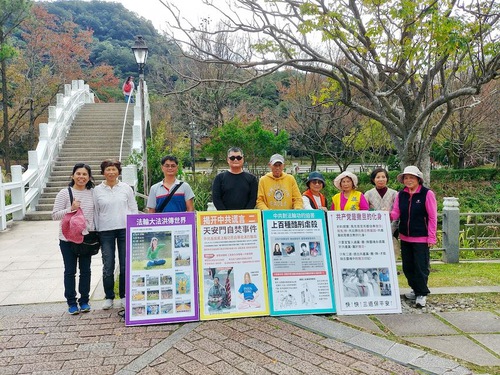 Ms. Huang (first left) at Lake Compassion (Ci Hu) in December 2019 where she talks to tourists from China about the truth of the persecution of Falun Gong. 
After the persecution of Falun Gong started in July 1999, practitioners have been tirelessly telling people of the world what has happened in the persecution. Ms. Huang is no exception. She joined other practitioners at Lake Compassion (Ci Hu) in 2013 and has been helping tourists from China understand the evil nature of and crimes committed by the CCP. Many of them have quit the CCP and its affiliated organizations with her help. 
After the outbreak of the coronavirus pandemic in 2020, tourism stopped in Taiwan and she switched to clarifying the truth on the phone. 
She called China and talked to people who still believed the CCP's propaganda about Falun Gong. A young man picked up her call in April 2020, and she explained that Falun Gong had already spread to more than 100 countries and regions, that the Tiananmen Self Immolation was a set up by the CCP to defame Falun Gong, and how the CCP's response to the coronavirus exposed the Party's evil nature. The call dropped six times during the course of their conversation. Each time she called back, the young man picked up. In the end she said, "You were able to pick up the phone every time I called back, it means this is your opportunity to quit the CCP organizations now. Who knows if my next call will go through? I will feel better knowing that you will stay safe after quitting the CCP." The young man quit with an alias. 
Last month, after an elderly man quit the CCP on the phone Ms. Huang heard him say, "Heaven has blessed us with a big red envelope!" Ms. Huang figured that there must be someone next to him and said, "Your wife needs to stay safe too!" His wife quickly spoke up and agreed to quit. The wife then said, "And my daughter and son are here, too. We are all CCP members and we all want to quit." The man was so happy and said, "Thank the Lord for giving our whole family a big red envelope! Thank you! Thank you!"