Germany: Falun Dafa Practitioners Introduce the Practice in Dortmund
June 12, 2020 | By Falun Dafa practitioners in Germany
(Minghui.org) Falun Dafa practitioners in Germany set up an information booth at St. Reinold's Church Square (Reinoldikirche) in central Dortmund on June 6, 2020. They demonstrated the Falun Dafa exercises, talked to people about the mind and body practice, and raised awareness of the ongoing persecution of Falun Dafa in China. 
The government recently relaxed coronavirus measures, so practitioners in many German cities have resumed their regular awareness-raising activities in city centers and at tourist attractions. Saturday, June 6, was the second time practitioners have held activities in Dortmund's city center since the country's reopening. 
Falun Dafa banners were hung on one side of the information booth, while display boards and banners exposing the Chinese Communist Party's (CCP) organ harvesting crimes were put up on the other side. The information booth attracted many people.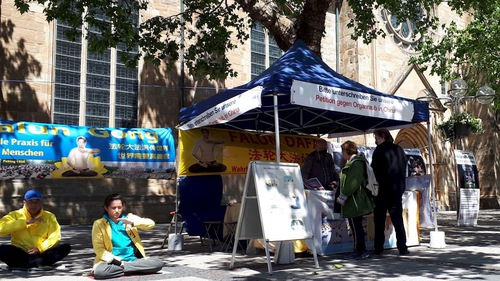 Falun Dafa practitioners demonstrate the exercises in Dortmund's city center.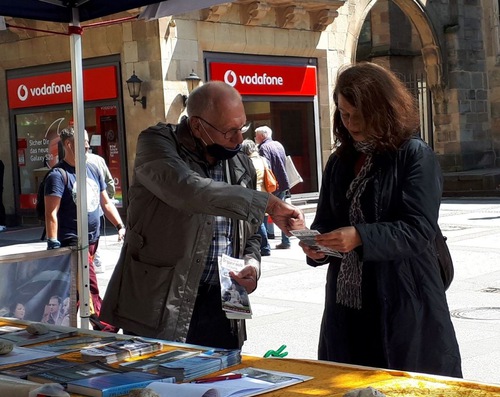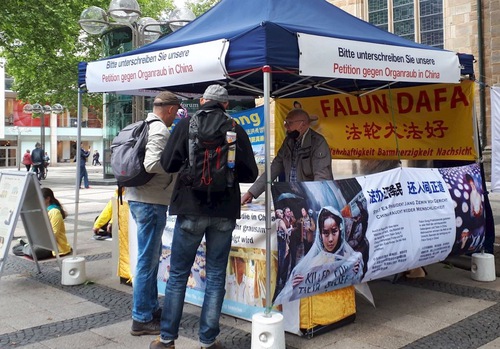 People stop to learn more about Falun Dafa and the persecution in China.
Social distancing measures are still in place, so practitioners did not approach people to give them brochures, but that did not stop people from obtaining information. Many people came over to learn about Falun Dafa. Several people were horrified to learn that doctors in China take organs from prisoners of conscience for use in organ transplants. 
A middle-aged man told practitioners that he learned about the CCP's crimes against humanity from Falun Dafa practitioners several years ago and has been paying attention to it ever since. He said that the CCP is extremely evil and asked if Western society had put forth any response to the persecution. Practitioners told him that many politicians support Falun Dafa and have censured the CCP's persecution of practitioners. The man said he was reminded of East Germany before the Berlin Wall came down, and how many people at that time had hoped that communism in East Germany would end.
A man in his 40s approached practitioners after reading the banner about organ harvesting. He listened to practitioners' explanation of the state-sanctioned organ harvesting of Falun Gong practitioners in China. "The CCP is evil," he said. "I know they force prisoners to perform manual work, so I stopped buying made in China products." He signed the petition calling for an end to the persecution.
A middle-aged woman came over to the booth to sign the petition. She told practitioners that she is a doctor. "I usually don't participate in political matters but this [forced organ harvesting] is a very serious thing," she said. She took several brochures to read and said she would tell more people about the persecution.
An elderly couple read information about the practice and then walked up to the practitioners. The husband said he had visited Xi'an in China and was very interested in Chinese culture. After he returned from Xi'an, he continued to delve into Chinese culture and had read about Falun Dafa and the persecution. He said he really identifies with Falun Dafa's principles: Truthfulness-Compassion-Forbearance. "I consider moral values to be very important. I read many articles on the practice. I think the teachings are excellent," he remarked.