Falun Gong Information Day Held in Downtown Stuttgart, Germany
June 11, 2020 | By Minghui Correspondent in Stuttgart
(Minghui.org) Falun Gong practitioners in Germany held a Falun Gong Information Day in downtown Stuttgart on May 30, 2020, to introduce Falun Gong and expose the persecution of innocent practitioners by the Chinese Communist Party (CCP).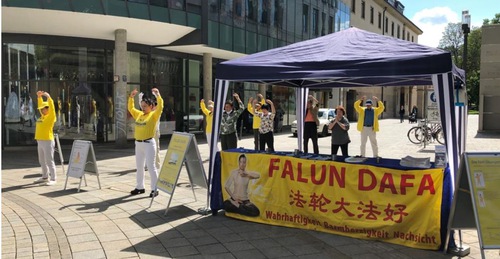 Falun Gong practitioners demonstrate the exercises.
Stuttgart is the capital of southwest Germany's Baden-Württemberg state and a famous manufacturing hub. Mercedes-Benz, Porsche, Bosch, SAP Software Solutions and other world famous companies have their headquarters there. During the coronavirus pandemic, the city was hit hard and the number of people infected in Stuttgart ranked third in Germany.
As Germany has now reopened, Falun Gong practitioners held their first Information Day on the busiest street in Stuttgart, Königstraße. Many people watched practitioners demonstrate the Falun Gong exercises to the beautiful music.
A young woman carefully followed along with the practitioners' exercise movements during the exercise demonstration. She took an introductory flyer afterward and said she planned to read more about Falun Gong online.
A young man picked up an introductory flyer for his friend who likes meditation. Another young man talked with a practitioner for a long time and said he was interested in learning Falun Gong. He was familiar with terms like De (virtue) and karma, because one of his friends had spent six years in a Chinese temple.
A middle-aged woman said she would like to learn Falun Gong. She was happy to know that Falun Gong exercise instruction is always free. She took information about a local group-exercise site and said she planned to attend.
A woman asked a practitioner why the CCP persecutes Falun Gong. The practitioner explained how Falun Gong's principles of Truthfulness-Compassion-Forbearance oppose the CCP's wicked ideology of struggling against fellow man and nature. The practitioner also explained how the CCP had fabricated lies to smear Falun Gong to turn the populace against practitioners, and how it had used the same tactics of deception with the coronavirus pandemic. The woman agreed with the practitioner.