Taiwan: Practitioners Celebrate World Falun Dafa Day in Yilan
May 7, 2020 | By Minghui correspondent Tang En
(Minghui.org) Falun Dafa practitioners in Yilan, Taiwan held activities on May 2, 2020, to celebrate the 28th anniversary of the spiritual practice's introduction to the public, and to wish its founder, Mr. Li Hongzhi, a happy birthday.
Falun Dafa, also known as Falun Gong, was introduced to the public on May 13, 1992, and is now practiced by over 100 million people worldwide.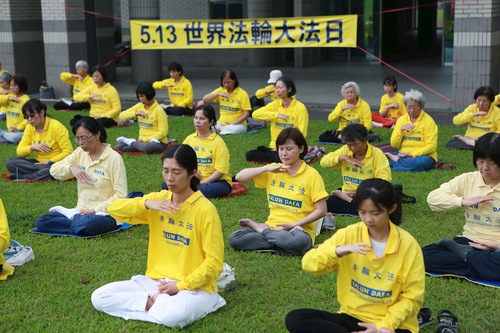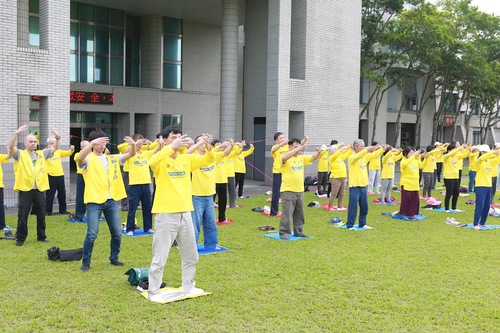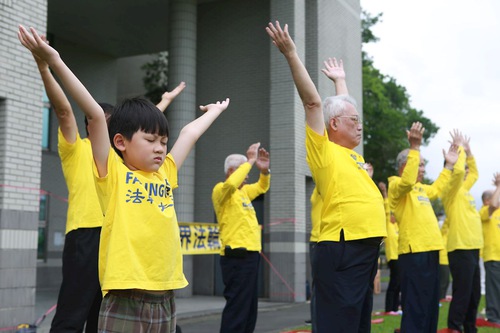 Practitioners do the exercises as part of the day's events to celebrate World Falun Dafa Day.
Practitioners in Yilan come from all walks of life, and include professors, government employees, doctors, engineers, teachers, undergraduate students, and housewives. Like practitioners everywhere they wished to express their appreciation to Master for his compassionate salvation, and the health and moral benefits they've received from the practice.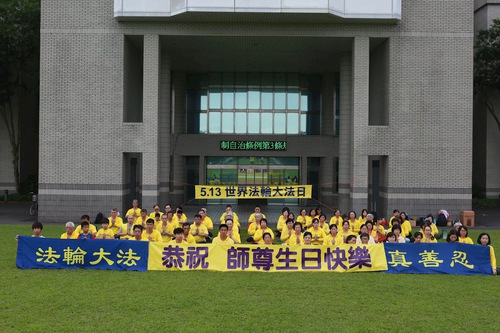 Practitioners wish Master Li a happy birthday.
Chen Chin-jung said she had many illnesses, including kidney hemorrhage, uterine tumor, headaches, osteoporosis of the knee, sciatica, and tonsillitis before she began practicing Falun Dafa. She was taking various medicines and had injections every other day just to get through her days. She said that all her illnesses disappeared after she started practicing.
Wu Ching-chung said his father had a tumor about five centimeters (two inches) in size on his liver two years ago. The doctor said his father's tumor was advanced and he had little time left. His father did not have surgery, but returned home to study the Fa and practice the exercises every day. He did not experience typical symptoms like jaundice, bloating, or loss of appetite. 
Wu Ching-chung's father is now 84 years old and is filled with energy and high spirits. His entire family is grateful to Master Li.