Hualien, Taiwan: Practitioners Celebrate World Falun Dafa Day
(Minghui.org) Hualien Falun Dafa practitioners gathered at Beibin Park on May 3, 2020, to celebrate the 28th World Falun Dafa Day. Hualien is located on the East Coast and is the largest county in Taiwan. The area is well known for its tourist sites in mountainous areas.
Falun Dafa was introduced to the public by Mr. Li Hongzhi on May 13, which coincides with Mr. Li's birthday. When Mr. Li came to Taiwan in November 1997, he also visited Sun Moon Lake, Hualien, and other places.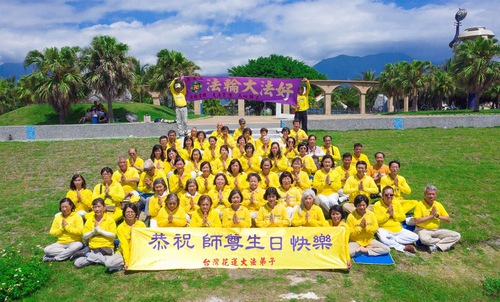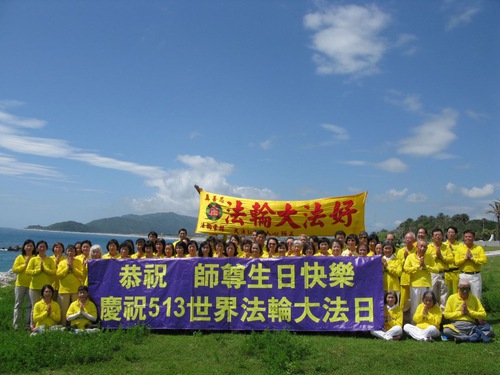 Falun Dafa practitioners celebrate World Falun Dafa Day at Beibin Park on May 3, 2020.
Becoming Better Citizens
While many countries have enacted stay-at-home policies due to the coronavirus pandemic (also known as the CCP Virus) that was covered up by the Chinese Communist Party (CCP), Taiwan was one of the earliest regions to contain the virus, partly because of its decades-long distancing from the CCP.
The celebration included group exercises, reading Dafa books together, and group discussions on improving oneself based on the Falun Dafa principles of Truthfulness-Compassion-Forbearance in their daily lives.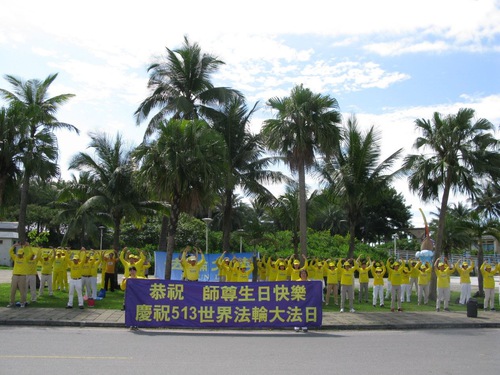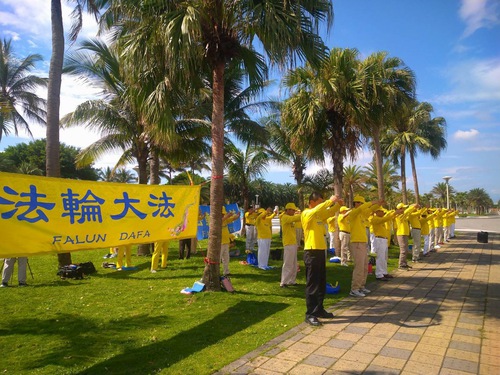 Falun Dafa exercises in the park
Cuirong, a retired teacher, has practiced Falun Dafa for 17 years. She has not only gained good physical health but also improved her character. In addition to trying to be a better person, she taught her students the importance of moral values.
"The coronavirus pandemic has affected almost all countries in the world," she said. "I feel we practitioners are so fortunate to practice Falun Dafa." She and other practitioners inform the public about the CCP's persecution of Falun Dafa and the lies propagated by the regime. By distancing themselves from the CCP, people have been able to get over the crisis and benefit in the long term as well.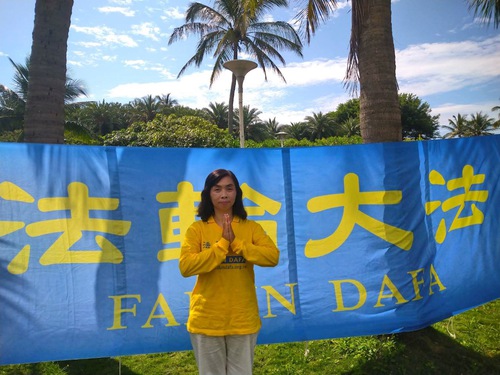 Cui Rong, a retired teacher, said Falun Dafa helps her remain youthful and has made her a better person.
Life with a Purpose
Yuzhen first started to practice Falun Dafa in 2001 and only did the exercises at that time. After returning to the practice several years ago, she started reading Dafa books as well and joined various activities to introduce the practice to others.
"I have found the Falun Dafa teachings very profound—I almost feel like a new person," she explained. "When interacting with other people at work or other social events, I have learned to look within, do better, and stop complaining about others."
Yuzhen also found that she had more mental clarity, became more energetic, and was cured of allergies that had bothered her since childhood. "I am so grateful to Master Li," she said, referring to the founder of Falun Dafa.
This was the first time that practitioner Xiufen had participated in the World Falun Dafa Day event. Over the past several years, she saw many of her friends age, fall ill, or even die, and it made her rethink her life.
She shared, "Having studied Falun Dafa, I found that fame and money are not as important as people might think. Having good health and knowing about one's destiny is more important. I feel so fortunate that Falun Dafa has given me peace and happiness."