DAFOH Report: The CCP's Deception Protocol – Acts, Denial, Hiding, Disinformation, and Profiteering
May 31, 2020 | By Minghui correspondent Zhou Wenying
(Minghui.org) The coronavirus pandemic highlights the Chinese Communist Party's (CCP) strategies for benefiting at the expense of other nations' well-being. After covering up and downplaying the emergence of the virus, the CCP is now exploiting Western countries' dependence on China for medical supplies, according to a report by Doctors Against Forced Organ Harvesting (DAFOH) published on May 5, 2020, titled "Unmasking the COVID-19 Pandemic."
The 41-page report, available for download from the DAFOH website, reviews the CCP's tactics during the coronavirus outbreak, including delaying information; silencing whistleblowers, including medical professionals; and now engaging in "mask diplomacy." For example, the CCP forced the Italian government to buy back medical supplies Italy had originally donated to China at the height of the coronavirus outbreak in Wuhan. The report notes that the regime used similar methods to cover up its crimes of forced organ harvesting.
Following publication of this report, various forums and articles further illustrated how the CCP has fully mobilized its Deception Protocol: Acts, Denial, Hiding, Disinformation, and Profiteering (ADHDP). 
Benefiting from the Disaster It Created
The World Health Organization (WHO) International Health Regulations (IHR) (2005) require China to transparently report accurate public health information. But the CCP failed to warn the global community throughout December 2019 and January 2020, when the novel coronavirus broke out in Wuhan. Even after other nations, such as Italy and the United States, reported many fatalities, the regime continued to report false, low numbers of victims in China. 
After hoarding medical supplies from other countries while publicly downplaying the threat, the CCP created a global shortage of face masks. By "choosing how and when to distribute aid, the Chinese government has driven a wedge between European countries following a trajectory of divide and conquer, or "divide et impera," by first ruining partnerships between countries and then appearing as the savior who delivered face masks to overwhelmed regions," the DAFOH report stated.
The CCP has long-term ambitions for expanding its power globally through strategic plans such as the Belt and Road Initiative (BRI). In the case of coronavirus, it is the CCP that first created a "Silk Road of Pandemic" and then showed up as a savior to benefit from the so-called "Silk Road of Health," both politically and financially. This was conducted through mask diplomacy with low-quality medical supplies.
Violating International Regulations and Medical Ethics
During the 2002-2003 SARS outbreak, the CCP covered up information and punished Jiang Yanyong, a military surgeon, for raising awareness of the disease. Jiang was reprimanded and detained for 45 days in a military jail.
WHO updated the International Health Regulations (IHR) in 2005 to apply to "all events [both official and unofficial] that may constitute a public health emergency of international concern." After the new coronavirus broke out, however, the CCP again violated regulations by withholding information and punishing medical doctors for disclosing information.
"Reports of systematic manipulation and tampering of figures related to virus outbreaks or medical malpractice are not new situations for China," the report wrote. "DAFOH has observed similar patterns in recent history: Systematic tampering, manipulation and covering up of numbers has also been found in China's transplant system in the context of forced organ harvesting from Falun Gong practitioners and other prisoners of conscience, recognized as a crime against humanity and reason enough to disengage from the Chinese government."
These two issues are connected, said DAFOH secretary Adnan Sharif on May 5, citing recent reports that two elderly patients infected with the virus in China had received lung transplants after waiting only three days for matching organs. "What the CCP really wanted to show was the scientific brilliance of being the first country to do lung transplantation in this setting, but what it really does [is] it raises more questions on the organ sources," he said.
Online Conference in France
With the national stay-at-home policy still in effect, DAFOH in France held an online conference on May 7, 2020, to discuss the deceit of the CCP during the coronavirus pandemic, as well as previous accounts of the regime's deception, such as in the ongoing persecution of Falun Gong. Parliament members, economists, sociologists, and medical professionals participated in the discussion.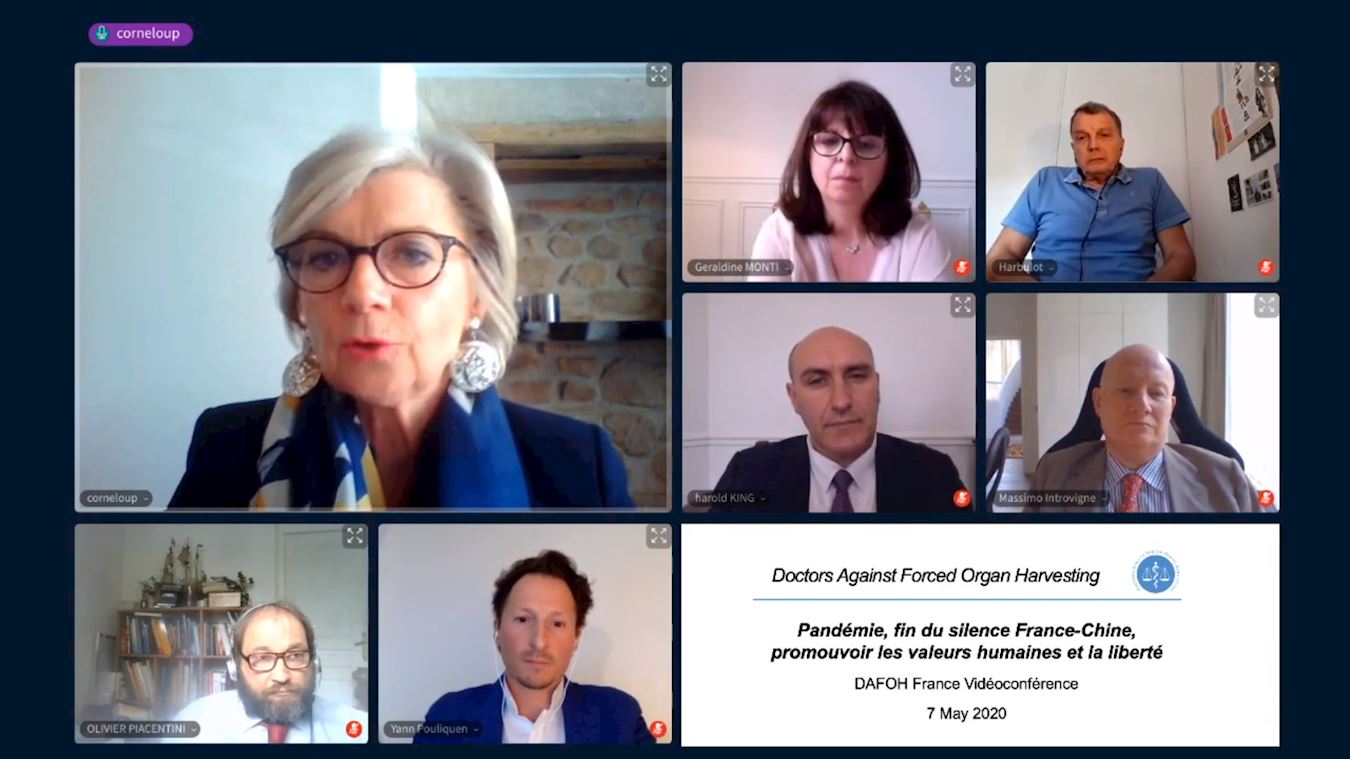 Online conference held by DAFOH in France on May 7, 2020
Arnold King, president of DAFOH France, gave an update on the current situation of forced organ harvesting in China. He said the source of organs remains unclear and they were likely obtained from Falun Gong practitioners, dissidents, and other prisoners of conscience. He also said that the CCP has used similar deceptive approaches to hide facts during the 2003 SARS outbreak and the ongoing coronavirus pandemic.
Josiane Corneloup, Member of the French National Assembly, is an advocate for medical ethics. She called for actions to curb forced organ harvesting in China from Falun Gong practitioners and dissidents. 
She said both the coronavirus pandemic and forced organ harvesting in China highlight a lack of transparency, which is extremely critical.
Christian Harbulot, Director of the Economic Warfare School of Paris, said China had refused to accept investigations from international experts to prevent the disease from recurring. In an interview with France 24 on March 30, 2020, he said that hundreds of French companies had now understood that relying on a foreign country too much could be fatal, and that such an understanding will be highly beneficial for the future."It is a survival reflex," he explained.
"This is the first time in human history that a political power has threatened mankind's future," Harbulot said.