A Practitioner's Gratitude for Master in L.A.
May 25, 2020 | By a Falun Gong practitioner in Los Angeles, California
(Minghui.org) May 13th is World Falun Dafa Day. Mr. Li Hongzhi, founder of Falun Dafa, also called Falun Gong, introduced the practice to the public in the city of Changchun in China on May 13, 1992. 
With improved health and character, about 100 million practitioners of different cultural backgrounds, and people in over 100 countries have found hope. They are abiding by the principles of Truthfulness-Compassion-Forbearance, improving their physical and mental health. Ms. Zhou Meili is one of many Falun Gong practitioners residing in Los Angeles with a story to tell.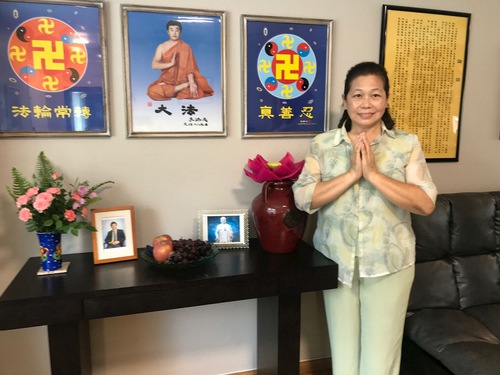 Ms. Zhou Meili, the founder of "Peiming Academy," wishes Master Li Hongzhi a Happy Birthday.
Finding The True Meaning of Life: Why Do I Exist and Where Will I Go
Ms. Zhou Meili was born into a large Taiwanese family. Her ancestor was Zhou Dunshuo, a philosopher during the Northern Song Dynasty. He was one of the five scholars who conceptualized the Neo-Confucian cosmology.
Being the youngest in the family, Ms. Zhou was much adored by her eight older siblings. When she was 12 years old, her mother passed away, which was a great shock.
"I was not able to save my mother," she said. "Then, does it mean that I will also leave this world one day? Where would I go then? I always wanted to find an answer: Why do we come into this world? And why do we have to leave? I felt very lonely. I read many books, including some from Buddhism, and even went to a temple to look for some answers, but it all ended up in vain."
Ms. Zhou thought of searching for answers worldwide. She decided to interview for an airline stewardess job. She was selected out of hundreds of candidates by Korean Airlines. She traveled to almost every single country within four years. Even then, she still could not find answers to her questions.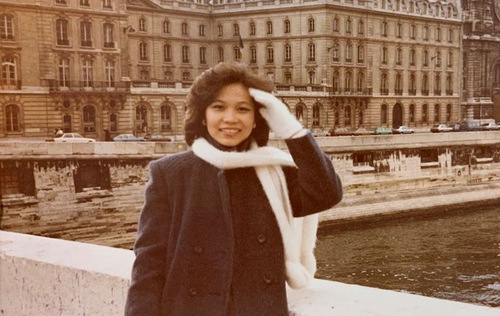 Ms. Zhou Meili in Paris by the Seine River, when flying as a stewardess.
"One time, on the airplane," she recalled, "a Korean monk suddenly asked me, 'Do you know where you are from?' I actually answered the monk and said, 'No, I do not know where I am from, but I would really like to go back where I came from.' The monk smiled and left." Though their conversation was short, it left a deep impression on Ms. Zhou and made her questions about life even more urgent.
Overcoming Obstacles in Life
Ms. Zhou Meili and her husband, who worked in the Ministry of Foreign Affairs, immigrated to the United States, and settled in Los Angeles. Ms. Zhou gave birth to two boys and two girls. However in 1995, when her oldest child was nine years old and her youngest only two years old, her husband filed for divorce. Since then, she has carried the burden of supporting four children. That same year, she started an after school program to support herself financially. She was very busy at home and at work. Ms. Zhou said, "No matter how busy I am, I need to take care of my children, and educate them well. This is my responsibility."
Ms. Zhou's after school programs gradually expanded from one school to three schools. She said, "Many students graduated, and got accepted into schools like Harvard University, Massachusetts Institute of Technology (MIT), Princeton University, Yale, Stanford, and so on. For many consecutive years, 95% of our students were selected to attend the University of California. Many of our students were also accepted into the top 20 universities in America."
"Peiming School" had a very good reputation, and Ms. Zhou was doing very well financially. However, she had emotional problems. In addition, because of her workload, she was not doing well health-wise.
"I had nobody to take care of me," she said, "when I was living in America. I did not even have time to recuperate or do yuezi (a Chinese tradition for a mother's proper 1-month-long postpartum rest after childbirth). Whenever I worked for a certain amount of hours, my back would hurt. I would need to lie down and rest for two to three hours before resuming work. I wished I did not have to work so hard, but I had to do it because I had to care for my children.
"However at times, I would ask myself: Why do humans come into this world, and why do they have to leave?"
Finding a Book of Wonders and Answers to Life
Perhaps because of her wish to "go back to where she came from," Ms. Zhou finally found answers to all her questions.
When Ms. Zhou's second elder brother came to visit in 2004, he told her about the preciousness of Falun Dafa. He wanted her to read the book Zhuan Falun, the main book of Falun Dafa.
"My second brother," said Ms. Zhou, "is the only member of my family who is willing to discuss and talk to me about the meaning of life. He suggested that I read Zhuan Falun. I was a single mother with four children, and many times I would be really exhausted after work. I also tended to fall asleep when reading Zhuan Falun. I thought of a way to stay awake: I would use my index finger and thumb to make my eyes stay open, so I could finish a lecture."
She persisted in reading Zhuan Falun every day. She would have never thought that after reading Zhuan Falun, her mind was free from all doubts. All her questions were answered in Zhuan Falun. She also understood the reasons as to why humans have problems in life.
"Although life was very hard, after practicing Falun Dafa, I realized that humans have karma. By going through hardships, we are eliminating karma and gaining wisdom. I no longer feel that I was wronged. By walking righteously on this path, there will be hope!"
She continued, "Master has published a lot of lectures and there are many profound theories. After reading a lecture, I felt renewed, and also gained wisdom. I feel very lucky." She said that practicing Falun Gong helped her life became more stable. Falun Dafa has given her a path to go back home.
In addition, she was surprised that her back pain disappeared. She'd never thought that Falun Gong was so amazing – it healed her back pain without her having to take any medication.
Spreading the Wonders of Falun Dafa
Ms. Zhou sold her 3 schools in 2009 and started to clarify the truth in Hollywood, at airports, and around her community. She told people about the amazing power and preciousness of following the principles of Truthfulness-Compassion-Forbearance, as well as about the persecution of Falun Gong in China.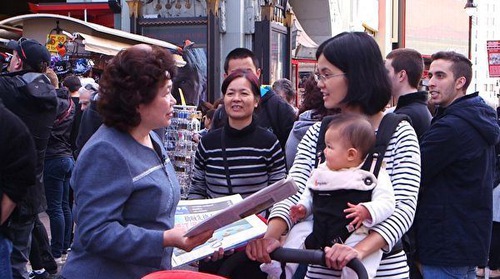 Clarifying the truth in Hollywood.
Ms. Zhou Meili said, "The propaganda about Falun Gong in China is very misleading to the Chinese people, and this is dangerous. Telling them the truth about Falun Gong is also saving them. The Chinese people might not understand us now, but we still need to tell them the truth."
Ms. Zhou hopes everybody will get a chance to understand Falun Dafa and be like her: "finding their way back home."
Gratitude for Master
This is the 21st anniversary of World Falun Dafa Day. Ms. Zhou feels very lucky and is grateful to have obtained Falun Dafa. Although at times she has gone through hardships, Ms. Zhou was still able to find the answers to the questions about her life. "Master is leading the way to bring me back where I came from. My heart is filled with boundless gratitude for Master," said Ms. Zhou.