"Thank You Master"—Quebec Falun Dafa Practitioners Hold Online Falun Dafa Day Celebration
(Minghui.org) More than 100 Falun Dafa practitioners in Quebec, Canada, gathered on the Internet on May 10, 2020, to celebrate the 28th anniversary of Falun Dafa's public introduction, and to wish Mr. Li Hongzhi (the founder) a happy birthday.
Quebec is restricting gatherings this year due to the pandemic. Under these unique circumstances, practitioners expressed their gratitude to Master Li Hongzhi in an online celebration. The same day, practitioners also presented a program that praised Master and Dafa through videos, which included soundtrack poem recitation of "Ode to Master's Grace," "Review of May 13 Commemoration Activities over the Years," "Falun Dafa is Good," and "The Sacred Song" performed by members of the Tian Guo Marching Band, Chorus "Master, Thank You," children's chorus "Young Dafa Disciples," a piano solo of Chopin's Waltz, a violin ensemble of "Be Saved," and others.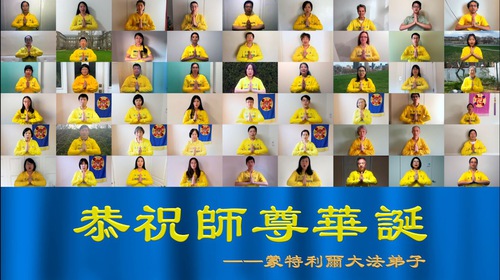 Practitioners in Quebec express their gratitude to Master during an online gathering.
Gratitude to Master
Practitioners summarized their feelings and wanted Master to know:
"Twenty years of cultivation have made me deeply realize that my life was remade by Dafa. Everything I have comes from Dafa, and Master's great grace. On this day of universal celebration, words can't express my respect for Master. I wish Master a happy birthday and I will live up to his expectation by diligently cultivating."
"Hello, Master! I began practicing Falun Dafa in 1996 when I was a college student. I am now a mother of two children. Looking back over my cultivation path, I'm infinitely grateful to Master, who helped me understand the meaning of life. I'm infinitely grateful for your protection and enlightening along the way so that I can go through all the hardships. You led me to the light! Today is your birthday, I wish Master a happy birthday! I will practice diligently, save more people to repay Master's salvation, and go home with Master!"
"Congratulations on Master's birthday! I obtained the Fa in 2009. After eleven years of tribulations on the cultivation path, I knew that it was Master's compassionate care that led me all the way to this year. I have infinite gratitude, but nothing to return. All I can do is not procrastinate at this last stage, cultivate myself, save people, and follow Master to return home in Heaven."
"Waiting for thousands of years, longing throughout so many lifetimes, I began practicing Falun Dafa in 2005. Time flies by so quickly and now 15 years have passed. Thanks to Master for compassionately saving us. I would like to summarize my feelings by saying, Falun Dafa is good! Truthfulness-Compassion-Forbearance is good! Thank you Master!"
"I obtained the Fa in 1996 and stumbled along the way. I went through many trials and went from being a common person to a cultivator. I then became a mature cultivator, and then a Dafa disciple fulfilling my vows during the Fa-rectification period. Master is protecting us with compassion every minute and every second. I can only repay Master's grace by cultivating diligently and saving more sentient beings."
Young Practitioners Show Their Gratitude 
Many of the practitioners in Quebec were young disciples who followed their parents to practice Falun Dafa. They have now grown into young Dafa disciples. They took this opportunity to celebrate Falun Dafa Day and expressed their gratitude to Master.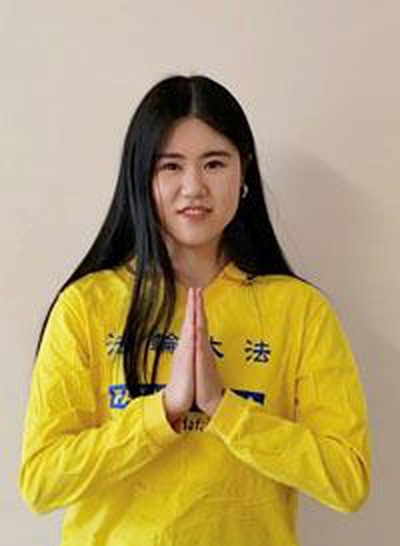 Katie is an account manager at a bank in Montreal. She began practicing Falun Dafa with her mother when she was a child.
Katie is an account manager at a bank in Montreal. She said that Dafa taught her to be a kind person and to treat others sincerely. She said, "Dafa teaches people to be kind, and how to be a good person." She never thinks about her own performance at the bank but sincerely considers the customers' point of view. As a result, many customers come to her and are willing to do business with her. 
Katie did well in school and easily found a job. She said that it was a blessing to practice Falun Dafa. She said gratefully, "Thank you, Master. Falun Dafa helped me know the meaning of life. I use Truthfulness-Compassion-Forbearance as my guide."
Charlie began practicing with his grandmother when he was eight years old. His practice was interrupted because he returned to China for a while. However, he did not forget Dafa, and kept Truthfulness-Compassion-Forbearance in his heart. He returned to Canada at the age of fourteen and resumed practicing.
Charlie is now in the Canadian Navy and just started training. He said that the three words Truthfulness-Compassion-Forbearance were engraved on his heart when he was a child, and that practicing Falun Dafa made him more tolerant. "In the past, when I couldn't think things through, I tended to hide it. Now I barely see any contradictions. When an argument surfaces I examine myself to see if I did something wrong. I step back when facing a conflict. I take the initiative to apologize to the other person to resolve the conflict."
Charlie said, "I thank Master for his constant care. I would like to say hello to Master. I know that I still have many shortcomings but I will work hard to do what Dafa disciples should do during this Fa-rectification period."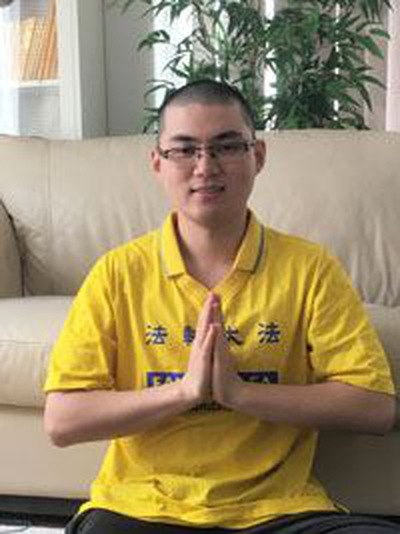 Charlie recently enlisted in the Canadian Navy.
Jack began practicing Falun Dafa in 2018, and his life soon changed. He came to understand the meaning of life. Jack said that his life was a mess before he began practicing. He fooled around at work. He liked drinking, playing around, and gaming. He constantly quarreled with his wife. After he began practicing, he changed completely. He stopped drinking. Whenever he had conflicts with his wife, he always looked inward to see where he could improve, and he apologized to his wife. He said that all these changes were due to the book Zhuan Falun. "Master told us that we should consider others, not create karma, and remove our selfish attachments."
Jack said, "Thank you Master for making me a good person. Now I understand why we're here. I used to feel that life was pointless and boring, but now I know that life has a noble meaning. Thank you Master for giving me this opportunity."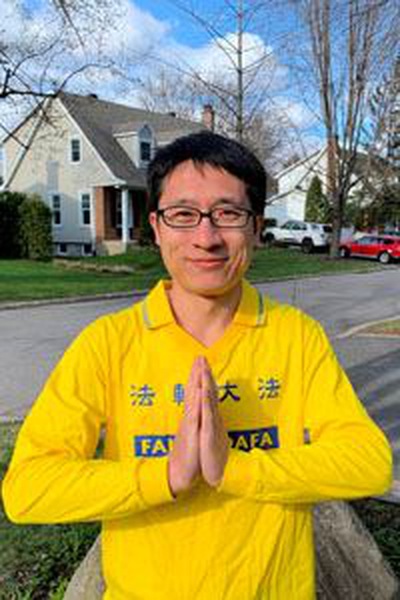 At his aunt's suggestion, Jack started cultivation in early 2018.
The 2020 Falun Dafa Day online celebration concluded to the strains of sacred melodies. Many practitioners said that they would help each other after the meeting by assisting Master with Fa-rectification and saving all sentient beings.