Canada: Elected Officials Mark World Falun Dafa Day via Online Video Interviews
May 20, 2020 | By Minghui correspondents in Toronto
(Minghui.org) May 13, 2020 is the 28th anniversary of Falun Dafa's public introduction and the 21st World Falun Dafa Day. The date also coincides with Mr. Li Hongzhi's (the founder's) 69th birthday. Practitioners in Canada hold large celebratory events, including parades and rallies, every year to mark this historic occasion. Many elected officials have come to speak.
Due to the coronavirus pandemic this year, their plans were temporarily changed. Elected officials sent proclamations and congratulatory letters to mark the occasion and some posted remarks on social media, and commended Falun Dafa (also known as Falun Gong) via online video interviews.
Former Senator: The Principles of Falun Dafa Are Valuable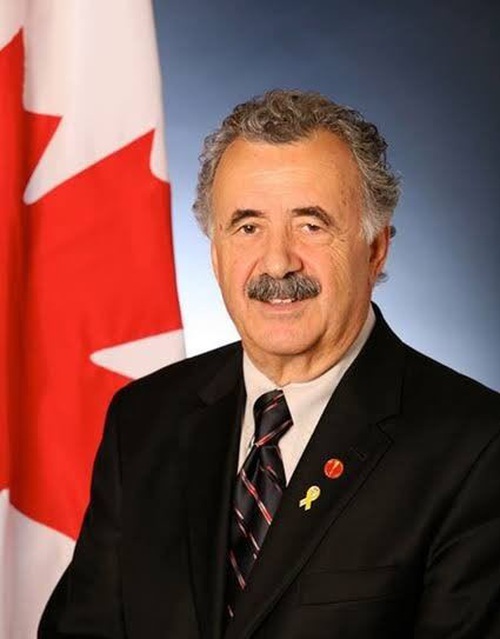 Former senator Consiglio Di Nino
"What we're talking about actually is during a humanitarian crisis, probably one of the most difficult that we've had since the second world war," former Senator Consiglio Di Nino said during an online video interview.
"We are looking for opportunities to take some of the weight off of us. And frankly, I reflect on the principles of Falun Dafa, which are Truthfulness, Compassion, and Forbearance." He said the principles benefit the society, both China and the world.
"When you talk about the principles, truthfulness would be a very important thing today in what is happening in the world. Because frankly, I don't believe we're getting truthfulness from some countries.
"For compassion, we are seeing so much pain. We are seeing so much damage done to society, not just those who have contracted COVID-19, but also the families, friends, and the community. And we need compassion to be able to say, let's share this together. Your load and your pain should be also mine."
"Without truth, there is no value, because with truth, you can see the path that one has to follow. But with truth also comes compassion.
"Because notwithstanding who we are, what we have, whether we're smart or whether we average, whether we're rich or whether we're poor, COVID-19 does not take sides or separate the smart from the less smart, and the rich from the poor.
"Hundreds of thousands are dying around the world. And it's a very sad situation. So we have to be prepared with compassion to reach out to our brothers and sisters and to embrace them and shared the grief and share the pain. And these are the principles of Falun Dafa."
"Forbearance is understanding. It's all part of that. During these times, the humanity in an individual makes us understand how valuable and how important it is. It has given us one of those things in life that makes life a lot easier if we follow, if we listen, and if we share."
"Those people like Li Hongzhi, whom we should be looking to for direction, particularly during these very difficult times for humanity. Because they're the people who understand, who practice, who teach the life values without conditions."
"I don't want to help you, if you give me money under these circumstances, it's the goodness that all of us have. We just have to bring it out."
He said that one of the things that he would certainly like to see is that Falun Dafa be made more available to the community, and felt this was an incredible spiritual fulfillment.
Member of Parliament (MP) Peter Kent: Wish Truthfulness-Compassion-Forbearance Be Spoke Out on Tiananmen Square One Day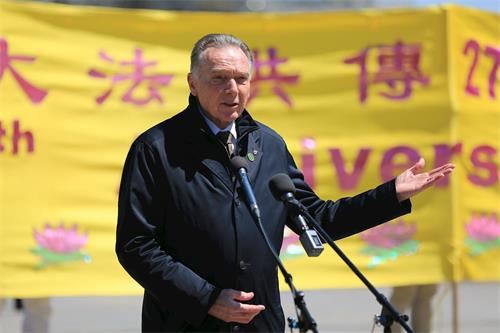 MP Peter Kent
MP Peter Kent gave an online video interview. He said he felt fortunate to participate in the celebration of 2020 World Falun Dafa Day.
He said that he and millions of Canadians hope one day that all Chinese people will enjoy freedom of speech and freedom of assembly. He hopes that one day the Falun Gong principles, Truthfulness-Compassion-Forbearance, can be spoken out on Tiananmen Square.
He posted the following message on social media, "Regret we can't celebrate World Falun Dafa Day/Month on the Hill or Toronto City Hall this year. But millions around world reflect on founding principles of Truthfulness, Compassion, Tolerance."
MP James Bezan: We Stand with You Against Oppression, Tyranny, and Dictatorship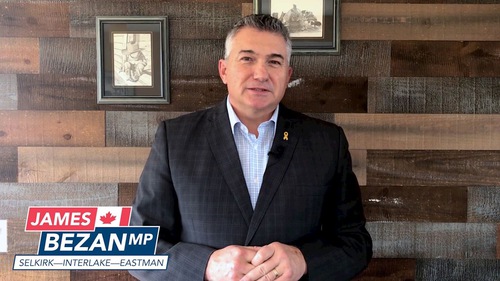 MP James Bezan
Hi, Everyone," said MP James Bezan on video, "I want to wish everyone a happy 28th anniversary of the Falun Dafa. You know usually here in Canada we gather on Parliament Hill, but because of COVID-19, we are prevented from doing that.
"But we use this opportunity virtually to celebrate Falun Gong, to celebrate what you stand for as for peace and justice, freedoms, and human rights. And to raise public awareness of the human rights abuses that are being committed upon Falun Dafa in China by the communist regime.
"I am proud to be the sponsor of the Sergei Magnitsky law, where we can hold corrupt foreign officials to account, those who commit these gross human rights violations, those who enrich themselves as corrupt officials and abuse their positions of authority -- and that includes the regime in Beijing.
"There is no reason why the government of Canada would not be able to bring about these types of sanctions and name and shame those who are profiteering from doing things as violent as organ harvesting of Falun Gong practitioners.
"Falun Gong practitioner are persecuted in mainland China and executed by the communist regime. We will always stand shoulder to shoulder with each and every one of you."
"And as Conservatives we say thank you for coming to Canada. Thank you for your contributions.
"And you can count on us to continue to fight for your way of life, for your freedom of religion, your freedom of assembly, things that we take for granted here in Canada but has been denied to Falun Dafa in China because of communist ideology.
"On this auspicious day, we stand with you against oppression, tyranny, and dictatorship."
MP Garnett Genuis: Falun Gong Practitioners Preserve and Restore Chinese Traditional Culture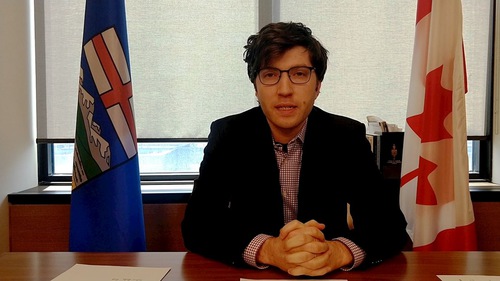 MP Garnett Genuis
"Happy Falun Dafa Day," said MP Garnett Genuis during an online video interview. "My greetings to the Falun Dafa community here in Canada as well as Falun Gong practitioners around the world and friends and supporters who would normally gather in person, but are instead marking this important and somber day on their own."
"And we also remember the many victims of the terrible persecution inflicted as a result of the policy of the communist party of China. Falun Dafa emphasizes three key universal principles, truthfulness, compassion, and forbearance.
"Falun Dafa is also one of many movements that seeks to preserve and celebrate a traditional Chinese culture and values.
"Too often we see some voices who try to conflate China with the policies of the Chinese Communist Party. Falun Dafa practitioners understand that this is a mistake, reject this false information and seek to preserve and resurrect an understanding of traditional Chinese culture and values.
"Indeed, we honor china's ancient and beautiful civilization, which unfortunately the actions of the communist party often contradict with that wisdom and heritage. I've worked very closely, particularly with your community on the issue of organ harvesting and trafficking.
"In the last parliament, I sponsored in the house of commons Bill S240, which had been proposed by senator Salma Ataullahjan in the senate. And the goal was through this bill to make it a criminal offense for a Canadian to go abroad and receive an organ that had been taken from a victim of organ harvesting without the person's consent.
"The goal also would have created a framework by which someone could be made inadmissible to Canada if they were involved in organ harvesting and trafficking.
"Unfortunately, this bill did not make all the way through the legislative process in the last parliament. But in the 43rd parliament, we have started again, right at the beginning.
"Conservative senator Salma Ataullahjan again proposed the same bill this time. It's got a different number. It's Bill S204. She's proposed that bill in the senate and I've continued to table petitions in support of it.
"If the bill passes the senate soon, which I hope, I will be sponsoring it in the House of Commons. And I'm hopeful that this parliament will be win, we will be able to get it done.
"So please contact your Members of Parliament and encourage them to support Bill S204, so that Canada can finally take strong legislative action against organ harvesting and trafficking.
"My best wishes to you today, as you think about these important values of truthfulness, compassion, and forbearance."
He also posted the message on Facebook and Twitter, "Today we honor those who practice Falun Gong, emphasizing truthfulness, compassion, and tolerance in the face of horrific persecution from the PRC government. My Conservative colleagues and I will continue to vocally oppose all forms of persecution in the PRC."
MP John Nater re-posted the message on social media and stated, "Today we recognize the persecution of those who practice Falun Gong."
MP Philip Lawrence also re-posted MP Genuis's message on social media.
MPP Sam Oosterhoff
Sam Oosterhoff, the youngest member of Ontario provincial parliament, said in an online video that he extended best wishes to all Falun Gong practitioners. He wished them to persevere in their faith while facing the persecution.