Celebrating World Falun Dafa Day at Hong Kong: District Councilor Quits the CCP
May 16, 2020 | By a practitioner in Hong Kong
(Minghui.org) As practitioners across the world celebrated World Falun Dafa Day (May 13), practitioners in Hong Kong held group exercises and community outreach to introduce the practice to the public.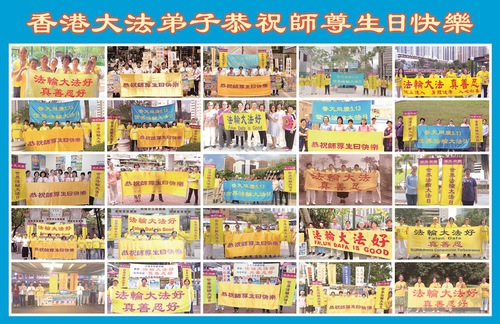 Practitioners in Hong Kong celebrate World Falun Dafa Day and wish Mr. Li Hongzhi, founder of the practice, a Happy Birthday.
Celebration Activities
As no new confirmed coronavirus cases have been reported in the past 10 plus days, the local government has loosened public gathering restrictions, allowing up to 8 people to gather at a time.
Following the policy, some practitioners went to city parks in groups of 8 for meditation. Some went to Lantau Island, where Master had visited in 1995 and gave a lecture, to celebrate.
In addition, practitioners went to numerous public places and tourist sites, and talked with people about Falun Dafa. "The Chinese Communist Party (CCP) has banned the practice for about 21 years," said practitioner Kate, "Many people have been misled and turned against Falun Dafa and the principles of Truthfulness-Compassion-Forbearance."
Recent events, such as the extradition bill last year and the coronavirus pandemic this year, have helped Hong Kong residents recognize how the CCP has been suppressing people and deceiving the public.
District Councilor's Decision
Globally, over 356 million Chinese have announced to quit the CCP organizations. The vast majority of them came from mainland China.
As a result of consistent efforts from Falun Dafa practitioners, some elected officials in Hong Kong have joined the movement upon learning what's going on in mainland China. This includes a councilor in Sha Tin District.
The councilor said that he had heard about Falun Dafa during high school. For many years, he felt like the suppression in China seemed remote and unrelated to him. After witnessing the CCP's cruelty in handling the democratic movement in Hong Kong, he and other local residents changed their minds.
"It is not just me—many people here feel the same way," the councilor explained, "Falun Dafa practitioners are righteous. Their perseverance in opposing the brutality is critical for our society."
The principles of Truthfulness-Compassion-Forbearance apply to people from all ages, he added. He wished Mr. Li Hongzhi happy birthday and hoped that more people will step forward to uphold justice. "Please keep up the work of safeguarding truth and justice—we all need it."