Chiayi, Taiwan: Practitioners Hold Group Practice to Celebrate World Falun Dafa Day
May 15, 2020 | By Minghui correspondent Ching Han
(Minghui.org) Falun Dafa practitioners from Chiyi and Yunlin, Taiwan, held group exercises on the morning of May 10 to celebrate World Falun Dafa Day. May 13 was the 28th anniversary of Falun Dafa's public introduction, the 21st World Falun Dafa Day, and the birthday of Dafa's founder, Mr. Li Hongzhi. 
The practitioners also took group photos to wish Master Li a happy birthday. They expressed their gratitude for his compassionate salvation.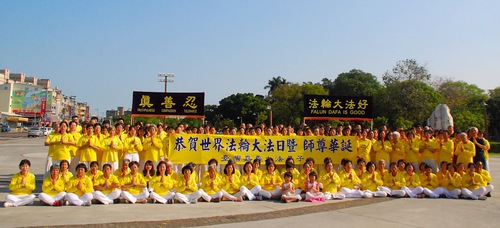 Practitioners wish Master Li a happy birthday.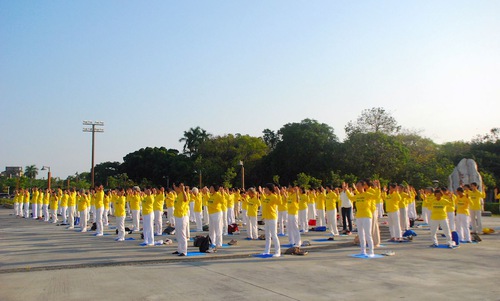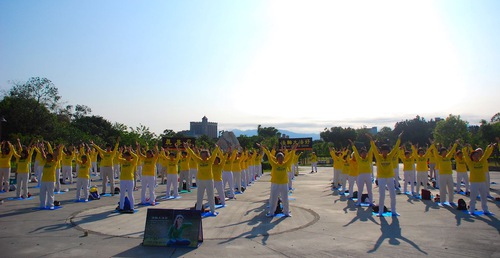 Practitioners do the Falun Dafa exercises as part of their celebrations to mark World Falun Dafa Day.
The Entire Family Benefits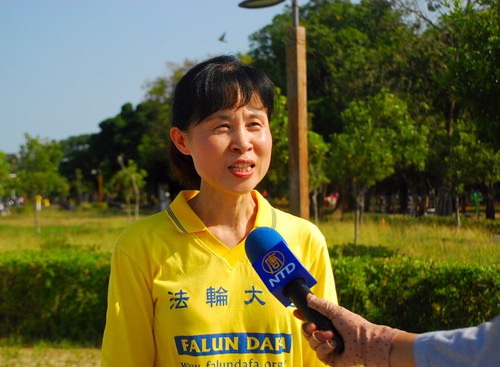 Ms. Hsu Chian-wen felt an immediate connection the first time she read Zhuan Falun.
"I became curious about Falun Dafa after I watched a program in 2004 about a professor who practiced this spiritual belief," Hsu Chian-wen said. "I asked my husband to buy the book Zhuan Falun." 
Ms. Hsu said that she felt an immediate connection with book. She recalled, "I finished reading Zhuan Falun within two days. I was excited, as this is what I had been looking for my whole life." She immediately began practicing Falun Dafa. 
Since childhood, Ms. Hsu often had stomachaches. She said her stomachache intensified and she had black stools for over a month after she started practicing Falun Dafa. However, she wasn't worried because, "I knew Master was cleansing my body." One day while she practiced the exercises, she experienced the sensation that half of her body was cold while the other half was warm. Her body was adjusted after a while and she has been completely healthy since then.
Ms. Hsu's mother-in-law lives with her. As a daughter-in-law, she does not talk back or argue when her mother-in-law gets angry or verbally abuses her. As a practitioner she follows the guiding principles, Truthfulness-Compassion-Forbearance, and looks within whenever any conflict arises.
Because her temperament has improved so much, her husband also changed and he's now supportive of her practicing. He even helps her cook breakfast. Her mother-in-law is now in the final stage of lung cancer and the doctor says she has only three months left. Ms. Hsu takes very good care of her.
She said that her sister-in-law recently came to see her mother. Seeing how well Ms. Hsu is taking care of her and how good her mother looks, her sister-in-law was grateful and said with great emotion, "Truly when one person practices Falun Dafa, the entire family benefits!"