Practitioners in Northern California Reflect on Their Cultivation during World Falun Dafa Day Celebrations
May 14, 2020 | By a Minghui correspondent
(Minghui.org) Falun Gong (also known as Falun Dafa) practitioners in San Leandro, California, celebrated World Falun Dafa Day and Mr. Li Hongzhi's birthday with group exercises on May 9, 2020.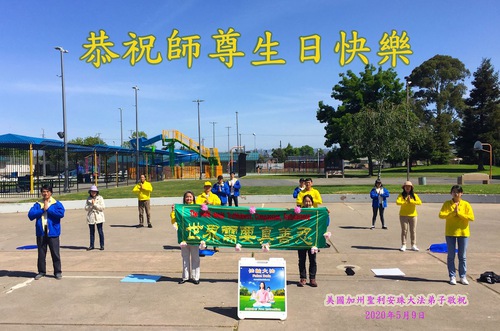 Falun Gong practitioners in San Leandro wish Master a happy birthday.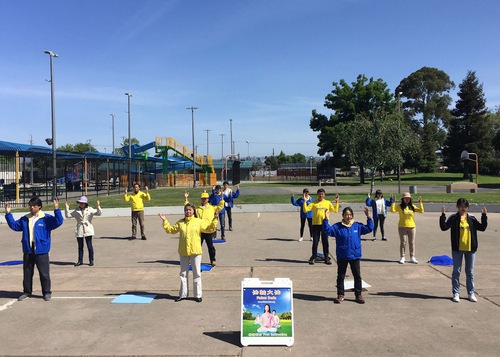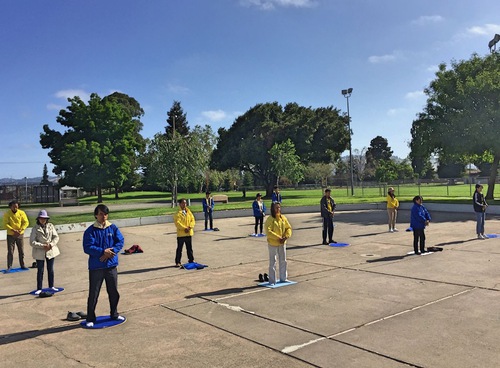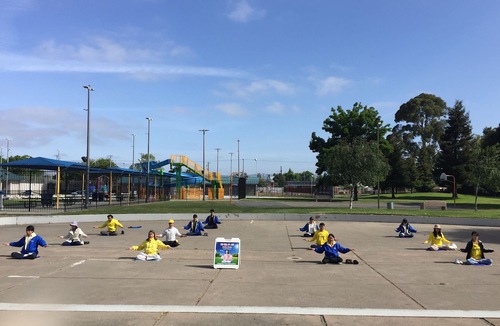 Group exercises in San Leandro mark the 28th anniversary of Falun Gong's public introduction.
The weather was beautiful as practitioners gracefully moved to the soothing exercise music, which created a beautiful scene in the park. Many people stopped to watch.
Mr. Wu Junxiang, a professor and senior electrical engineer, has practiced Falun Gong for over 20 years, and says that he now enjoys great health. His wife and four children also practice, and their entire family is grateful to Master Li.
Mr. Wu Junxiang (front) meditates during the World Falun Dafa Day celebration.
Junxiang said that his neck and back were injured in a car accident, and medical treatments couldn't alleviate the pain. One day in 1999, one of his colleagues told him about Falun Dafa and lent him the book Zhuan Falun. The book answered his questions about the origin of humanity, the heavens, qigong, history, culture, etc. He decided to practice Falun Dafa.
"About three weeks after I read the book, I suddenly realized that the pain in my neck and waist was gone. I hadn't started doing the exercises, but simply reading the book eliminated my pain!" Junxiang was amazed. "Cultivation has also changed my view of life and helped me understand the meaning of life." 
His wife and children started practicing after witnessing Junxiang's positive changes. Following the principles of Falun Dafa, his children can now easily tell right from wrong in today's confusing society.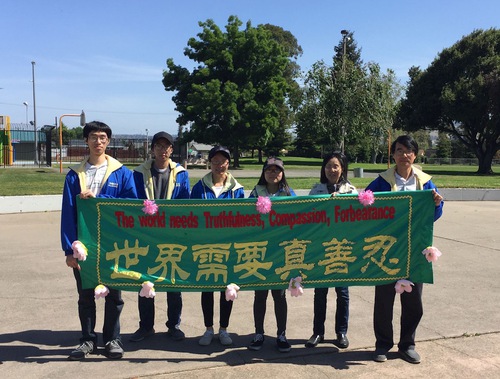 The Wu family wish Master a happy birthday.
Elton, the second child, said, "What Zhuan Falun teaches is so true! I find many profound principles about the universe and life in the book. After cultivating myself, I understood causal connections and I realized that conflicts between people are due to our attachments. I can correct myself after I identify the underlying reasons. I truly appreciate Master's salvation and guidance. He has worked hard for us. I wish him a happy birthday!"
Elton's younger brother Anton said, "My parents started practicing the year I was born. I grew up under the influence of Falun Dafa. It has been 21 years. I have been following Truthfulness-Compassion-Forbearance to tell right from wrong and to handle interpersonal relationships. Standing firm on these principles has helped me stay away from the bad influences in today's society.