Police Arrest Beijing Couple During Pandemic for Distributing Information About Falun Gong
May 11, 2020 | By a Minghui correspondent in Beijing, China
(Minghui.org) A married couple in Beijing was at home on March 4, 2020 when they heard knocks on their door and people claiming to be members of the local coronavirus task force.
Looking through the peephole, Mr. Chen Fengzhang saw many people outside, including police officers. He refused to open the door, suspecting that the police might be attempting to arrest him and his wife Ms. Zhang Fang, just as they had done many times in the past because of the couple's faith in Falun Gong.
Falun Gong, also known as Falun Dafa, is an ancient spiritual practice that has been persecuted by the Chinese Communist Party since 1999.
After a while, the people outside became impatient and started kicking the door. Fearing that they may break in, the couple opened the door, only to have more than 20 people rush in, filling up their small apartment. 
An officer with the surname Ma quickly showed them a search warrant while the rest of the police began to ransack the place. They searched every corner of the apartment for three hours, and confiscated the couple's Falun Gong books, computer, and equipment they used to print flyers about Falun Gong for distribution.
The couple were brought to the Xinyuanli Police Station that afternoon and interrogated. The police claimed that Ms. Zhang had been recorded by surveillance cameras passing out flyers about Falun Gong. 
Around 8 p.m., the police sent the couple, in their 60s, to a local detention facility, which refused to accept them after they failed the physical examination. They were sent back home around 2 a.m. 
From then on, the couple always see one or two people outside their apartment to monitor them. The police or security personnel in the neighborhood also come every day to confirm that they are at home.
Decades of Persecution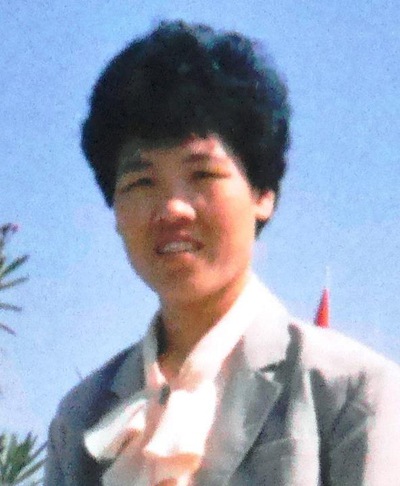 Ms. Zhang Fang
The couple has been targeted by the authorities several times over the past two decades, including arrests and imprisonment, for upholding their faith. 
In 2001, Ms. Zhang was sent to a brainwashing center. She was deprived of sleep and forced to watch videos slandering Falun Gong. Sixteen people watched her closely around the clock. The authorities even had her sisters visit her and try to talk her into renouncing Falun Gong.
The staff secretly placed unknown drugs in Ms. Zhang's food. Once, she began to vomit as a guard pushed her head into a wastebasket and threatened that they would kill her and claim that she died of a heart attack if she refused to give up her faith. The guard later ordered a doctor to force an unknown drug into her mouth, which numbed her tongue immediately.
Ms. Zhang was arrested again and incarcerated in a brainwashing center in April 2002. After 15 days of torture and brainwashing, she was sentenced to three years in Beijing Women's Prison.
In 2008, Ms. Zhang was given a 2.5-year term in Hubei Provincial Women's Forced Labor Camp. 
Ms. Zhang and Mr. Chen were arrested again on October 15, 2017 and held at the Shunyi Detention Center for 30 days.
Persecution of Falun Gong Practitioners in Beijing during the Epidemic
As reported by Minghui.org, even the pandemic hasn't stopped the Chinese Communist Party from persecuting Falun Gong practitioners. In Beijing alone, more than 100 practitioners have been arrested or harassed within the past two months. 
Below is a partial list of practitioners in Beijing targeted by the authorities during the pandemic.
Ms. Wang Yuhong, Ms. Yang Xiulan, Ms. Yu Shuran, Ms. Zuo Yan, Ms. Fan Shuqin, Ms. Fu Yueqin, Ms. Hao Xiufeng, Ms. Zhang Xiuhua, Ms. Li Guozhi, Ms. Wang Bozhi, Ms. Chang Shurong, Mr. Lei Zhongfu, Ms. Zhao Chunying, Mr. Ding Jianhua, Ms. Chen Lifang, Ms. Zhang Heyu, Mr. Li Wencai, Ms. Li Sujuan, Ms. Xu Jingzhi, Ms. Zhou Suxia, Mr. Liu Kuo, Mr. Huang Luyong, Ms. Tian Yaqin, Ms. Wang Shurong, Ms. Li Xiuling, Mr. Wang Guohai, Ms. Zhang Xiufang, Mr. Wang Zongcai, Ms. Wang Rulan, Ms. Sun Xiuying, Ms. Gui Haihua, Ms. Liu Minying, Mr. Liang Heping, Ms. Wang Jingjing, Ms. Wang Yanyan, Ms. Wang Xiumei, Ms. Wang Xiulan, Ms. Ai Hong, Ms. Huo Zhifang, Mr. He Deyong, Ms. Li Jinrong, Mr. Wang Shixin, Ms. Shang Sulan, Ms. Zhao Junfeng, Ms. Dong Wenlan, Mr. Zhao Shuying, Ms. Zhang Maolan, Ms. Huang Miaoying, Ms. Li Xiuzhi, Mr. Wang Baoli, Ms. Huang Ronghua, Ms. Liu Quantao, Ms. Yang Wanxin, Ms. Liu Shuqin, Ms. Shan Shujiang, Mr. Hu Yiming, Mr. Yang Yuliang, Ms. Yang Dandan, Ms. Li Yan, Ms. Deng Chunxian, and Ms. Xia Ruimin.
Related reports:
Beijing Couple Detained for Their Faith
Beijing Police Harass Falun Gong Practitioners Ahead of the Annual Congress Meetings