Texas: Practitioners Celebrate World Falun Dafa Day by Introducing the Practice in Parks
May 11, 2020 | By a Minghui correspondent in Houston, Texas
(Minghui.org) Due to the coronavirus pandemic, the State of Texas was placed on lockdown but social distancing was recently eased. The situation prevented local practitioners from organizing any large scale activities so they separated into small groups to promote Falun Dafa in parks to celebrate World Falun Dafa Day.
Falun Dafa, also known as Falun Gong, was introduced to the public on May 13, 1992, and is now practiced by over 100 million people worldwide. Because the date also coincides with the founder's birthday, every year practitioners around the world hold celebratory activities to express their gratitude.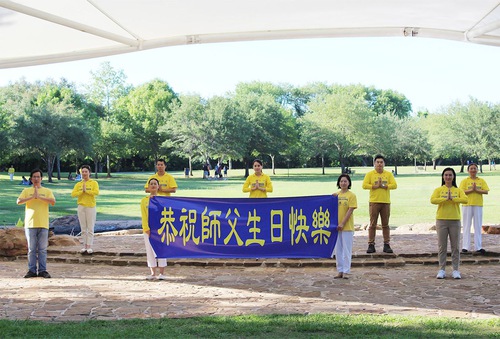 Practitioners from Houston wish the founder, Mr. Li Hongzhi a happy birthday.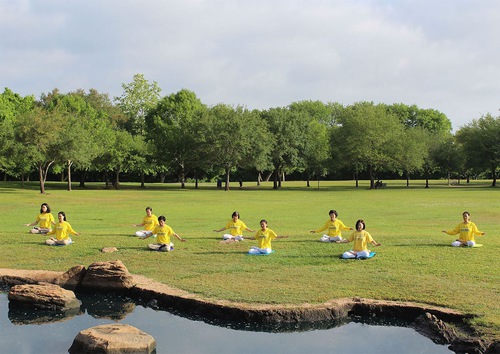 Practitioners do the Falun Dafa exercises at Oyster Creek Park in Sugar Land City.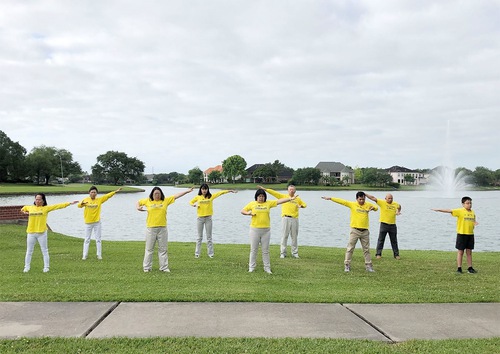 Practicing Falun Dafa at Southwyck Lake Park, Pearland City, Texas.
New Students Learn Falun Dafa
A woman named Raquel learned about Falun Dafa at the group practice site in Pearland. She bought a copy of the main book of teachings, Zhuan Falun for her mother. She recently sent a photo of her mother reading Zhuan Falun to a contact practitioner. She said, "Mom has been ill but she is reading the book. She likes it. When she recovers, we will join you again. Thank you!"
Another woman, Fritzina, received a flier about Falun Dafa at the Arthur Stormy Park group practice site on May 3. She returned to learn the exercises the following morning. She joined the group practice every morning and reads Zhuan Falun at home.
Sisters Bella and Paisleigh learned the practice while they visited a park. 
Isaac and his wife Amanda joined practitioners Mr. Wang and his wife to read half a lecture every few days and they also learned one exercise each time. They are now reading Lecture 3.
A couple from China visiting their child in Texas also joined the group practice.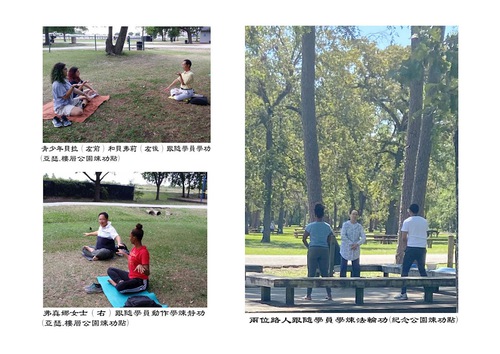 New students learn the Falun Dafa exercises.
Falun Dafa's Founder Comes to Houston in 1995
Mr. Li Hongzhi, Falun Dafa's founder, began introducing the practice outside China in 1994. Approximately 600 people attended his first 9-day seminar held at the Houston Chinese Community Center in June 1995. 
The following Sunday the first Falun Dafa Assistance site was established at the Houston Chinese Community Center and began meeting weekly to study the teachings and to do the exercises. 
Later, local practitioners set up the first group practice site in Arthur Stormy Park near Chinatown. The practice was spread mostly by word of mouth. 
The first 9-day seminar attendees included engineers, scientists from NASA, medical researchers, teachers, accountants, college students, graduate students, and doctoral students. After Mr. and Mrs. Lin attended that first 9-day seminar they introduced the practice to their daughters, sons-in-law, and grandchildren. Thirteen members of the Lin family became Falun Dafa practitioners.