Denmark: Falun Gong Practitioners Commemorate Peaceful Appeal in Beijing
April 28, 2020 | By Minghui correspondent Shu Hui in Denmark
(Minghui.org) April 25, 2020 is the 21st anniversary of a peaceful appeal by 10,000 Falun Gong practitioners in Beijing. The date marks the start of practitioners' journey to counter the hateful propaganda spread by the Chinese Communist Party (CCP) against the spiritual discipline. To commemorate the event, practitioners in Denmark held activities at Gammeltorv in Copenhagen on April 25.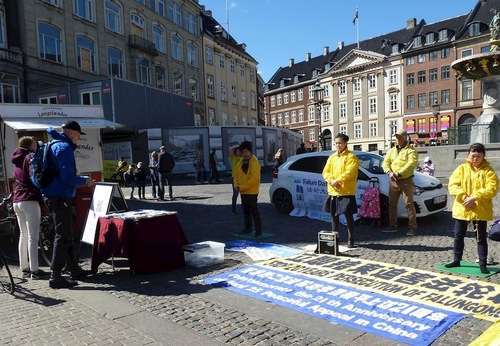 Practitioners demonstrate the Falun Gong exercises and talk to people about the spiritual practice at Gammeltorv, Copenhagen's oldest square.
The government restricted the number of participants and enforced social distancing measures to stop the spread of coronavirus in the country. As a result, fewer people than normal walked on the street. However, the serene sight of practitioners doing the exercises and the calm music drew the attention of many people, who came to pick up information. From a distance, passersby shouted, "You are doing a great job!" and "Please keep doing this."
April 25 Appeal a Significant Event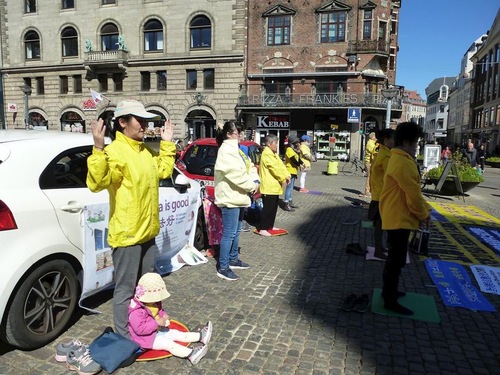 Ms. Chen (first left, back row) doing the second exercise
Ms. Chen took part in the April 25 appeal in Beijing 21 years ago as a high school student.
She recalled, "Back then, in the morning, we did the exercises in the park near our home and studied the books at night at a practitioner's place. On April 24, we learned that practitioners in Tianjin were arrested and beaten up. I was shocked and worried for their safety."
"Jiang Zemin (then head of the Chinese Communist Party) used the appeal as an excuse to launch the persecution of Falun Gong. Twenty-one years have gone by, and more and more people have realized how wonderful the practice is. Looking back, the April 25 appeal is truly a significant event."
The CCP is Deceiving the World
Many people stopped to read about the origin of the virus. They scanned the QR code leading them to a documentary titled "The Origin of Wuhan Coronavirus."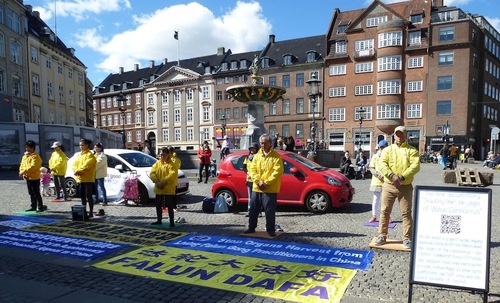 Display with QR code to a documentary on the origin of the Wuhan virus
Mr. Chen, a Falun Gong practitioner, said: "The CCP has been using lies and slander to demonize Falun Gong practitioners. Now it is covering up the truth about the coronavirus and shifting the blame to the U.S. It is very clear that the communist regime is a threat to all of humanity. Falun Gong practitioners, different ethnic groups in China, and everyone in the world is a victim of communism."
Another practitioner, Mrs. Chen, joined the conversation and said, "What we do today is the same as what practitioners did on April 25, 21 years ago. We want to tell people Falun Gong is not an evil practice [as portrayed by the CCP]. Stay away from the CCP and you will be blessed in return."