Activities in Stockholm, Sweden Draw Attention to Falun Gong: "We Absolutely Support You"
March 09, 2020 | By He Ping, a Minghui correspondent in Stockholm, Sweden
(Minghui.org) A group gathered near the Swedish parliament in Stockholm to inform people about the persecution of Falun Gong in China. They set up informational displays on Mynttorget Square on February 29, 2020. There was a lot of foot traffic at the Square, as the snow had stopped and the sun came out. Many people stopped to learn about the health-promoting spiritual discipline.
Falun Gong is a spiritual discipline that promotes mental and physical wellness and has been persecuted in China since 1999. Practitioners around the world have been calling for an end of the persecution for the past 20 years.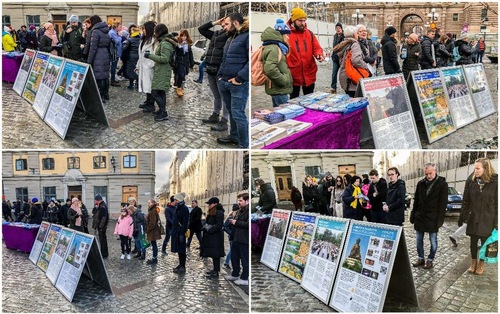 Passersby on Mynttorget Square read Falun Gong (aka Falun Dafa), posters the practitioners set up on February 29, 2020.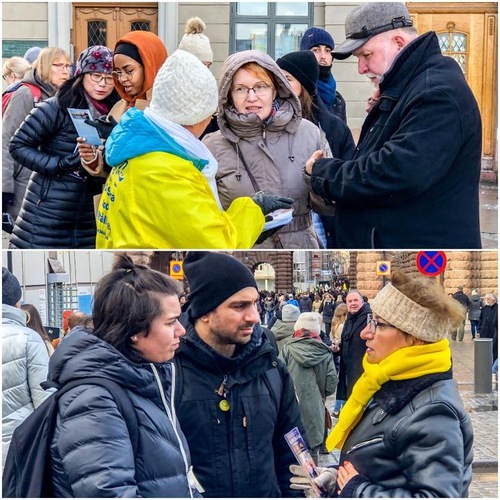 Falun Gong practitioners talk to people about the ongoing persecution in China. The passersby also find out about the atrocity of China's systemic organ harvesting for transplant from practitioners incarcerated for refusing to renounce their faith.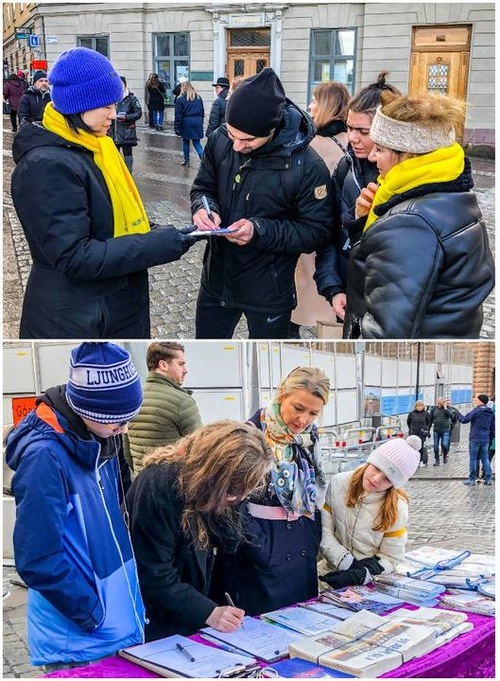 After learning about the persecution, passersby sign the petition demanding to end the persecution and China's systemic organ harvesting from living practitioners.
Two tourists from France read the Falun Gong fliers.
As soon as the posters were set up, a security guard approached a practitioner. He shook his hand as a practitioner was about to show him the permit for the event. "No need, I know you," he said. He had already signed the petition.
He said in Chinese "Falun Dafa Hao (Falun Dafa is great)!" before he left.
Elina and her boyfriend walked up to the practitioners, and signed the petition before talking to the practitioners. She said that she had learned of the persecution of Falun Gong from an art exhibition.
"I have seen (Falun Gong practitioners' activities) three times, in Stockholm, Jönköping, and Berlin. We absolutely support you," she said.
A woman from Iran and her boyfriend carefully read the posters, after which they talked with the practitioners. A practitioner introduced the principles of Falun Gong: Truthfulness, Compassion, Forbearance, and talked about the persecution. The woman was interested in learning the Falun Gong exercises when she was told that there was a group of practitioners regularly exercising near the university where she worked.
Bahar and his wife Murat were outraged after learning about the regime's organ harvesting crimes. "It's horrible – the Chinese Communist Party is a demon," said Bahar. The couple from Turkey signed the practitioners' petition. Murat wrote down the contact information of a practitioner, because she and her husband were interested in learning the exercises.