India IT Company Employees Embrace Falun Gong
March 20, 2020 | By a Falun Gong practitioner in India
(Minghui.org) Anand from Pune, India, became healthier and more energetic after he took up Falun Gong. Wanting to promote the healing effects of the practice, he introduced it to people at his company's human resources department. From there, he was given the green light in August 2018 to promote it to employees in his division.
He has taught the Falun Gong exercises and introduced the practice's principles to 50 of his coworkers.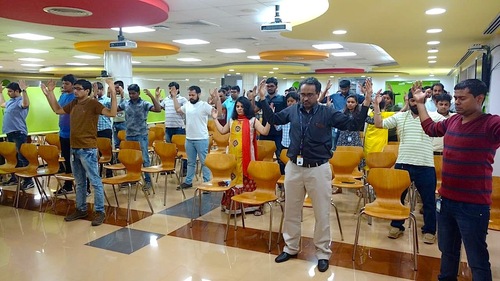 Falun Gong practitioners in Pune, India, teach the exercises to employees working at an international IT company.
Anand came up with the idea to introduce Falun Gong to women employees at an event to celebrate International Women's Day. He played Falun Gong videos and gave books to employees in the human resources (HR) division. HR agreed to invite practitioners to teach women employees the exercises on March 6, 2020.
Seventy five women attended the event. Afterwards, many said that they felt energized and relaxed. Some of them felt energy flowing in their body and on their palms.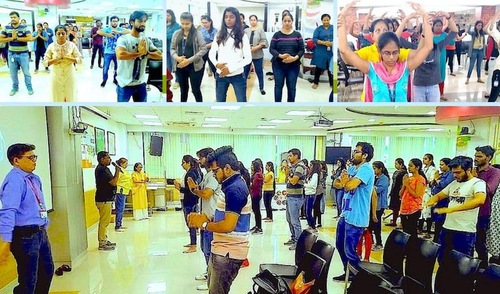 Falun Gong practitioners in Pune, India, introduce the benefits of the practice and teach the exercises to IT company employees.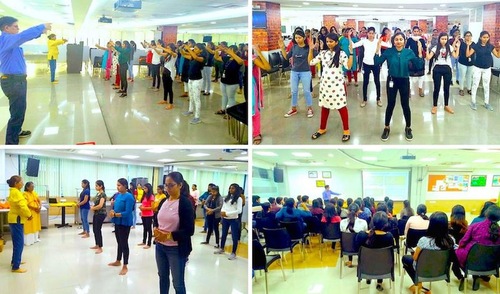 Employees in an IT company learn the Falun Gong exercises.
The practitioners also educated the employees about the 20-year-long persecution of Falun Gong in China.