Taiwan: 5400 Practitioners Form Characters to Spread the Preciousness of Falun Dafa
Dec. 9, 2020 | By Minghui correspondents in Taipei
(Minghui.org) Close to 5,400 Falun Dafa practitioners from all parts of the island gathered at Taipei's Liberty Square to form characters and do the Falun Dafa exercises together on December 5, 2020.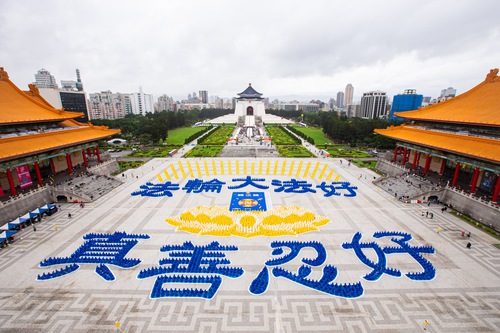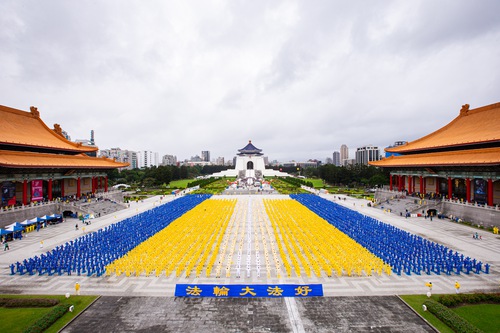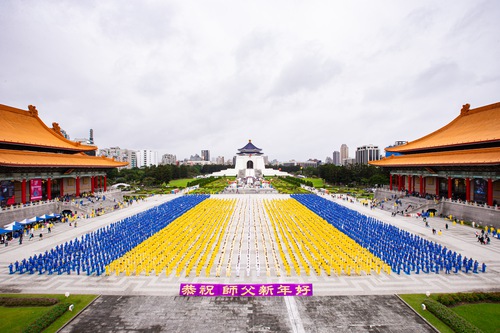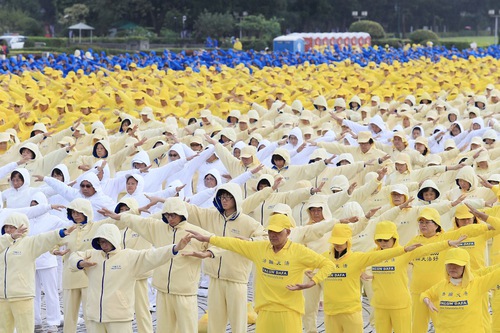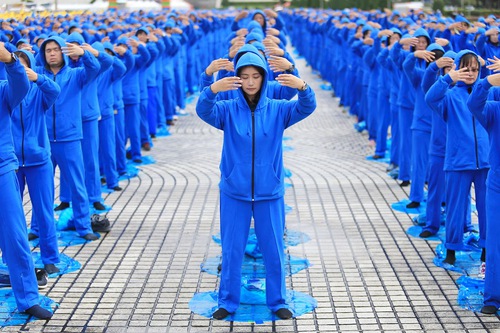 An estimated 5400 practitioners from all parts of Taiwan formed the Chinese characters for "Falun Dafa is good, Truthfulness-Compassion-Forbearance is good," and did the exercises.
"We held the annual large scale character formation event this year in spite of the CCP virus, because it is an opportunity to bring blessings to people," said Ms. Huang Chunmei, vice chairman of the Falun Dafa Association in Taiwan. Practitioners decided to form the Chinese characters "Falun Dafa is good, Truthfulness-Compassion-Forbearance is good" this year in the hope that those who repeat this phrase will receive good fortune and avert danger.
The image in the middle is the main book of Falun Dafa Zhuan Falun, which was first published in China in 1995. According to Huang Chunmei, Zhuan Falun has been translated into over 40 languages. She hopes that the image of the book will remind practitioners in China of the joy they felt when they first started to practice Falun Dafa (also called Falun Gong) and inspire them to persevere in cultivation in spite of the difficult environment.
Mr. Wu Qingxiang, an architectural designer who was responsible for designing the formations, spoke of what he went through bringing his copy of Zhuan Falun from China to Taiwan. "We may be in different places, but we follow the same spiritual path," he said. "Our hearts are together with practitioners in China."
Difficulties Are Opportunities to Improve
Although Huang Chunmei has been involved in the design and planning of Taiwan's annual character formation activity for two decades, she feels that one cannot take things for granted.
"The graphics are different every year," she said. "There are new practitioners taking part, and the set-up is not the same. There's no reference. So it is still the 'first time' for everyone. There will be challenges and opportunities to improve one's character. We should be considerate of others and not simply do what we like."
Falun Gong practitioners first started to organize such character formation events as far back as 1996 in Guizhou Province, China. Practitioners in Wuhan also held similar activities on many occasions. The first such event in Taiwan was held in 2000.
Bold fonts were used in the beginning. They evolved into the clerical script in later years. According to Wu Qingxiang, although the clerical script looks better, it is more difficult to execute. He regards it as a chance to make progress in cultivation.
"Everyone has a spot in the picture," he said, "just like a particle within Falun Dafa. It requires the concerted effort of every practitioner involved, and it is very meaningful. But it is inevitable that practitioners have different opinions. When there are conflicts, it means we have to work on our xinxing in order to cooperate better with one another."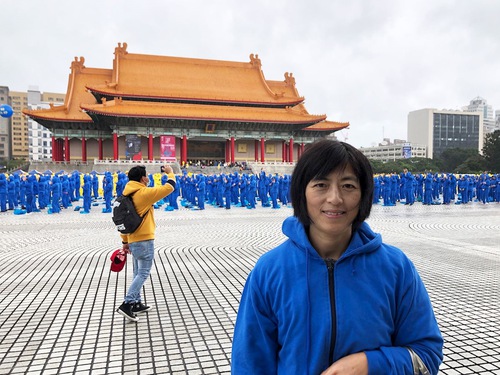 Zhang Yu, a practitioner from Taipei, was moved by the characters formed in this year's event.
Zhang Yu, a practitioner from Taipei, was initially worried that this year's event would be impacted by the CCP virus. When she learned that the event would take place as usual and that the characters would be "Falun Dafa is good, Truthfulness-Compassion-Forbearance is good," she was determined to take part.
She has been practicing Falun Gong for 23 years. Looking back at the early years when she first started, whenever she had a tribulation, she would imagine being wrapped in the Fa. Through studying the teachings, she encouraged herself to persevere.
An experience while participating in the early stages of the event motivated her. "A few days ago, together with over 30 practitioners, we spread the image of the book Zhuan Falun on the ground. There were bubbles in it, so I knelt down to squeeze them out. All of a sudden, I felt myself kneeling inside the book. I was enveloped by the book. It was a very touching experience. It rained for many days non-stop. Yet the weather cleared up today. The gods saw so the many kind people gather here today and gave us this miracle."
A Strong Energy Field from the Exercises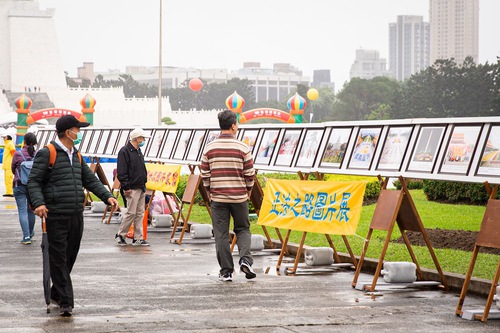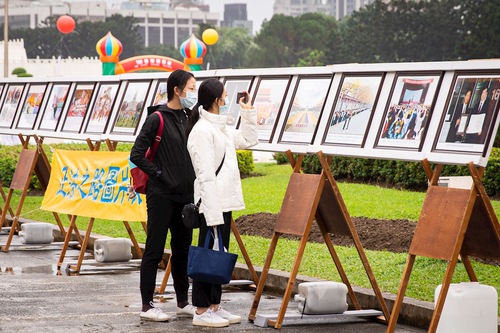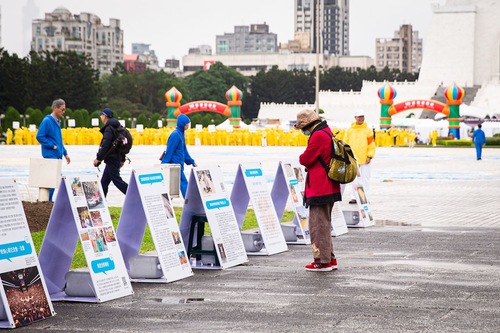 People stop to read the information on the large display boards.
Sankalp Verma, an engineer from India, was visiting Liberty Square for the first time. He stood quietly, watching practitioners demonstrate the exercises. He said many people in India practice meditation, so he was not a stranger to spiritual disciplines like Falun Gong. His impression of Falun Gong was that it was peaceful and beneficial to one's physical and mental wellbeing.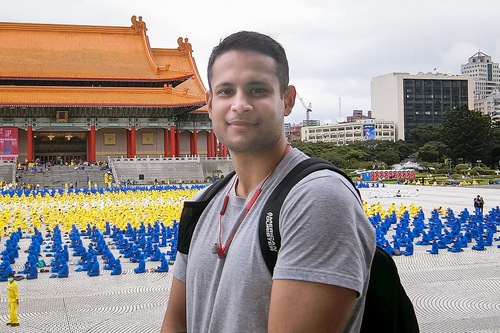 Sankalp Verma, an engineer from India, thinks Falun Gong is good for one's wellbeing.
He thinks people face many negative things every day and need a way to find inner peace. "I think Falun Gong can help people find peace," he said, "and handle external events more calmly."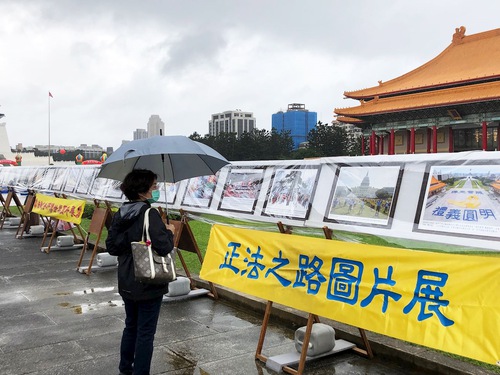 Ms. Li learns more about the spread of Falun Dafa around the world.
Ms. Li stopped in front of the display boards for a long time, reading about how Falun Dafa spread from China to many countries. When told that Falun Gong teaches one to live by Truthfulness-Compassion-Forbearance, she said, "People are free to pursue their own religious beliefs in Taiwan. We should respect the faith of others. It is great that you promote your belief by using peaceful, rational means. One's right to freedom of belief should not be infringed upon. The pro-CCP groups that disrupt your peaceful protests are members of an evil cult."
The End of the CCP Is Imminent
Mr. Zeng, who lives in Taipei, was invited to the event by his friend who practices Falun Gong.
His friend has been telling him about the practice for many years. Mr. Zeng witnessed his friend's immune system improve by practicing Falun Gong. He has inflammatory arthritis but did not take up the practice as he was too busy. But, he knows it is good.
He also had heard about the persecution of the practice in China. He used to think the CCP was too strong and there was no way it would ever be overthrown. But recently he's observed that things are changing globally. He thinks practitioners' long term efforts in raising awareness about the persecution has had an impact.
He thinks that, in modern times, where news spreads quickly, it is a part of the global trend against communism. He feels that the downfall of the regime is imminent.
Husband Now Supports Wife Practicing Falun Gong
Mr. Li who lives in Muzha, a neighborhood in Taipei, is an internet operator. He accompanied his wife, who practices Falun Gong, to the day's activities. According to Mr. Li, his wife has been practicing Falun Gong for about eight years. They used to practice Taoism together.
He observed that his wife's health has improved tremendously since she started practicing Falun Gong. Consequently, he's now very supportive of her faith.
He explained that she used to catch colds easily. She was able to see spirits in other dimensions and that upset her all the time. "Since practicing Falun Gong, she has only been to the doctor's once due to a cold. Falun Gong is a righteous belief, so she is no longer afraid of beings in other dimensions."
In the early years, he would go home after he dropped his wife off at the event. In recent years, he waits quietly for her until the end of the event and they drive home together.
"Look at this activity," he said. "It's extraordinary. It was raining as we left Muzha. My wife said that the weather is always good when they organize these activities and that it wouldn't rain for sure. According to the weather forecast, there was a 70 to 80 percent chance of rain. But once we got to the venue, there was no rain at all." He thinks that Falun Gong is special, that there is a force beyond this world, and that human beings are very small in comparison.