People Support Falun Dafa During Information Day in Hannover, Germany
Dec. 27, 2020 | By Minghui correspondent in Germany
(Minghui.org) Falun Dafa practitioners from Hannover and surrounding cities held an information day on December 12, 2020, near the parapet to the Niki-de-Saint-Phalle-Promenade to expose the 21-year-long brutal persecution by the Chinese Communist Party (CCP). December 10 was International Human Rights Day.
The weather in Germany is very cold in December. Due to the influence of the coronavirus, also known as the CCP virus, and increased preventive measures, Falun Dafa practitioners were not able to distribute leaflets at the information stand. Despite the coronavirus restrictions, many pedestrians were on the streets that day. Attracted by the exercise demonstration, people came over to take Falun Dafa leaflets from the brochure stands, and many stopped at the display boards to learn about the persecution. Many people also went straight to the information tables to sign the two petitions: "Oppose the live organ harvesting of Falun Gong practitioners by the CCP" and "Dismantle the CCP."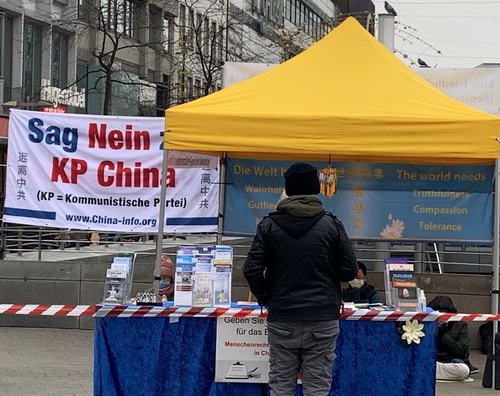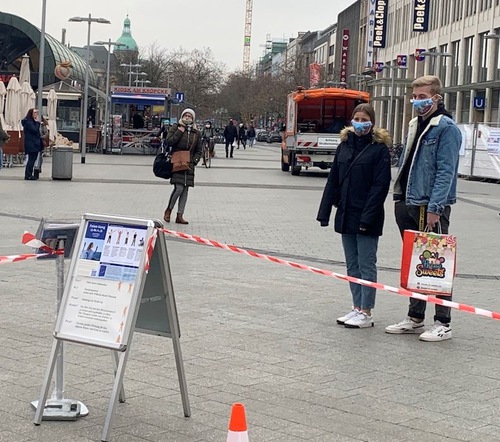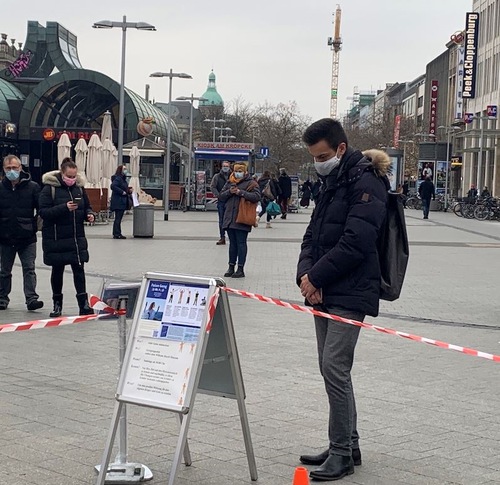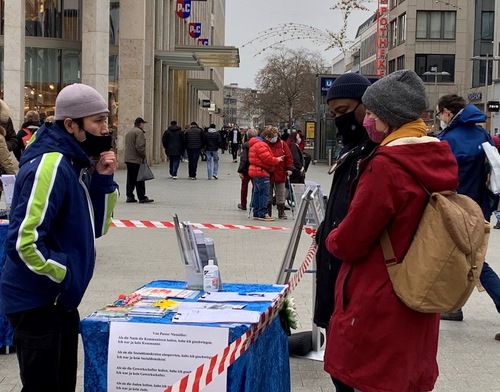 People pause at the information table to learn about Falun Dafa and the persecution in China.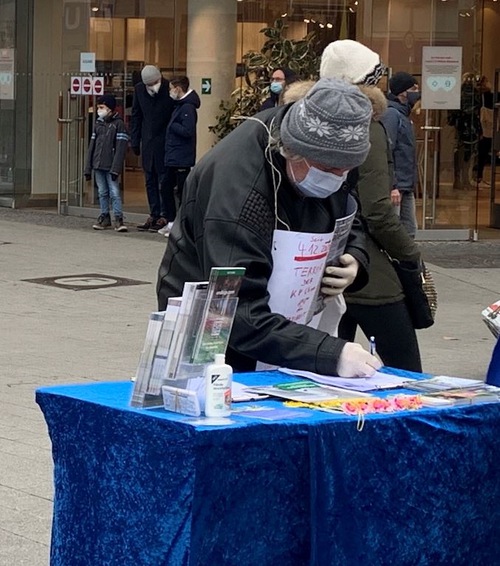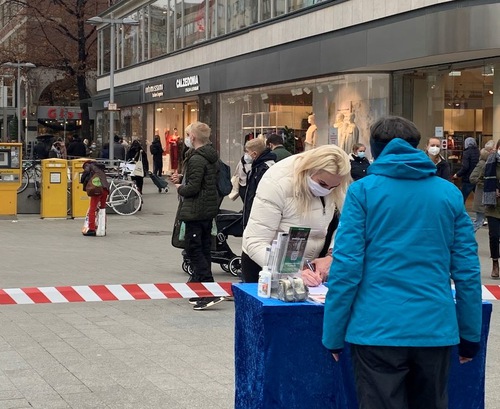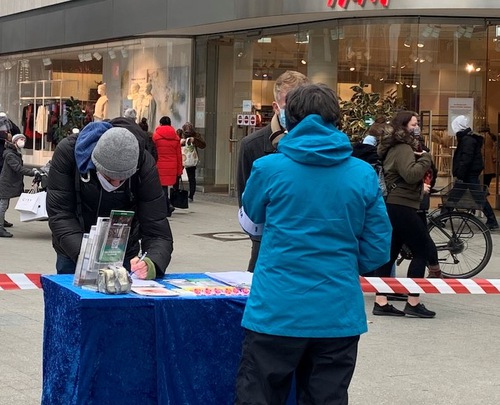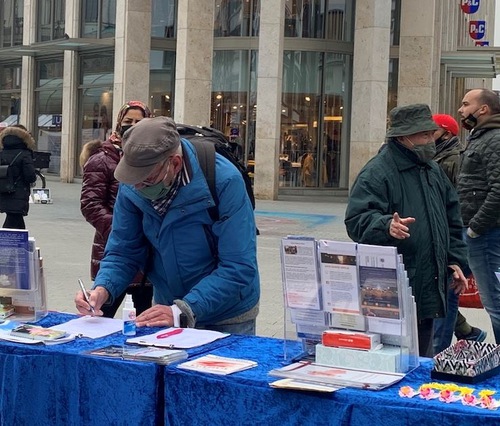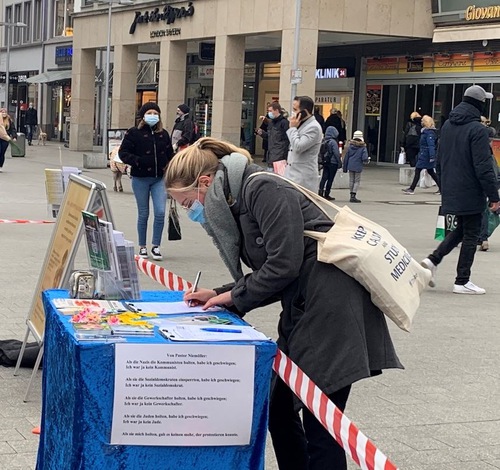 After learning about the CCP's persecution methods and about the forced harvesting of Falun Dafa practitioners' organs, people sign the petition in support of ending the persecution and dismantling the CCP.
Practitioners were still setting up for the information day when several police officers came to the information table in their patrol car as part of their routine check for event permits. The police officers did not even get out of their car this time. Instead they looked at the information stand, and one said to practitioners, "I wish you success and get as many people [to support] as possible!"
Alexander Bauersfeld, an older gentlemen, approached the information table and started to chat with practitioners. Mr. Bauersfeld told practitioners that he had been a political prisoner in East Germany for his work in pursuit of peace. "I want to work for the world to have more freedom and for people to be free again, especially for those who are persecuted in mainland China for reasons of faith and politics," he said. 
"For me, it is a scandal that the German government and the Chinese government maintain good relations when human rights are so badly damaged in China, such as when Falun Dafa practitioners are persecuted, imprisoned and even killed," he said. 
He said the forced organ harvesting of prisoners of conscience that is happening in China is a crime, and that the United Nations and the German federal government should publicly condemn and pursue this matter. "The persecution of Falun Dafa must be ended," he said.
Mr. Bauersfeld's shirt was emblazoned with the words: "Communist China must be banned" and "Give China and Hong Kong back their freedom" in red letters. 
"The German federal government should make it clear to China that despite all these economic benefits, we do not accept that people are persecuted in China for their beliefs and other reasons. In my opinion, people should not put economic interests ahead of human rights," he said. "If a person feels that they should maintain good economic relations with China, but is silent about [its] crimes against human rights, then that person is complicit."
He told the practitioners, "I wish you all the best! I hope we can meet again and can look forward to the disappearance of the communist [regime]."