Taipei, Taiwan: Annual Character Formation Event Brings Blessings
Dec. 13, 2020 | By Minghui correspondents in Taipei, Taiwan
(Minghui.org) On December 5, 2020, despite the light rain, nearly 5,400 Falun Dafa practitioners from all parts of Taiwan gathered at Taipei's Liberty Square and arranged themselves to form the Chinese characters for "Falun Dafa is good" and "Truthfulness, Compassion and Forbearance is good."
Due to the CCP virus (coronavirus) pandemic, there were fewer tourists. However the character formation event still attracted people's attention. An elderly man stopped and watched the event while accompanied by his son and three grandsons. He said, "It's the first time I've seen this event. It looks very dignified." Markos Pastouseas, a tourist from Greece, said it made him feel calm and peaceful. Ms. Huang remarked that the character formation looked grand and made her feel happy.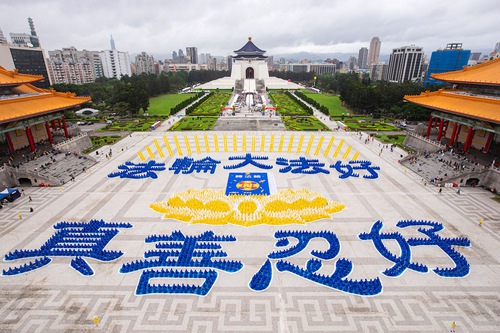 Close to 5,400 Falun Dafa practitioners in Taiwan arranged themselves in the shape of Chinese characters for "Falun Dafa is good" and "Truthfulness, Compassion and Forbearance is good," as well as an image of the book Zhuan Falun at Taipei's Liberty Square.
Falun Dafa was first introduced to the public by Mr. Li Hongzhi in Changchun, China in 1992. Since then, the spiritual discipline has spread to over 100 countries and regions worldwide. Millions of adherents, Chinese as well as Westerners, have embraced the teachings–based on the principles of "Truthfulness, Compassion, Forbearance"–and experienced benefits in health and well-being.
Practitioners held the first image formation activities in 1996. They formed the image of the Falun symbol in Guizhou Province, China. After Mr. Li Hongzhi held five introductory seminars in Wuhan and the mind-and-body practice flourished locally, practitioners in Wuhan held large-scale group exercises and image formation activities several times. Each event was a grand spectacle, according to participants.
Since 2000, practitioners outside mainland China have continued to hold these events, which highlights a stark contrast between free societies and totalitarian suppression in China. The character formation event in Taiwan took what practitioners in Wuhan did in the early years as reference, forming characters such as "Falun Dafa," "Truthfulness, Compassion, Forbearance," and the image of the Falun. Square fonts were used in the beginning but were later replaced by more artistic official script. Later came graphics such as lotus flowers, 3D versions of the main Falun Dafa book Zhuan Falun, and images of Master Li.
Several thousand practitioners in Taiwan have participated in these character formations since 2000, and the tradition has continued for 21 years uninterrupted. Ms. Huang Chunmei, vice chairman of the Falun Dafa Association in Taiwan, said, "This year we were unaffected by the pandemic and went ahead with the event, and we hope to bring the best blessings to people."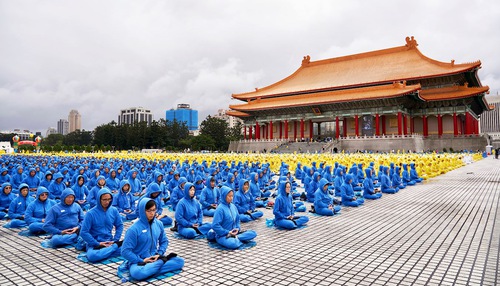 Approximately 5,400 practitioners performed the Falun Dafa exercises at Taipei's Liberty Square on December 5, 2020.
According to Ms. Huang, people's hearts are in turmoil as a result of the global pandemic. Falun Dafa practitioners believe that sincerely saying "Falun Dafa is good" and "Truthfulness, Compassion, Forbearance is good" will bring blessings to people and their families. The organizers thus chose the message as this year's theme.
Finding Purpose in Life Through Practicing Dafa
Most of the participants that day were practitioners who live in different parts of Taiwan. Some came from other countries. Fabian Cybuski, a German who came to Taiwan to learn Mandarin, was one of them. He said he didn't want to miss the annual event and smiled happily as he handed out information about Falun Dafa.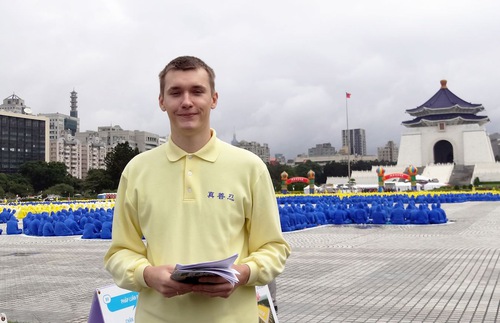 Fabian Cybuski, a practitioner from Germany who came to Taiwan to learn Mandarin, participated in the character formation.
Fabian was born in Poland and raised by his grandfather. He started his own company while visiting Germany in 2010. After his grandfather passed away in 2016, he felt depressed and helpless and began to question the meaning of life. Although he made a lot of money, he felt lost. He read books on different religions and other spiritual practices, hoping to find answers and inner peace, but he got nothing.
"When I read the book Zhuan Falun, I knew this was what I had been searching for," he said. He said practicing Falun Dafa gave him a whole new life and he saw hope for the future. He used to suffer from constant headaches and nosebleeds, kept going to doctors, and took a lot of medication. But after he began practicing Falun Dafa, he no longer needed the medicine. He also learned how to distinguish what is right and wrong from a higher moral standpoint. He became more sincere, determined and kind.
"Before I began to practice cultivation, I only knew how to earn money. I made huge profits but my life was very empty. I didn't know the purpose of people's existence. I had extraordinary experiences after practicing Dafa. The first time I did the first set of exercises, I felt bad substances being removed from my body. When I did the second set of exercises, my body felt lighter," he said.
"I feel really fortunate to have found Falun Dafa. I now have direction and purpose in life. I am more relaxed, and I've found true happiness."
Zhang Yu who lives in Taipei, has been practicing Falun Dafa for 23 years. She thought initially that there would be restrictions on the number of practitioners allowed in the event due to the CCP virus. She was surprised and overjoyed when she learned that the character formation would go on as usual. "I arrived past 7 in the morning today. I don't know how many more years we will have such activities, so I especially cherish this opportunity," she said.